UPDATE! Tom Holland Spotted On A Christmas-Themed 'Spider-Man 3' Set; Charlie Cox Has Reportedly Wrapped Filming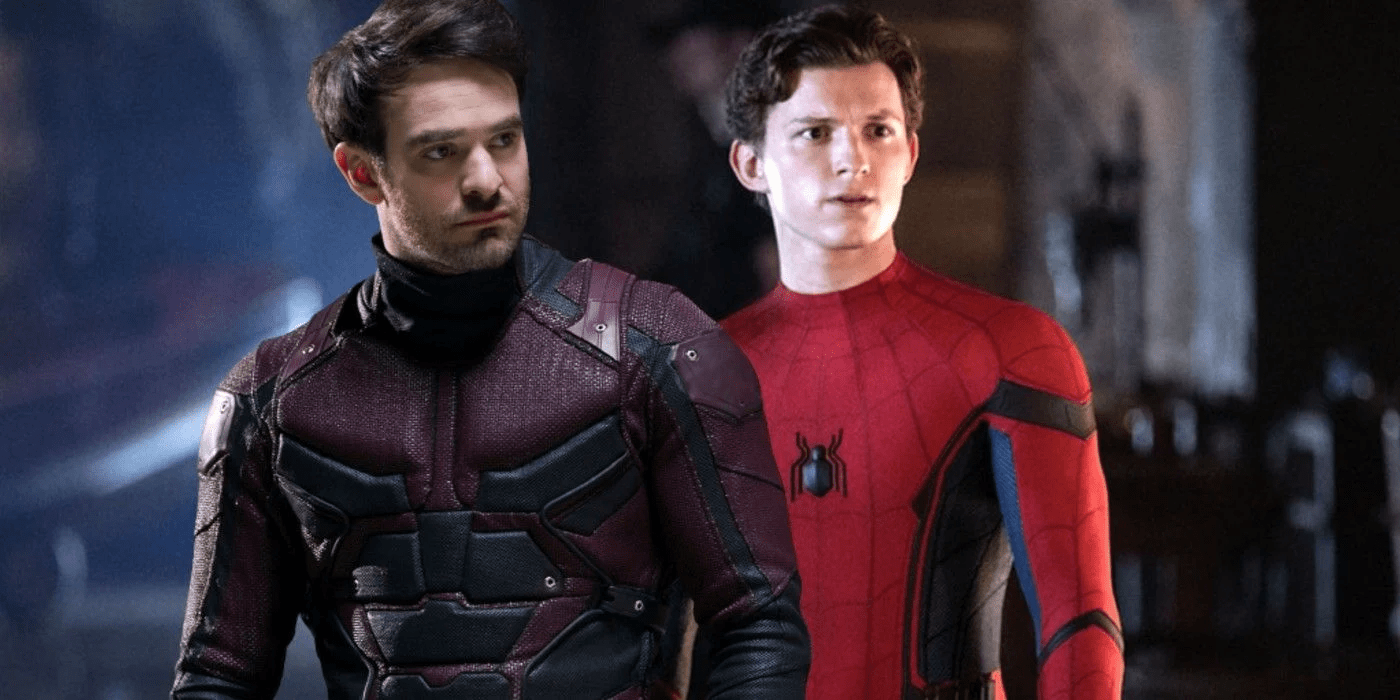 The third Spider-Man movie from Marvel Studios and Sony Pictures may be the first Christmas-themed Marvel movie since Iron Man 3. In addition, there are reports that Charlie Cox – who played Matthew Murdock, better known as Daredevil, in the eponymous Netflix series – has already finished filming.
Atlanta Filming has managed to snag some photos of the recently-resumed production of the Spider-Man 3 on location. One detail that's surfaced is that a store that they're filming in, or in front of, is a Christmas store, indicating a possible time skip between the end of Spider-Man: Far From Home and when this movie takes place. Check them out below:
FINALLY WE HAVE NEW SPIDER-MAN 3 SET PICS pic.twitter.com/wl0vbhNl1R

— Matt 🎬 (@mattlovescinema) January 16, 2021
Also of interest is that Charlie Cox, rumored to be returning as Matthew Murdock and possibly Daredevil, has apparently completed filming on all of his scenes. According to ComicBook.com, Cox was already on the set and has completed his portion of the shoot; depending on when he started, he's either filmed in previous months and completed work in early January, or has just filmed a short cameo in the past few day. It's entirely possible that the movie will just feature a reintroduction of Daredevil within the context of the Marvel Cinematic Universe (taking the questionable canonicity of many of the television shows into account), or it may just be that Matthew Murdock is there to represent the Parkers as they face legal troubles. Regardless, Kevin Feige is keeping tight-lipped about Cox's involvement in future Marvel Studios productions, or lack thereof:
Kevin Feige als er auf Charlie Cox als Daredevil angesprochen wird… 😂 pic.twitter.com/Zlb2p58O5I

— Bekki ︽✵︽ (@chewbekka1893) January 13, 2021
As it stands, Spider-Man 3 will cover the fallout of our hero's secret identity being exposed to the world, so it's likely that a prologue will showcase the immediate reaction to the news and reveal that the main film will take place months later. The movie is meant to be the middle chapter of a spiritual trilogy of Marvel Studios works that also comprise WandaVision and Doctor Strange in the Multiverse of Madness, with the directors on those projects regularly talking with each other to ensure continuity. Doctor Strange is confirmed to appear in the latter two movies and has long been rumored to appear by the end of WandaVision. It's believed that on top of Jamie Foxx and Alfred Molina returning, Tobey Maguire, Andrew Garfield, Kirsten Dunst, and Emma Stone are set to make comebacks as well, on top of a host of other antagonists from the Sam Raimi and Marc Webb films. It will be interesting to see how the movie transitions from presumably being a "man on the run" story to a full-blown Multiverse epic.
UPDATE!
Tom Holland has been spotted on the set, wearing his same Spider-Man costume from the end of Spider-Man: Far From Home.
Our First Set Photos from Marvel Studios' 'Spider-Man 3' (2021) reveal that it may be a Christmas movie on top of the multiverse insanity that's going to ensue. pic.twitter.com/sB4dCuCh6y

— DR Movie News 📽 (@DRMovieNews1) January 17, 2021
Spider-Man 3 is currently slated to release on December 17, 2021. The future of the Marvel Cinematic Universe includes the films Black Widow, Shang-Chi and the Legend of the Ten Rings, Eternals, Spider-Man 3, Thor: Love and Thunder, Doctor Strange in the Multiverse of Madness, Black Panther 2, Captain Marvel 2, Guardians of the Galaxy Vol. 3, Ant-Man and the Wasp: Quantumania, and reboots of the Blade, Deadpool, Fantastic Four, and X-Men franchises. Another Avengers movie is confirmed to happen eventually, but it will be a ways off. In addition to the aforementioned movies, there are several Marvel Studios shows confirmed for the Disney+ lineup: WandaVision, The Falcon and the Winter Soldier, Loki, What If…?, Hawkeye, Ms. Marvel, Moon Knight, She-Hulk, Secret Invasion, Ironheart, Armor Wars, The Guardians of the Galaxy Holiday Special, and I Am Groot.

Grant Davis is a freelance writer who has covered entertainment news for more than four years. His articles have frequently appeared in Star Wars News Net as well as as other entertainment-related websites. As someone who grew up on Star Wars and comic book movies, he's completely thrilled with the current era of genre entertainment.