The Arrowverse returned to The CW last night with the season premieres of The Flash and Black Lightning. As the fan favorite universe returns to TV, filming has just begun on this year's highly anticipated crossover which will feature debut of Ruby Rose's Batwoman. To mark the occasion, The CW released the first official image of Rose in costume.

The costume, which CBR reports is by Colleen Atwood, is incredibly faithful to Kate Kane's comic look whilst adding the extra level of details we've come to expect from these live action recreations.
This year's crossover will see Batwoman joining forces with heroes from multiple earths, including the return of Tyler Hoechlin's Superman and the debut of Elizabeth Tulloch's Lois Lane, as they face chaos from across the multiverse in Elseworlds. And this is just the beginning for Rose's Batwoman. Greg Berlanti, the creative force behind the Arrowverse, is already working on a Batwoman series set to premiere on The CW next season, increasing the network's DC Comics output to an incredible six series.
Ruby Rose will make her Batwoman debut in Elseworlds on December 9th. The crossover will take place over three nights in The Flash, Arrow, and Supergirl on The CW.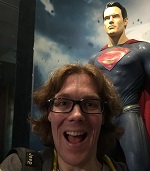 Chris is a lifelong fan of Disney, Star Wars and super heroes who can't quite believe this golden age of movies and TV we're living in. Having written blogs dedicated to Disney's Aladdin musical and Star Wars Celebration, Chris is excited to be part of the MNN team.