Johnny Depp Out of 'Fantastic Beasts' Franchise
Actor Johnny Depp has resigned from the role of Grindelwald in the Fantastic Beasts franchise at the request of Warner Bros.
Depp released a statement today indicating his stepping down from the role of the series' primary villain effective immediately. Depp made the announcement on his Instagram page:
"In light of recent events, I would like to make the following short statement," he wrote Friday in his statement on Instagram. "Firstly, I'd like to thank everybody who has gifted me with their support and loyalty. I have been humbled and moved by your many messages of love and concern, particularly over the last few days. I wish to let you know that I have been asked to resign by Warner Bros. from my role as Grindelwald in Fantastic Beasts and I have respected and agreed to that request."
Depp's casting in the role was controversial to start with, given the long, protracted court battle with his ex-wife, actress Amber Heard. The studio stood by him throughout the production of the first two Fantastic Beasts films, but they appear to have abandoned him in the wake of losing his libel case against The Sun. The British tabloid ran an article accusing Depp of abuse, and their win seems to have cemented that perception, at least for Warner Bros.
The Fantastic Beasts franchise, a prequel to the Harry Potter films that takes place in the early 20th century, has had its share of difficulty over the years. The films have not been the box office juggernaut Warner Bros. had hoped for, and writer and executive producer J.K. Rowling has invited her own controversy with inflammatory statements on members of the LGBTQ community. Warners has so far stood by her, but this move signals their patience is not unlimited.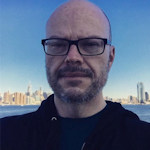 Darby Harn is a contributor for Screenrant, CBR.com, Star Wars News Net, and Movie News Net. He is the author of the sci-fi superhero novel EVER THE HERO. His short fiction appears in Strange Horizons, Interzone, Shimmer, and other venues.