RUMOR: 'Fantastic Four' Reboot Being Developed for 2022; Peyton Reed Reportedly Interested in Directing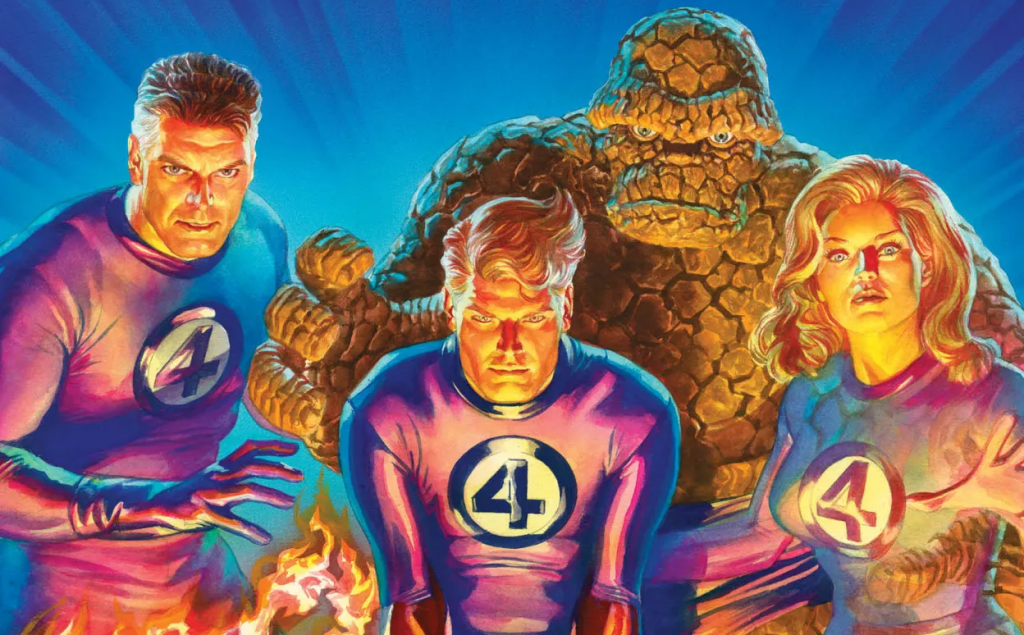 With the end of the Fox-Marvel era upon us with Dark Phoenix releasing this weekend (and The New Mutants releasing next year), the future of the X-Men and Fantastic Four IPs will be in the hands of Marvel Studios. While the official word from Marvel Studios is to not expect the former IP for a while, the latter IP is being fast-tracked according to a new rumor, and Marvel Studios may even have a director to take on the project.
GeeksWorldWide have come across a potentially huge scoop about Marvel's First Family, hearing that a Fantastic Four movie is planned to hit theaters as one of the company's 2022 releases alongside Guardians of the Galaxy Vol. 3 and potentially Captain Marvel 2. Marvel Studios are slated to unveil their slate of content, which is expected to include Marvel's future film and television installments, including their ambitious plans for the Disney+ streaming service, at this year's San Diego Comic Con, and it is expected that the movie will be formally announced there. MCU Cosmic has also backed up these claims, citing independent sources giving them similar information.
To the relief of some fans, the movie is not going to be treated as another retelling of their origin story (as the unreleased Roger Corman film, the first Tim Story film, and the infamous Josh Trank reboot all covered this ground) and instead will exist in a world where the Fantastic Four have operated as heroes and scientists for a few years. There's a twist to this, though: the movie will be set in the 1960s, between the events of Captain America: The First Avenger and Captain Marvel. Presumably, the Fantastic Four will find their way into the present by the end of the film.
The project is said to have an in-house director interested, and speculation by GWW and MCU Cosmic indicates that this may be Peyton Reed, who has thus far worked with Marvel Studios on both Ant-Man and its sequel Ant-Man and the Wasp. Back in the year 2003, when the Fantastic Four license was still at Fox, Reed pitched his idea of how to approach the franchise as a 1960s-set period-piece adventure that he described as the superhero equivalent to A Hard Day's Night. His quote on the pitch can be seen below:
"Visually, one of the things we always talked about — and this was 2003 — was The Fantastic Four as daytime superheroes. They don't have secret identities. They're very much a part of the fabric of Manhattan. In that universe, if you go to New York to the Empire State Building or the Statue of Liberty or the Baxter Building, it was all a part of that. We talked about it being a 1960s period movie… We wanted to do a structure that was like [the movie] A Hard Day's Night. At the beginning of a working day in Manhattan, you're in line at Starbucks and someone runs in, 'Hey, the Fantastic Four is fighting right around the corner!' People run out of Starbucks and the camera flies around the corner to this splash page imagery, where the Human Torch is flying, The Thing is fighting, and it's just chaos. Really, Joss [Whedon]'s first Avengers movie had that feel — it's broad daylight. There was a time when you just didn't have the technology, so a lot of those fights took place at night. We thought having it take place in the city during the day would've been a lot of fun. They were kind of modern celebrities. There were a lot of different versions of it, but that was a movie I really wanted to make."
It was ultimately rejected by Fox in favor a more contemporary take on the property, but Reed's pitch appears to be what he wants to sell Marvel Studios on. However, with Marvel Studios's resources, he now has additional freedom to integrate the Fantastic Four within the greater context of the Marvel Cinematic Universe. Word is that the Quantum Realm (introduced in Reed's two Ant-Man movies) may come into play, and that the Dane Whitman version of the Black Knight could also factor into the story. (That character has been rumored to be on Marvel's radar for a while.) As of right now, however, there's no confirmation of any of this, and this is all within the realm of rumors.
Marvel will continue to remain tight-lipped about their post-Infinity Saga plans until their presentations at two events this Summer: July's San Diego Comic Con, and August's Disney D23, where they have confirmed that they will lay out an abundance of their plans for the next few years of the ever-expanding setting. For now, we'll have to continue playing the waiting game. Movie projects on Marvel's schedule include Spider-Man: Far From Home, Black Widow, The Eternals, Shang-Chi, Doctor Strange 2, Black Panther 2, Guardians of the Galaxy Vol. 3, and a third Spider-Man film. Additional Captain Marvel, Ant-Man, and Thor movies appear to be likely, but are not confirmed to be on the slate as of yet. There are also four Disney+ series confirmed to be in varying stages of development: Falcon and Winter Soldier, WandaVision, Loki, and Hawkeye.

Grant Davis is a freelance writer who has covered entertainment news for more than four years. His articles have frequently appeared in Star Wars News Net as well as as other entertainment-related websites. As someone who grew up on Star Wars and comic book movies, he's completely thrilled with the current era of genre entertainment.