UPDATE! 'The New Mutants' May Finally Get Its Release – Through Disney Plus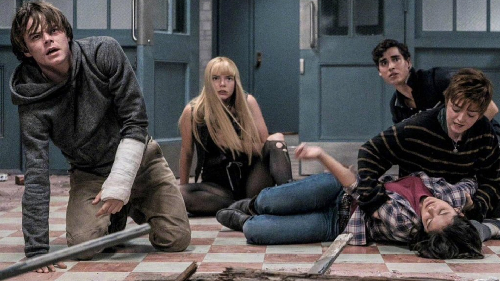 The New Mutants may finally see a release this year after all… But perhaps not in the way that anyone could have anticipated. There's an abundance of evidence to suggest that instead of making their way to the big screen, the New Mutants are going to arrive via Disney+ and possibly Video On-Demand.
At this point, the ridiculous number of delays facing director Josh Boone's horror-themed superhero team origin story have become more notorious than the movie itself. Originally slated to release ahead of Deadpool 2 on April 13, 2018, 20th Century Fox opted to delay the movie to February 22, 2019 as a way of giving the movie more space. The move was also done in order to plan for reshoots to make the movie scarier (seemingly against the wishes of the director), something that was hampered by the availability of the cast. Shortly after that first delay was announced, a second delay that moved the film to August 2, 2019 soon followed in order to provide more space for other films on Fox's movie slate. Following Disney's acquisition of Fox (now 20th Century Studios), the Mouse House opted to do another delay so that Boone could edit the film the way he wanted to, free from executive-mandated reshoots to up the scare factor, moving the movie back to April 3, 2020. All seemed well, and then COVID-19 led to mass-closings of theaters, leading to Disney to push the movie all the way back to August 28, 2020. With COVID-19 still devastating the United States and other international areas, a theatrical release for that date seems unlikely.
Nonetheless, eyebrows were raised when it was announced that Disney would be showing The New Mutants off at the San Diego Comic Con's "Comic Con at Home" event. After all, why bother promoting a film that clearly isn't going to show in theaters this year? Some took to speculating that this was a sign that Disney were going to bite the bullet and release the movie on streaming (as they've done with Artemis Fowl and Hamilton, and plan to do with The One and Only Ivan and Magic Camp – all of which were planned to show in theaters), but there was resistance to this idea. One of the big hold-ups to seeing The New Mutants hit a direct-to-consumer format was believed to be HBO, as the cable giant/rising streaming platform had a licensing agreement to get a first run of 20th Century Studios movies on their platform as long as they released before the end of the year 2022. Several presumed that if Disney were to release the film through streaming, it would have to be through a rival platform like HBO Max, and that it would take years before the film could reach Disney's own services.
However, Comcast and NBCUniversal just dispelled that theory when Trolls: World Tour, which skipped a planned release date in theaters in favor of going to VOD, was headed straight for Peacock, their newly-launched streaming service; the film could skip going to HBO in any capacity because that agreement only concerned theatrical releases. It stood to reason, then, that Disney could also get around this issue and release a Fox movie without facing any hold-ups. And now, there's an odd advertisement making the rounds on Australian television sets as of late, claiming that the film is now going to be a Disney+ original:
— Eth (@ethxmarvel) July 21, 2020
Here's the weird thing – the ad presentation itself looks pretty fake, with the Disney+ watermark in the corner (which usually doesn't appear in their ads) being a tip-off that it's a phony, but there's an abundance of new, real footage and audio in there that appears to be from the production itself. There's a new take on one of the lines heard in an earlier ad at the beginning, and a handful of shots that we haven't seen anywhere else, including shots with visual effects. So all of that seems like it'd take a lot of effort just to fake, which makes it seem more likely that it's actually real.
Also worth noting is the release date of September 4, 2020 – a full week after the planned August 28, 2020 release date that Disney have scheduled for theaters. With COVID-19 spiking in a huge way globally, that's clearly not happening. However, Disney could keep that date to release the film through VOD a week before offering it on their primary streaming service, since they did something similar for Pixar's Onward after that movie's entire theatrical run was compromised by global theater shutdowns. We'll just have to wait and see, but if this ad is making the rounds, then an official announcement shouldn't be too far away.
UPDATE!
The plot thickens. A fan has direct messaged the director of the film, who has stated that the ad itself is fake as far as he can tell, and that HBO is set to distribute the movie on their cable channel and streaming platforms when it arrives. Read it below:
I have dmed Josh on Instagram and he said as far as he knows, it is fake and he said if it were to go to digital, HBO has first dibs. pic.twitter.com/dg09MgIFFg

— MAGIK♥️ (@xmen_daily) July 21, 2020
Even if the ad is fake, that does not explain the additional footage and audio revealed in the ad that hasn't appeared anywhere else. It's possible that he may be out of the loop with regard to the business of the movie, and Disney has certainly had to make adjustments to their theatrical slate in the face of a global pandemic. As stated earlier, we'll just have to wait and see, since this entire situation feels pretty fishy.
The New Mutants is based on the comic series of the same name, taking heavy inspiration from the "Demon Bear" story arc that comprises The New Mutants Volume 1, Issues #18-#20. That story, widely considered to be the best in the comic book's entire run, revolves around one of the team's members getting interred in a hospital after being seriously wounded by a supernatural entity known as the Demon Bear, which then attacks the facility. The movie is opting to rework the story as part of the team's origin, with everyone meeting for the first time instead of being an established team of superheroes. The narrative also works as a coming-of-age tale, as our heroes are having to grapple with not just their powers, but the realization that there are threats that they have to deal with without the aid of the X-Men.
The New Mutants will be released eventually, and if the ad is indeed real, that "eventually" may be as soon as September 4, 2020. Directed by Josh Boone, written by Boone and Knate Lee, and produced by Simon Kinberg, Karen Rosenfelt, and Lauren Shuler Donner, the movie stars Maisie Williams, Anya Taylor-Joy, Charlie Heaton, Alice Braga, Blu Hunt, Henry Zaga, and Happy Anderson.

Grant Davis is a freelance writer who has covered entertainment news for more than four years. His articles have frequently appeared in Star Wars News Net as well as as other entertainment-related websites. As someone who grew up on Star Wars and comic book movies, he's completely thrilled with the current era of genre entertainment.