Marvel and Hulu's 'Runaways' Gets Season 3 Trailer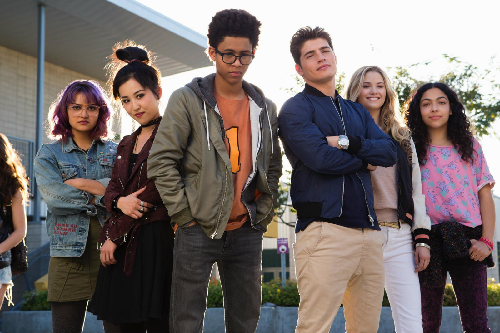 Marvel and Hulu have put together another trailer for their third season of Runaways, which will feature a new antagonist (Morgan le Fay) and a crossover with the lead characters of Freeform's Cloak and Dagger.
The new trailer was revealed during a dedicated New York Comic Con panel to Runaways, which was Marvel TV's only significant presence due to a lack of announcements on Helstrom and the recent decision to not move forward with Ghost Rider. (The only other announced Marvel series that was discussed at NYCC, the documentary called Hero Project, is being handled by a separate division.)
The new series also looks darker, with several of the major characters appearing to give in to their darker impulses, especially Nico. The series also looks considerably more action-packed as the young superheroes continue to fight their powerful parents. The climax of the trailer features the long-promised crossover with Cloak and Dagger's superhero teens Tandy Bowen (Olivia Holt) and Tyrone Johnson (Aubrey Joseph) arriving on the scene. Are they here to help the Runaways or fight them? (A third season of Cloak and Dagger has yet to be announced, but hopefully the fact that the first two seasons are running on Hulu will expose the series to new viewers.)
Marvel's Runaways season 3, including the Cloak and Dagger crossover episode, premieres Dec. 13 on Hulu. The show's cast includes Rhenzy Feliz as Alex Wilder, Lyrica Okano as Nico Minoru, Virginia Gardner as Karolina Dean, Ariela Barer as Gertrude Yorkes, Gregg Sulkin as Chase Stein, Allegra Acosta as Molly Hayes Hernandez, Angel Parker as Catherine Wilder, Ryan Sands as Geoffrey Wilder, Annie Wersching as Leslie Ellerh Dean, Kip Pardue as Frank Dean, Ever Carradine as Janet Stein, James Marsters as Victor Stein, Brigid Brannagh as Stacey Yorkes, Kevin Weisman as Dale Yorkes, Brittany Ishibashi as Tina Minoru, James Yaegashi as Robert Minoru, Julian McMahon as Jonah, and Elizabeth Hurley as Morgan le Fay.

Grant Davis is a freelance writer who has covered entertainment news for more than four years. His articles have frequently appeared in Star Wars News Net as well as as other entertainment-related websites. As someone who grew up on Star Wars and comic book movies, he's completely thrilled with the current era of genre entertainment.