Hulu Cancels Development on Marvel's 'Ghost Rider'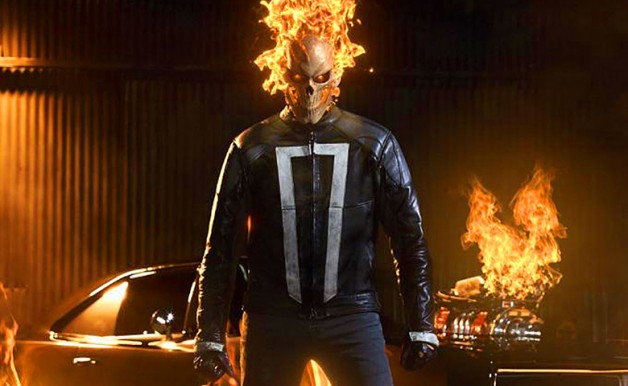 Hulu has stopped development on a first season of a Ghost Rider series starring Gabriel Luna as the Robbie Reyes iteration of the superhero. While it's been suggested that the decision to not move forward with the show had to do with logistical reasons tied to the streaming service, some rumors are indicating that Marvel Studios wants to use some version of the Ghost Rider character themselves.
According to Deadline, Ghost Rider has been canned at Hulu for what they describe as "a creative impasse which could not be resolved," which is another way of saying that the dreaded creative differences have reared their head again, and another Jeph Loeb-produced Marvel show that was moving forward has now been cancelled. There's no word on if the show is looking for another network, which is not a good sign. The show was to be showrun by Stephen Lightfoot (The Punisher), who would executive produce the series alongside Loeb and Paul Zbyszewski (Lost).
As for Marvel's Hulu slate, the good news is that they are still moving forward on a number of projects, such as Helstrom, which will now serve as the flagship "Adventure Into Fear" show now that Ghost Rider is not a part of it. There's also the entire adult-oriented slate of animated shows that will lead into The Offenders, which includes Howard the Duck, Dazzler and Tigra, M.O.D.O.K., and Hit-Monkey.
While the official reason was that Hulu couldn't agree with the showrunners on the creative direction of the project, there have been rumors as of late that Marvel Studios and Kevin Feige are interested in a different version of Ghost Rider, and that the show's cancellation may have been influenced by this creative direction. After all, Marvel TV is believed to have had plans for the likes of Blade and Moon Knight before seemingly losing both to Marvel Studios, who presumably have more ambitious plans. According to insider DanielRPK, Marvel indeed have plans for a Midnight Sons adaptation involving a different version of Ghost Rider than the one established on Agents of S.H.I.E.L.D.:
Will likely use a different version tho.

— Daniel Richtman (@DanielRPK) September 23, 2019
So two days ago my most reliable Marvel source told me Feige wants Ghost Rider in the MCU, and now this happens! Hmmmmmm…🤔 https://t.co/SCssZvBLt9

— Daniel Richtman (@DanielRPK) September 25, 2019
So Loeb had plans for Blade, Moon Knight, Werewolf by Night, Ghost Rider and Midnight Sons and Feige took all of those away from him. Poor guy. But I'm glad we'll have all of them in the MCU now!

— Daniel Richtman (@DanielRPK) September 25, 2019
They wanted A Ghist Rider in the MCU over the Hulu show. Will it be Blaze? Time will tell.

— Daniel Richtman (@DanielRPK) September 25, 2019
While Johnny Blaze is expected if they're not going with Robbie Reyes again, there are other Ghost Rider candidates to consider, including Noble Kale and Danny Ketch. Time will tell if this character will be needed on the Marvel Studios side of the MCU, but as of right now, it doesn't seem like he'll be going anywhere at Marvel TV.

Grant Davis is a freelance writer who has covered entertainment news for more than four years. His articles have frequently appeared in Star Wars News Net as well as as other entertainment-related websites. As someone who grew up on Star Wars and comic book movies, he's completely thrilled with the current era of genre entertainment.