New 'Shang-Chi' Production Details Surface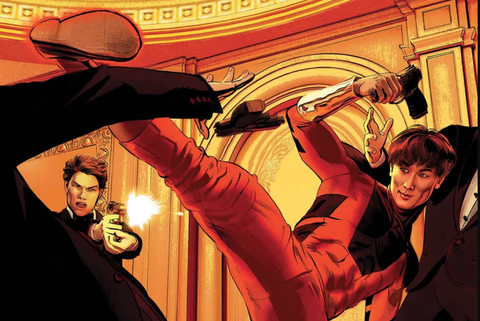 The first major details on the production of Marvel's Shang-Chi have surfaced, with two roles that need to be filled for an Australian production. However, there's a chance that this cast information might just be for a different Marvel movie.
Earlier in year, there were rumors that Shang-Chi was the Marvel project that was being fast-tracked to film in Australia later this Autumn. While the movie is not likely to make a 2020 release date as I had implied at the time, it certainly is moving forward at a brisk pace if it's ready to start filming by the end of the year. This production is indeed moving forward as quickly as previously believed, and now there's word on two of the roles that the movie is going to look for.
According to Geeks Worldwide, the Marvel project is looking to cast two roles with Asian actors. The first is for a man in his forties to sixties who is described as being a "the leader of his people" and a "wise, old statesman", while the second is for a woman in her thirties to forties who is described as being "one of the leader's most skilled warriors". It's likely that this leader role is meant to be for the character who is Shang-Chi's father (known as Fu Manchu/Zheng Zu in the source material, but it's heavily speculated that this character will be changed into the Mandarin from the Iron Man side of the Marvel Universe) and an assassin under his employ.

With that in mind, there is still a chance that these production details may actually be related to the Black Panther sequel instead of Shang-Chi, with it being heavily-speculated that Marvel may look for Asian actors to portray Atlanteans; specifically, Namor and either Namora or Andromeda. The rights to the Sub-Mariner franchise are still believed to be somewhat tied up at Universal in a way that allows Marvel to make use of the characters in ensemble movies, but not standalones (just like the Hulk). But with Namor being a well-known rival to Black Panther, the idea of a sequel featuring Atlanteans invading Wakanda seems like a possibility too good to pass up, while making solid use of the character.
However, this makes use of a lot of assumptions, since we have no word on the direction for the sequel is going to be, and there's no guarantee that Marvel will cast Asian actors to play Namor and his fellow Atlanteans, with the age range being particularly old for Namor if he's meant to appear in several other Marvel movies. As far as we know, the movie's script has yet to be completed, while the writer for Shang-Chi is moving on to work on the script for the Spider-Man: Into the Spider-Verse sequel, indicating that the current draft of the movie has been completed. For now, it may be safer to presume that these cast listings are more likely to be about Shang-Chi than they are about Wakanda's monarch.
Shang-Chi and Black Panther 2 are both in development at Marvel Studios. No release dates have been scheduled, and it's expected that there will be no announcements for future Marvel Cinematic Universe dates until the San Diego Comic Con or Disney D23.

Grant Davis is a freelance writer who has covered entertainment news for more than four years. His articles have frequently appeared in Star Wars News Net as well as as other entertainment-related websites. As someone who grew up on Star Wars and comic book movies, he's completely thrilled with the current era of genre entertainment.