Lord and Miller Partner With Sony for 'Spider-Man' TV Content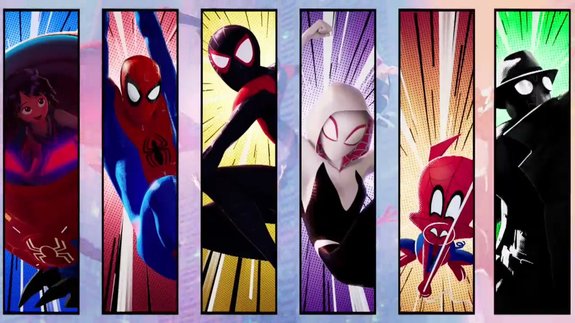 Phil Lord and Christopher Miller helped inject new life into the Spider-Man IP with last year's award-favorite animated movie Spider-Man: Into the Spider-Verse, which is set to get a direct sequel and a Spider-Women spin-off in the next few years. Now, Sony have officially hired the quirky creative duo to do the same thing for television.
According to The Hollywood Reporter, Lord and Miller have officially signed on for a five-year deal with Sony Pictures Television for a pact that is believed to be in the nine-figure range. The deal applies to Sony Pictures Television productions for shows that will be available to watch on a variety of networks, cable stations, and streaming platforms. The two will produce a wide range of live-action and animated content under their Lord Miller Productions label. While their commitment won't strictly tied to Spider-Man as an IP, it's explicitly noted that developing a new animated series, currently entitled Spider-Verse, is a part of this deal, and that other projects are being developed with the involvement of Amy Pascal, who oversees a wide variety of Spider-Man projects. (Pascal defers judgment to Kevin Feige for the character's inclusion in the Marvel Cinematic Universe, although she still has a say in what they end up doing.) Odds are, that means that Spider-Verse won't be the only Spider-Man series that they'll be involved with, since Sony apparently have a lot of ideas.
This deal, of course, rests on Sony continuing their partnership with Marvel, since they're the ones who have the rights to produce animated content on television. For Marvel to allow Sony to work on their own shows, they need to continue to agree to share the Spider-Man IP on film, as they've set the webslinger up as an integral part of the Marvel Cinematic Universe going forward. While Sony have their own plans to use Spidey in their own live-action spin-off universe (kick-started by last year's unexpected smash hit Venom), it's likely that they will have to cast their own version of the character who could only be a supporting lead in that setting, while Marvel would continue to use Tom Holland's version as the face of the live-action Spider-Man franchise. So far, it sounds like Sony is happy with how Marvel Studios helped them repair the brand image after the overly-expensive The Amazing Spider-Man 2 underperformed and was met with a mixed reception, so there's no reason to believe that the partnership with Marvel won't continue, or that Sony will cease to produce non-MCU Spider-Man content across animated and live-action mediums.
It'll be a while before the Spider-Verse television series, or any other animated project involving the Spider-Man IP, comes to fruition. For now, Spider-Man: Into the Spider-Verse is available to watch on Blu-Ray, DVD, VOD, Digital, and Streaming formats.

Grant Davis is a freelance writer who has covered entertainment news for more than four years. His articles have frequently appeared in Star Wars News Net as well as as other entertainment-related websites. As someone who grew up on Star Wars and comic book movies, he's completely thrilled with the current era of genre entertainment.