'The Big Conn' Apple TV Plus Documentary Series — Review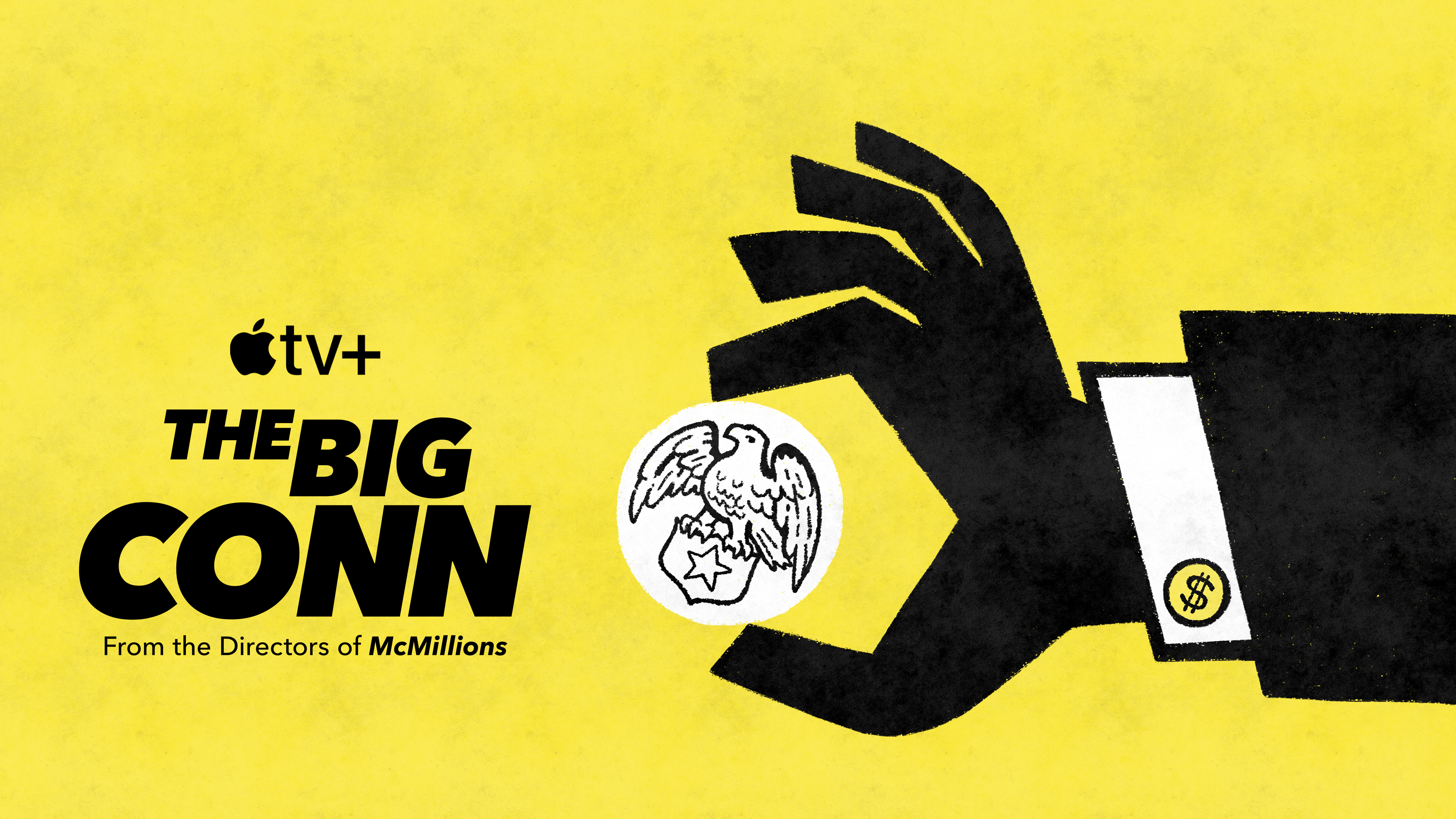 The Big Conn started streaming today on Apple TV+.
It is a new, four-part documentary series from McMillion$'s James Lee Hernández and Brian Lazarte, which tells the true story of the largest Social Security fraud case in United States history. The figure at the center of it is attorney Eric C. Conn, who would make sure his clients got Social Security benefits after arguing through disability claims. The scheme was pulled off with the help of Judge David B. Daugherty, who would approve every case that Conn sent his way.
The filmmakers chose to interview for the docuseries several people that were involved in the scam, as well as witnesses to the whole thing. Conn himself was interviewed on the phone by the filmmakers, though he doesn't appear much throughout the episodes. Conn's words are present, though, via an unreleased manuscript he wrote and that the filmmakers included in the docuseries.
The case got public attention after a story posted on the cover of The Wall Street Journal back in 2011 (linked here), written by Damian Paletta. Paletta is a key figure in the documentary, and acts as the narrator for the majority of it, even though he only actively worked on the case during his investigation. Two individuals that were witnesses to the entire process were Sarah Carver and Jennifer Griffith, former Social Security Administration (SSA) employees that raised the alarm of the fraud case to their bosses. Not only were they ignored, but the two were harassed for years by their own colleagues, and they even feared for their lives. The documentary makes a point towards the end that they are the real heroes, two people whose lives were heavily affected by trying to do what was right.
The documentary is all over the place at times, and it's slightly difficult to make out the point the creators are trying to make. The focus of the narrative is put on the Eric Conn persona. That's why Paletta, who is arguably an expert on the lawyer's life, is the main voice narrating it. That's also why Conn's daughter, Jordyn, appears so often. But the point of the documentary, as I interpreted it, was not about him, but rather about calling attention to third parties that were affected by Conn's wrongdoings.
They include Carver and Griffith, but also dozens of families that had legitimate disability claims and that were denied financial aid when the Government found out about the scheme, simply because they had been represented by a crooked lawyer. The U.S. had no way of knowing which claims were legitimate and which weren't, so they shut the door on all of them. Fortunately, that wasn't the end of the story, as some families would get those benefits back years later. But that didn't prevent the many suicides that happened in between due to financial issues.
All of this happened in Eastern Kentucky, one of the poorest regions in the United States, where disabled people with no economic resources have to wait several months and even years for their (legitimate) disability cases to be approved (if they even are), so that they can cash $900 a month to live on. Then comes Eric Conn, a mysterious figure with a lot of in-your-face billboards throughout the state, saying that not only he will make sure his cases are approved, but he'll also speed up the process. Instead of waiting months or years, his clients will have to wait days or even hours.
This is another point of the documentary, to show that people need most of the unnecessary bureaucracy to go away, and for the process to be smoother. But the filmmakers lost focus during big parts of it and were amused by Conn's personality. He is described by multiple witnesses and multiple times as larger than life, someone who lived such unbelievable adventures and got involved in such unheard-of stories, one would think it's all part of a James Bond movie. But it was all real. For a documentary that was trying to raise questions about the SSA and its methods, it spent a lot of time retelling Eric Conn's different marriages or his overseas adventures.
The witnesses were also very questionable at times. They included a musician whose relevance to the story is absolutely negligible or a lawyer who was an acquaintance of Conn's who didn't have much to do with the overall plot, instead of focusing more on the real victims of the tragedy. The doc's biggest flaw, I would say, is that it's an episode too long. Had they cut a few interviews, shortened a bunch of others, and taken out half of the last episode, which felt at times like it was going nowhere, it would have been much more cohesive, and the point of it all would have been much clearer.
All of this being said, I thought the first three episodes were thoroughly entertaining, and the fact that I got the main message Hernández and Lazarte were trying to make is a big plus, in my opinion. I wasn't familiar with the story, and found it fascinating as it was unfolding. But at times it felt more like a drama series than a documentary.
The Big Conn is currently streaming on Apple TV+. Thank you to Apple for letting us watch all four episodes in advance.
Miguel Fernández is a Spanish student that has movies as his second passion in life. His favorite movie of all time is The Lord of the Rings, but he is also a huge Star Wars fan. However, fantasy movies are not his only cup of tea, as authors like Scorsese, Fincher, Kubrick or Hitchcock have been an obsession for him since he started to understand the language of filmmaking. He is that guy who will watch a black and white movie, just because it is in black and white.