'Call of Duty: Vanguard' Review: The Franchise Goes Nazi-Hunting and Sticks to Its Strengths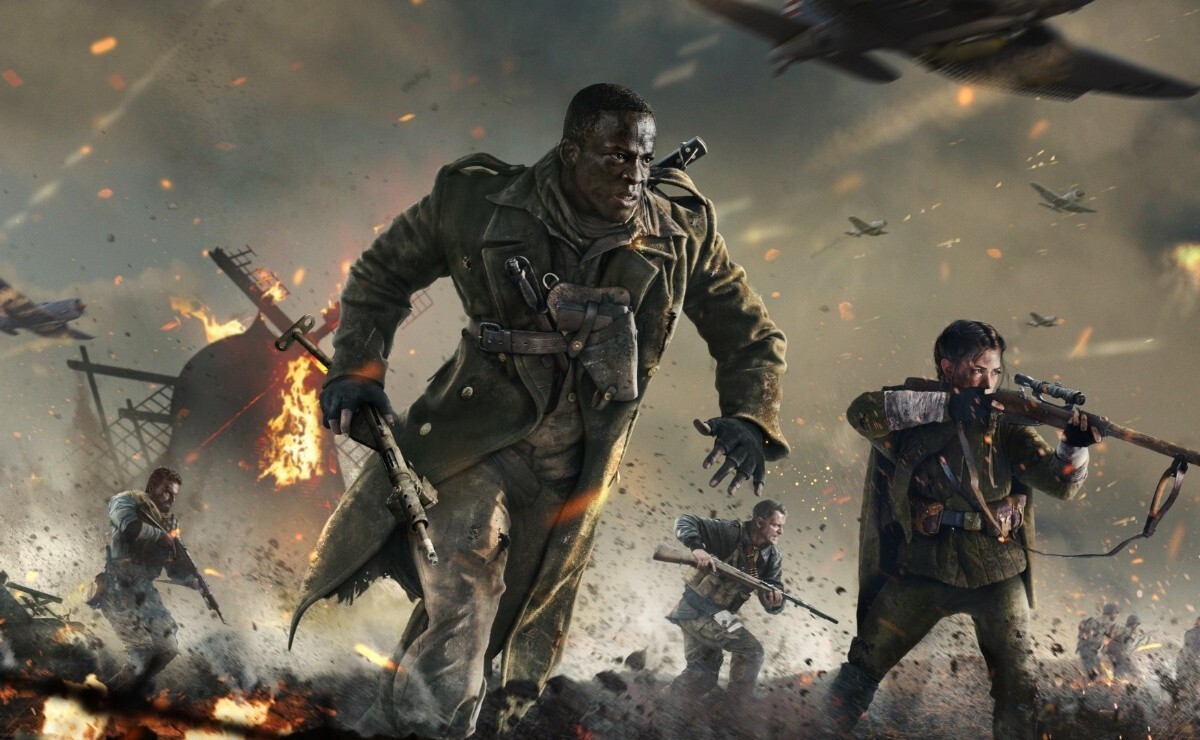 Sledgehammer Games returns to the Call of Duty franchise as the lead studio with Vanguard, an installment which does everything Call of Duty is supposed to do, for better or worse.
Expectations for this year's CoD entry weren't super high, as Sledgehammer hit a brick wall in development in 2019 — they were supposed to deliver 2020's game — and were replaced by Treyarch, who did their best with support of nearly every studio under Activision's wing to come up with something quickly after 2018's Black Ops 4 was released. 2020's Black Ops – Cold War wasn't top-notch, but it got the job done, put things on track again, and joined the Warzone (battle royale) ecosystem kickstarted by Infinity Ward's Modern Warfare reboot. These history lessons are kind of unavoidable if we're to understand why the franchise evolves in the way it does, and the fact Activision is throwing nearly all of its resources at Call of Duty makes every new development process quite complex to follow.
Call of Duty: Vanguard has kicked off with arguably the smoothest launch of any recent CoD title. Furthermore, the bulk of its development has taken place during the COVID-19 pandemic, with all the difficulties that remote work has brought to the table for video game productions this insanely big. The fact it's a cohesive and mostly seamless package is already a triumph, so let's not overlook that before analyzing each of its parts.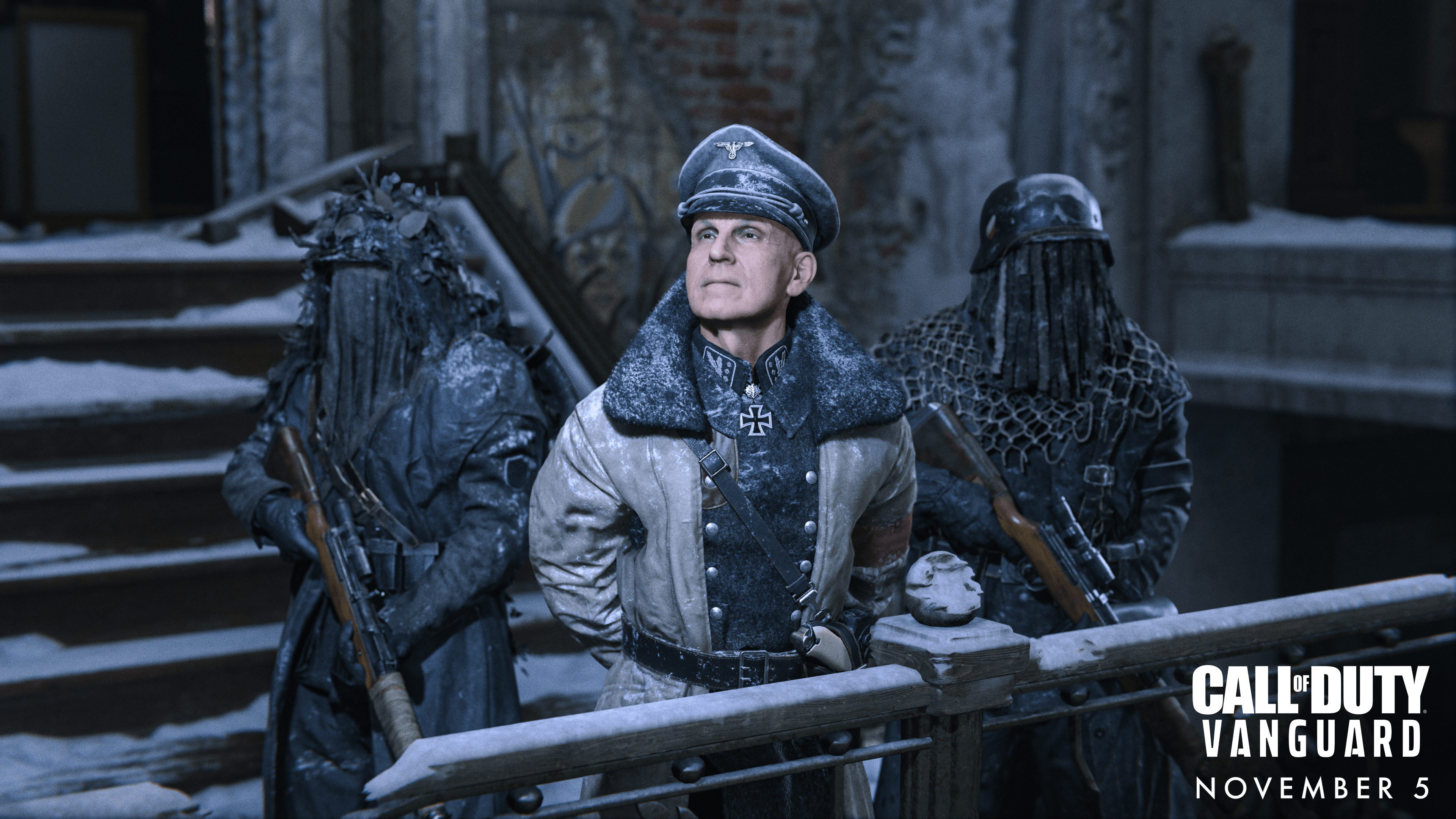 One of my biggest problems with last year's game was that Treyarch had chosen to stick with an older engine instead of Infinity Ward's impressive IW 8.0, which set a new tech standard for CoD in 2019 and sustains the franchise's ever-evolving Warzone component — Cold War performed and looked worse than MW '19, and also couldn't handle some of the nifty gameplay improvements introduced in the previous year. Sledgehammer fixed that with Vanguard and has marched into the future with a touched-up version of IW 8.0, making this year's entry feel modern enough. An immediate result has been the reincorporation of mechanics such as interactive doors and windows, or weapon mounting, something that should be common in all military shooters by now. On top of that, semi-destructible environments and blind firing from cover make firefights more chaotic, although I don't expect this last mechanic to see much competitive online action.
The single-player campaign, however, drops Cold War's non-linear innovations (its best part) and loopy level design, and instead delivers one of the most traditional Call of Duty story modes in ages. You have Nazis, the Second World War, and a plot which gets straight to the point: Germany is about to fall, but word is that the worst of the Nazis (guys who thought Hitler was a wuss) want to go underground and come up with a Fourth Reich. This time around, Nazis feel extremely caricaturized and depicted as sewer rats eating each other, and maybe it's for the best — back are the swastikas too, strangely absent from CoD and Battlefield for years. On the other hand, the narration's structure is a bit more playful, mixing different POVs with separate theaters of war during WWII in order to give us the needed background for each member of the Vanguard, the multinational elite squad of Allies tasked with shutting those Fourth Reich ambitions down.
While the action never slows down and there's very little fat in this year's single-player offering, I feel like it never reaches the heights seen recently in the franchise (not even in Sledgehammer's previous game) — neither the overall plot nor the Michael Bay-ish set pieces are particularly inventive, and the whole thing ends up feeling like the origin story for a group of characters who are about to embark on an adventure that will go beyond WWII. The standout segments in the game are seen through the eyes of Polina Petrova a.k.a. Lady Nightingale (played by TLOU2's Laura Bailey), a fictional-but-inspired-by-real-life Russian soldier who terrorized the Nazi army that tried to take over Stalingrad before being kicked in the butt back to Berlin. I am, nonetheless, interested in seeing where Sledgehammer (obviously) plans to take this rather charming team in the coming years. I'd also like to mention Bear McCreary's stellar soundtrack, easily the most distinct and melodic the franchise has obtained recently.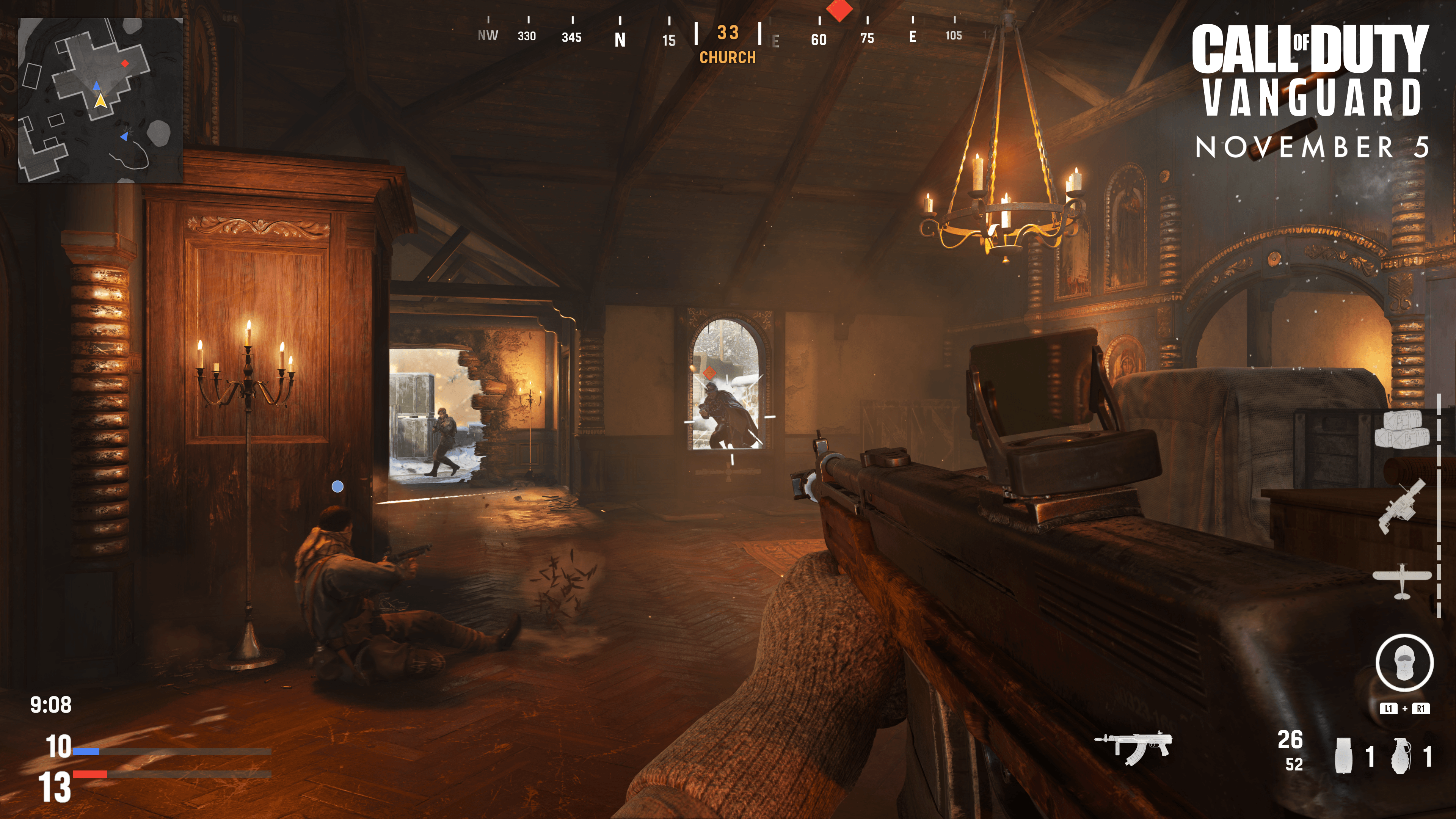 The online multiplayer component, as always, received the most attention and packs an impressive amount of content on Day 1, before any of the planned seasons of free post-launch content and events arrive. Unsurprisingly, the WWII setting doesn't allow the weapon selection to match the variety of Modern Warfare or Cold War, and we've yet to see how that will be handled moving forward — weapon attachments are already breaking the immersion for diversity's sake. The offering of game modes feels meaty as well, with all the classics included, and some inspired new arrivals — the tournament-like Champion Hill mode is especially thrilling and manages to bring some "battle royale" sensibility into the core MP experience. For those wondering, Warzone integration (with a new map and significant new mechanics) drops on December 3rd, although Vanguard players will get 24 hours of early access on the 2nd.
I was pleasantly surprised to see the overall quality of the maps improve after a disappointing beta and WWII (2017), in which Sledgehammer mostly came up with lane-based arenas that didn't take advantage of the setting at all. For Vanguard, they crafted some really solid maps with plenty of strategic spots and little pathways, something more in line with Modern Warfare and less constrained than usual in modern Call of Duty titles. Even though the pacing of the matches is insanely fast, it can be tweaked/selected for the first time ever with varying player counts that represent more or less combat intensity for the same maps/modes. Moreover, there are some great remakes of World at War (2008) maps in there too. Spawns remain dodgy though, but I'm inclined to believe they'll at least try to balance them a little bit.
Much will be written about the TTK (time-to-kill), but I greatly prefer quicker, deadlier firefights than burning through two thirds of a magazine to bring an opponent down. It made me stick with Modern Warfare, and it probably will help me stick with Vanguard. Gunplay feels good overall, but Infinity Ward appears to be the only CoD studio currently capable of giving enough weight to their wide selection of guns. Same goes for the sound design and mixing — the game sounds sharp and dirty overall, but plenty of guns lack oomph, and some volume-related audio bugs are too frequent to ignore.
The (almost obligatory) Zombies mode isn't nearly as mysterious or deep as Treyarch's last few efforts, but it's certainly easier to understand and follow this time around, with clearer goals and a well-defined structure put in place in order to guide players through a set of missions and a world hub that grow in difficulty with each success. What is currently present in the game plays well enough and offers many thrills and challenges, but at the same time feels like the foundation for content yet to come. If the Sledgehammer-led teams involved in the making of this game had to cut some corners because of the pandemic, Zombies was probably the mode hit the hardest. I fully expect this side of Vanguard to grow exponentially in the coming months, as it's always been a fan favorite.
Predictably, performance on PS5 (the version provided) is near perfect, with the game hitting 60 FPS in 99% of scenarios, bar some almost imperceptible hitches that feel odd and should be fixed sooner rather than later. No Ray-tracing mode is offered for now, but maybe it's for the best, as Cold War rushed to implement a disappointing take on the shiny new tech — the 120 FPS mode (a must for competitive players) makes a return though. Cross-play and cross-progression, introduced back in 2019, also remain rock-solid and haven't dropped PS4 and Xbox One.
In summary, Call of Duty: Vanguard lands closer to Modern Warfare '19 than Cold War in this new era of the franchise, and that's an improvement despite its lack of ambition and imagination. This year's installment feels like Activision's most precious IP going through the motions in order to maintain stability ahead of next year's highly anticipated Modern Warfare II, which Infinity Ward appears to be developing with a steady hand and plenty of time.
Call of Duty: Vanguard is now available on PC (Battle.net), PS4/5, and Xbox consoles.
Thanks to Activision and Step 3 for the review code.
Francisco J. Ruiz is that guy who has watched Jurassic Park a thousand times and loves Star Wars. His hunger for movies is only matched by his love for video games. He graduated in English Studies from the University of Malaga, in Spain. As he keeps writing about what he enjoys (and doesn't) for websites all over, he's continuing his studies.