'Spider-Man: No Way Home': Alfred Molina Confirms 'Spider-Man 2' Connection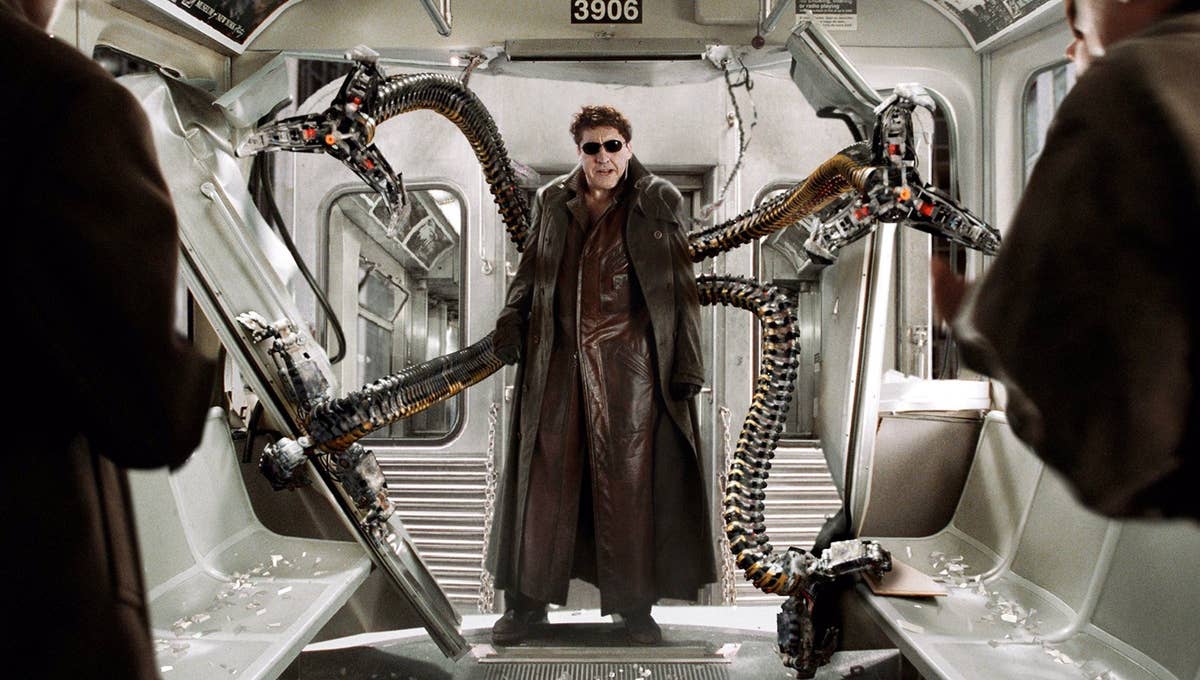 Just in case there was still any lingering doubt about Spider-Man: No Way Home being a Multiverse story, Doctor Octopus actor Alfred Molina has basically confirmed that the movie will tie in with 2004's critically-acclaimed, fan-favorite Spider-Man 2. Potential spoilers ahead!
Spider-Man 2 had a more sympathetic take on Doctor Otto Octavius than the standard arrogant mad scientist, as in that continuity, Otto a scientist with a dream of a world with limitless energy, a wife, and a bond with his student Peter Parker. Of course, things go completely wrong when an accident involving his four mechanical appendages results in the destruction of his project, the death of his lover, and the tentacles being permanently bonded to his body. He sets out to recreate his experiment on a larger scale, but when Spider-Man reveals his secret identity, he is convinced to destroy his machine before it can obliterate New York City. He cries out "I will not die a monster!" before sending his destructive creation, and himself, into the bottom of the Hudson River.
It's been known for a while that Doc Ock would be appearing in the movie, with Molina reprising his role, but nothing specifically said that it was going to be his version of the character from 17 years ago. Well, today, while talking to Variety, it sounds like Molina has outright confirmed that he's going to be revisiting the iteration of the character that he played in 2004, rather than a new take on the character akin to what J. K. Simmons did with his surprise cameo as J. Jonah Jameson in Spider-Man: Far From Home. (Instead of the usual take as the editor-in-chief of a respected newspaper, he played a crank conspiracy theorist hosting an online talk show.) Molina specifically mentioned following up his take on Doc Ock in Spider-Man 2 in the new interview:
"It was wonderful. It was very interesting going back after 17 years to play the same role, given that in the intervening years, I now have two chins, a wattle, crow's feet and a slightly a slightly dodgy lower back… [Director Jon Watts] just looked at me, and said, 'Did you see what [Marvel] did to Bob Downey Jr. and Sam Jackson [in previous movies]?'"
Molina explained to Variety that his part in the movie begins where he last left off: at the bottom of a river, unconscious and likely drowning. But somehow, that's not the end of his story. While the actor, initially contacted about the role, expressed reservations due to his character's death, Watts explained that nobody really dies for real in the Marvel Multiverse, and gave him an outline of how he'd return, starting with "that moment" on the Hudson River. And not just that, but he'll be digitally de-aged to look just like he did in 2004; digital aging and de-aging is a method that Marvel has employed across Captain America: The Winter Soldier, Ant-Man, Captain America: Civil War, Guardians of the Galaxy Vol. 2, Ant-Man and the Wasp, Captain Marvel, and Avengers: Endgame, and they've produced some of the best results out of the companies that have attempted the practice.
At this point, it can't be denied that Spider-Man: No Way Home is going to be a Multiverse movie, and with it comes the casts of the seven preceding live-action Spider-Man movies. The movie will release just before the twentieth anniversary of Sam Raimi's original Spider-Man movie, and it sounds like there won't be a better way to celebrate than to bring together an absolutely massive spectacle the likes of which has never been seen in a Spider-Man movie before.
Spider-Man: No Way Home is currently slated to release on December 17, 2021. The future of the Marvel Cinematic Universe includes the films Black Widow, Shang-Chi and the Legend of the Ten Rings, Eternals, Spider-Man: No Way Home, Thor: Love and Thunder, Doctor Strange in the Multiverse of Madness, Black Panther 2, Captain Marvel 2, Guardians of the Galaxy Vol. 3, Ant-Man and the Wasp: Quantumania, and reboots of the Blade, Deadpool, Fantastic Four, and X-Men franchises. Another Avengers movie is confirmed to happen eventually, but it will be a ways off. In addition to the aforementioned movies, there are several Marvel Studios shows confirmed for the Disney+ lineup: Loki, What If…?, Hawkeye, Ms. Marvel, Moon Knight, She-Hulk, Secret Invasion, Ironheart, Armor Wars, The Guardians of the Galaxy Holiday Special, an untitled show about Wakanda, and I Am Groot.

Grant Davis is a freelance writer who has covered entertainment news for more than four years. His articles have frequently appeared in Star Wars News Net as well as as other entertainment-related websites. As someone who grew up on Star Wars and comic book movies, he's completely thrilled with the current era of genre entertainment.