'Zack Snyder's Justice League': Steppenwolf Unleashed In Bloody New Clip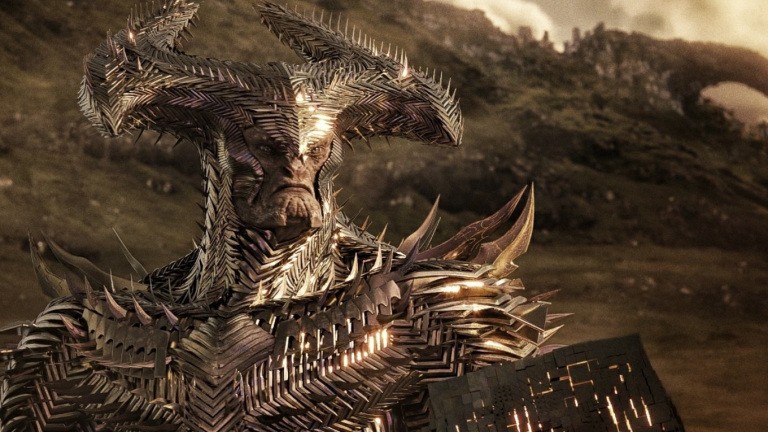 Zack Snyder's Justice League is officially R-rated, and one of the reasons why is down to violence that wouldn't fly in a PG-13 movie. A snippet of the movie has been revealed through Snyder's Vero account, showcasing Steppenwolf spill Amazonian blood.
Zack Snyder has previously indicated that he has plans to release a black-and-white iteration of his four-hour movie, which he has now revealed will be called the "Justice is Gray" edition. Today, he showcased a preview of that version from an editing desk, presumably to tweak the sound of the movie a bit before release date now that the picture is locked in sequence with all the visual shots ready. The scene he revealed showcases a much more brutal iteration of the Steppenwolf fight scene against the Amazons than what was in the theatrical release (which is clearly a reshoot, given the rough CGI seen in the sequence), showing the Apokoliptian general tossing horses and bloodily slicing through a warrior with his axe. Check it out below:
Zack Snyder previews new clip of Steppenwolf vs. the Amazons for 'Justice is gray edition' #ZackSnydersJusticeLeaguepic.twitter.com/bPYKK9OIiI

— Fandom (@getFANDOM) February 8, 2021
Snyder previously mentioned this scene when he first brought up the fact that he expected his complete iteration of the film to be R-rated. Even in black and white, it's pretty clear why, as that's a lot of blood. Fans hungry for a longer preview won't have long to wait, as the next (and possibly final) trailer is set to drop on February 14, at which point the marketing for the film will kick in in earnest. A sign that the marketing is about to pick up is the fact that yesterday, two short clips from this version of the movie made their way online.
Zack Snyder's Justice League will release on HBO Max on March 18, 2021. In addition, Snyder is releasing a "Justice is Gray" version of the film that will be in monochrome, and he has plans to release the finished movie in IMAX theaters if possible.

Grant Davis is a freelance writer who has covered entertainment news for more than four years. His articles have frequently appeared in Star Wars News Net as well as as other entertainment-related websites. As someone who grew up on Star Wars and comic book movies, he's completely thrilled with the current era of genre entertainment.