'WandaVision' Episode 5 Review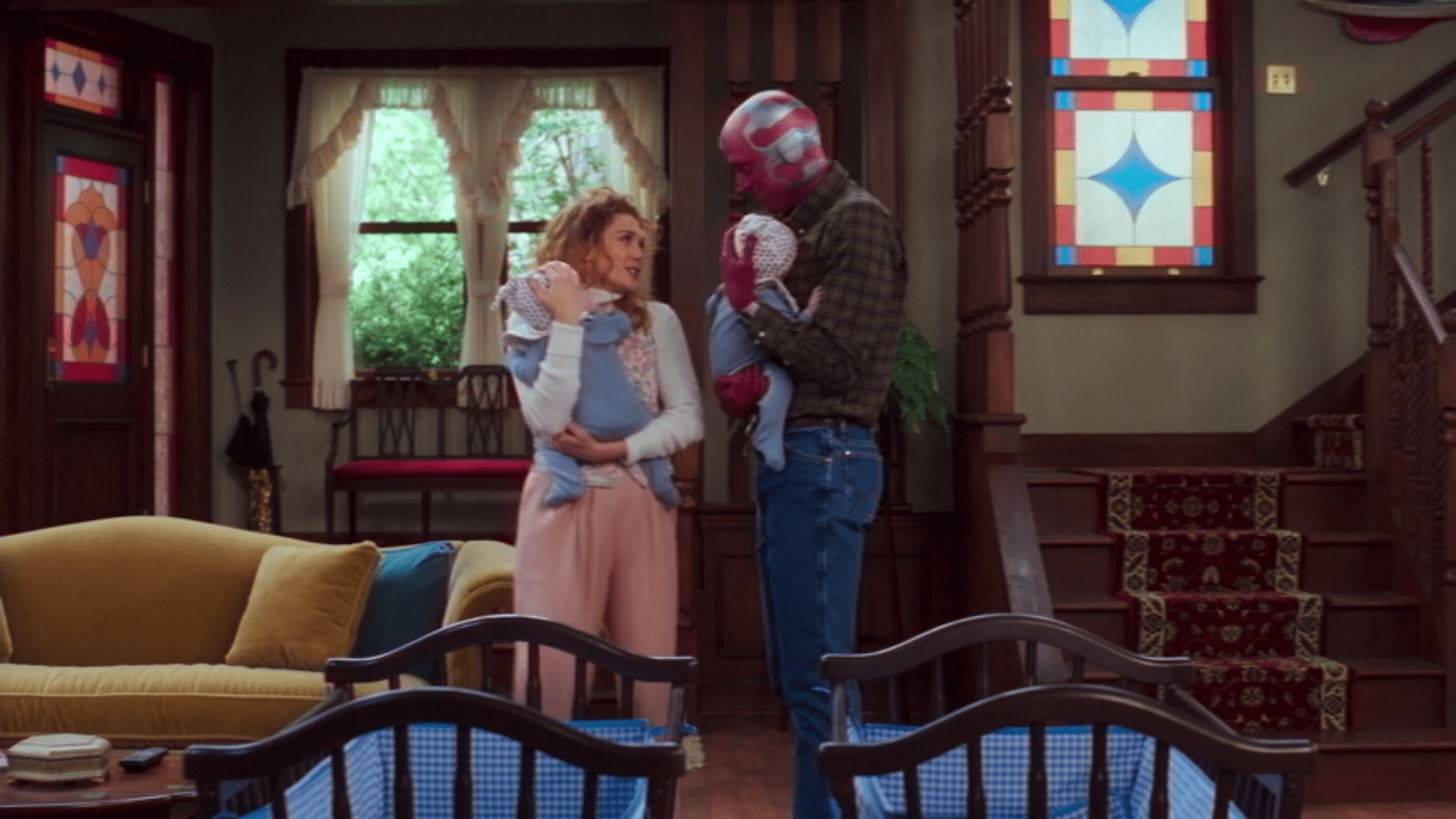 Another week, another episode of WandaVision. And as some mysteries continues to disappear, more questions pop up. Let us take a quick look at the episode at a non-spoiler level, and then we'll dive into all the details.
The new episode sees Wanda dealing with her twin sons going from babies to 5-year-olds in a split second, and then to 10-year-olds at their will so that they are allowed by their parents to own a dog. Taking care of a living thing is something for more grown-up boys, after all. Vision starts to notice that a few details do not match and he questions the reality that he's living in. Meanwhile, Agnes continues to pop up here and there, and more than ever, this episode raises many interesting questions about her.
If you've seen episode 4 of WandaVision, you know that there is also a storyline going on outside of Westview, featuring returning characters from Thor and Ant-Man 2, Darcy and Agent Woo respectively. As it happened last week, they are also questioning many things about what is going on inside the dome (which gets a new name in this episode), and new details emerge that make us wonder even more questions. While it may sound generic, I really can't say much more without revealing some spoilers. Let's jump in!
Spoilers after the picture for WandaVision Episode 5.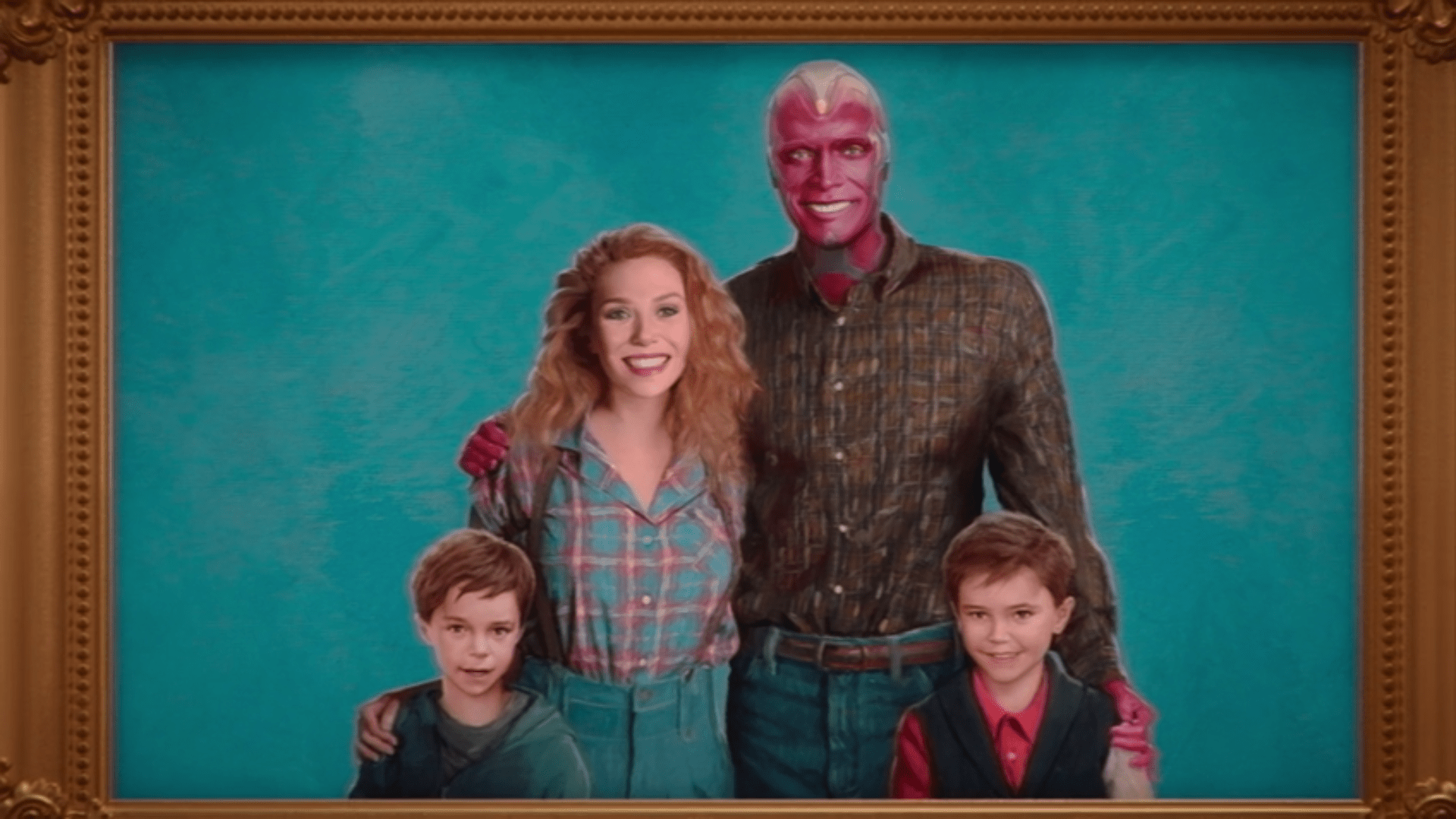 Let's address the big elephant in the room first, because at least one of the big secrets of the show has been revealed. Evan Peters' Quicksilver (from Fox's last few X-Men movies) has officially joined the Marvel Cinematic Universe through WandaVision, although we don't know to what extent yet. Hopefully, this was a major reveal for everybody else and many jaws hit the floor all across the globe this morning once the episode ended. Unfortunately, I saw that this was happening last week because I accidentally bumped into it online, so I'm quite furious about it.
Regardless of that, the reveal was executed brilliantly, with Wanda opening the door to a stranger and being astonished by who was there. Earlier in the episode, one of the twins asked Wanda about her brother, and Elizabeth Olsen, once again, showed off her incredible acting talent and gave the most subtle reaction. I can see her reaction as her subconscious working out a way to bring Pietro into the picture, but somehow it was Evan Peters instead of Aaron Taylor-Johnson. This is still a mystery to me, and we'll see what the next episode tells us about it.
The reveal of Evan Peters was excellent, as I was saying. If we were paying close attention earlier in the episode, we could have figured out that it probably was Quicksilver, but even if we did, the filmmakers (Matt Shakman directed the episode, like the rest of WandaVision) revealed to us that there is more to it, showing us first the grey, short hair. Aaron Taylor-Johnson had a similar hairstyle in Age of Ultron, but the most attentive viewers could figure out at this point that it was Peters' hair. And then, the final reveal/confirmation, with the opposite shot showing us Evan Peters.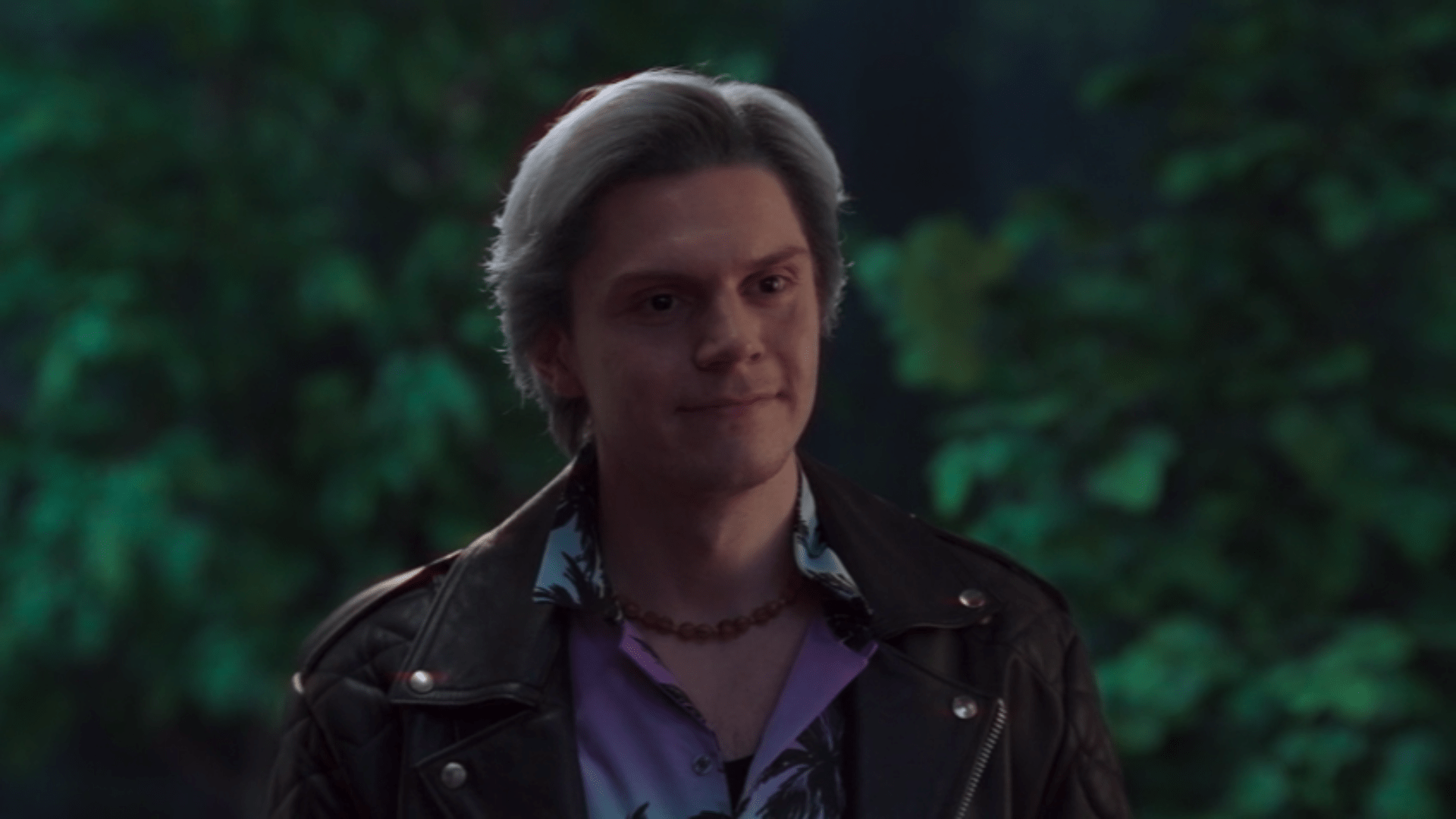 Paul Bettany has been teasing for a while that there is a secret actor in WandaVision that he's wanted to work with for a long time. I doubt this is the case, and I'm glad to say I don't know anything else about the show that I learned via some post on Reddit, so thank Kevin Feige for including Quicksilver in this episode already. Additionally, Elizabeth Olsen said earlier this week that there is a Luke Skywalker-level cameo in the show. Because Evan Peters showed up already, I think they still have one more ace up their sleeve and this was not the "Luke kind of" cameo. However, if I were someone who was not expecting it, I could see this being something major.
If not Evan Peters, the questions about that cameo are still out there, and that's up for anyone to speculate. Someone who would meet both descriptions is Ian McKellen as Magneto, which is a big fan theory out there. That would be great, and curiously enough (unless I totally missed it), we still haven't seen Wanda's parents in the MCU. I don't think that's a big deal, because, after this episode, they pretty much have carte blanche to rewrite history as they please. Let's explore that now.
Let's go back to the rest of this episode of WandaVision, and start with what is going on inside of Westview, because there is a lot to talk about. I think this episode is the beginning of the end for Wanda's world. Even though we'll talk about her trespassing the dome a bit later, it is apparent that quite a few things have changed for her since the 50s era episode. She no longer is holding her powers back in front of people, and the smokescreen is starting to dissolve.
While episode 3 indicated that maybe Agnes was being held hostage there too, in this episode it seems like she sides with Wanda and is 100% aware of what is going on. In the third episode, we already saw how the doctor's wife knew they would never leave the town for vacation, implying that she knows there is a barrier on the border of the town. But besides that throwaway comment, citizens of Westview are acting like there is nothing else going on, leaving the impression that they do not know they are being sequestered away. Speaking of that, dropping in the word "quarantine" was a big fourth wall break, I wonder whether they had that in before the lockdown happened – the show has already broken the fourth wall a couple of times ("the Universe created a sitcom starring two Avengers?"). More on this later.
There are a lot of details to dissect around this. For instance, the mailman that Wanda and the twins come across knows about the wall, and most interestingly, Wanda doesn't seem to care he does. Also, a few episodes ago, Wanda would have rewound the tape when Vision notices something strange at the beginning of the episode, but she didn't. And in that same scene, Agnes is fully aware that Wanda used to do that, which can either tell us that she knows all about what is going on (something that could feed the theory of her being Agatha Harkness), or that everybody knows about it except for Vision, and they are just pretending.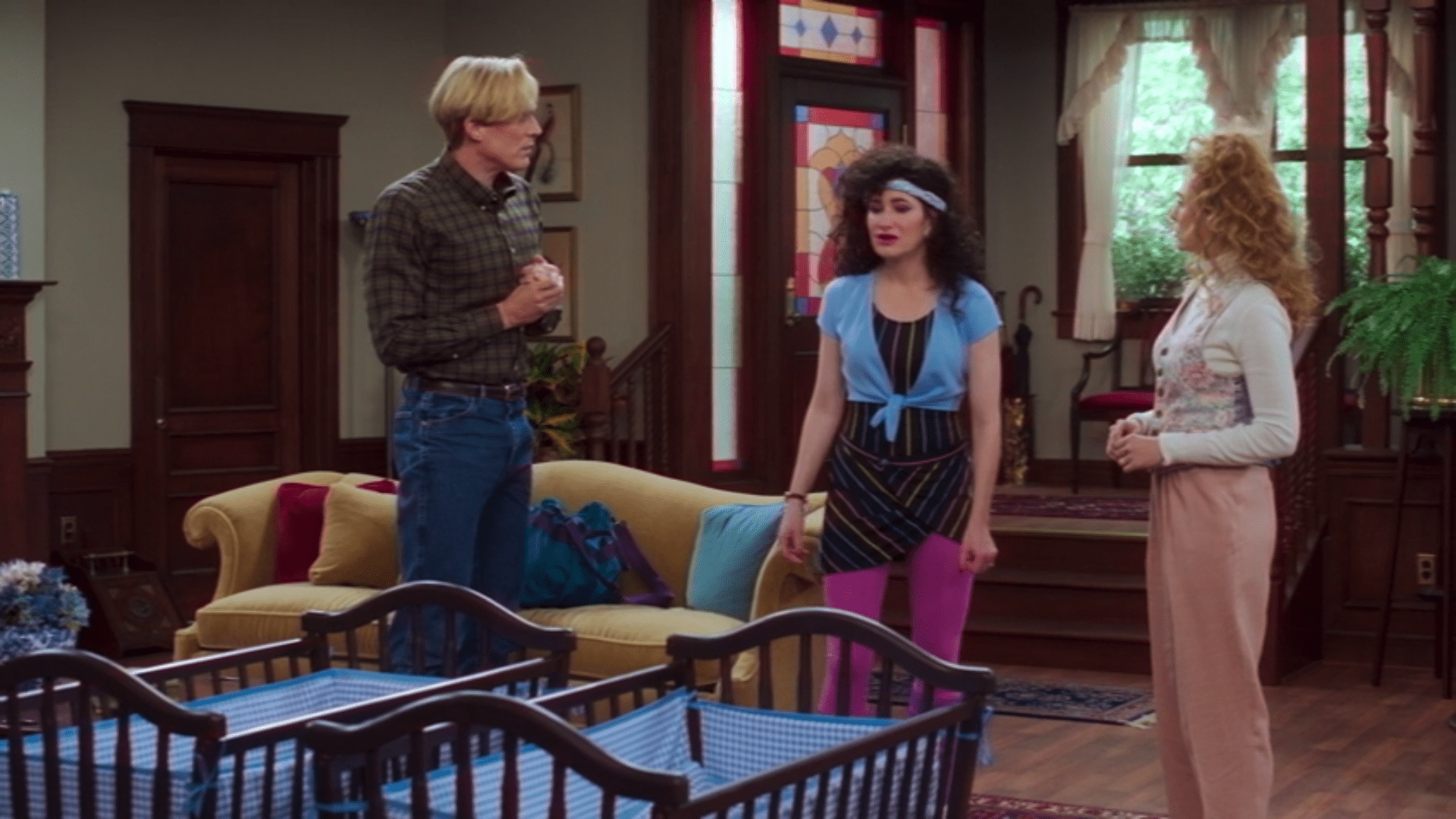 Vision being someone different from everybody else is quite obvious at this point. For example, in the second episode, the citizens that were in the meeting clearly did not want to have him there, even though he had every right to be. And no reason was given for it. And of course, in the third episode, Herb almost told him the entire story. There are a lot of questions raised here.
In this episode, Vision is not the only one questioning things; Wanda starts to wonder about some stuff too. I already talked about the scene in which Agnes told her if she wanted to rewind, and she was kind of shocked at it. But there was another one, by the end, where the boys ask her to bring the recently deceased dog back to life because apparently, she can. Wanda hesitates, and I'm not sure if it's because she doesn't know what to do, or if it's because she's thrown off by the twins knowing so much about her powers.
Finally, we have another commercial to discuss, and this time it relates to another big source of internal pain for Wanda. Lagos is the Nigerian city in which she destroyed a building with people inside at the beginning of Captain America: Civil War. I can only imagine what she felt after she decided to join the Avengers and started doing some good for the world that had taken so much from her, and then she accidentally killed all of those people. I think there are still several commercials left, and we can only hope to have one related to Ultron with maybe James Spader's voice in it. That would be amazing.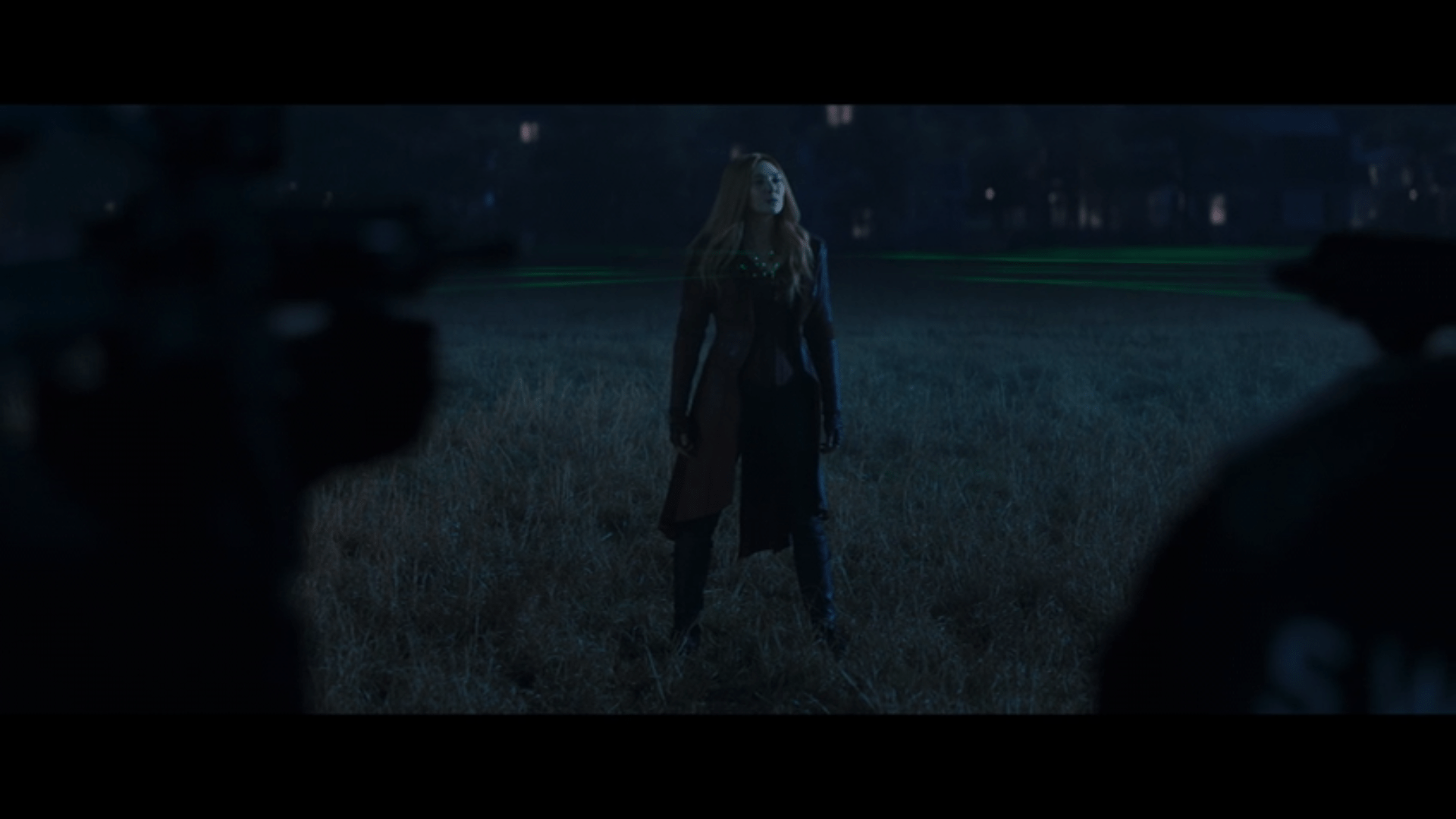 Moving to the world outside the Hex, we learn a lot of new things. First of all, apparently S.W.O.R.D. possessed Vision's body until nine days before now, when Wanda entered the facility and stole it. This is very interesting for many reasons. For example, I used to think that Wanda did not have the body and was just recreating Vision in her world. This is not a fully satisfactory explanation, because if that were the case, Vision wouldn't really figure out that there is something else going on. I was convinced that Wanda abruptly seeing Vision's corpse at the end of the last episode was a "glitch" in her mind – her subconscious reminding her that what she's seeing is not real. But after this episode, I don't think we are quite ready to discard the theory that she is just reanimating Vision's body. And also, what is the name of a person who enjoys sex with a robot that used to be "alive" but no longer is? This is probably the question they need to answer first.
This is one of the most wonderful things about this episode, and the series in general. There is a big mystery in place, with a lot of smaller questions surrounding it. In every episode, one theory seems to be clearer than the rest, and another one turns into just a long-shot possibility. And in the next one, the two could swap their status. Even when Kevin Feige and his team answer one question, they raise two or three more (kind of like when you take out one head of Hydra). And when they confirm one theory, they leave the door open for another one we didn't think was real.
Also, we see that director Tyler Hayward, played by Josh Stamberg, is very suspicious of Wanda and even convinced she is a terrorist. His exchange with Randall Park's Agent Woo was a great moment, used by the writers to remind us about the complexities of Wanda's character. She has experienced so much loss in her life, so it is quite natural to think that any day she could wake up and say "I can't take this anymore" and just break bad. If I'm right about her being the main antagonist for this Multiverse storyline that includes WandaVision, Spider-Man 3, and Doctor Strange 2, we could be looking at probably the best origin story for a villain, ever. Just throwing that out there.
And continuing with Hayward, another big scene of the episode is the one in which Wanda leaves the Hex and confronts the entire S.W.O.R.D. team. We learn here that Wanda knows something about what is going on outside, but we don't really know to what extent. For example, if she could somehow see what was going on, she could have seen Monica Rambeau crossing the frontier and entering Westview, but she didn't know who she was. Wanda probably put two and two together, between the beekeeper and Monica, but I still think there is more to it. After all, we have learned by now that WandaVision is big on baiting the audience.
Going back to the fourth wall breaks, there was another big one here, because apparently a "random" FBI agent (Woo) and a woman who just was un-dusted know that Wanda fought Thanos on her own (with no one around, by the way) before he called a bombardment of the area from his ship. Oh, and also Captain Marvel came close to beating him (again, a scene with no spectators around). Speaking of Captain Marvel… Apparently, Monica Rambeau is at odds with her, as director Matt Shakman told us through a very poignant close-up of Teyonah Parris' face. I wonder if they are setting up something for a future episode of WandaVision, or if this will tie in directly with Captain Marvel 2, which is coming out almost two years from now. In any case, another brilliant move by Kevin Feige, reminding us that everything in this Universe is relevant to everything else, without rubbing it in our faces.
WandaVision will return next Friday, and the setup could not be better.
Scarlet Visions:
The results of Monica Rambeau's MRI are blurry and inconclusive, which hints that she has been altered in some way physically by her experience. This is likely the beginning of her transformation into the superpowered Spectrum from the comics (she was originally Captain Marvel).
Agnes refers to herself as 'Auntie Agnes,' another hint that she is in fact Agatha Harkness.
Sparky is a direct reference to the 2015 The Vision mini-series by writer Tom King and artist Gabriel Walta.
Miguel Fernández is a Spanish student that has movies as his second passion in life. His favorite movie of all time is The Lord of the Rings, but he is also a huge Star Wars fan. However, fantasy movies are not his only cup of tea, as authors like Scorsese, Fincher, Kubrick or Hitchcock have been an obsession for him since he started to understand the language of filmmaking. He is that guy who will watch a black and white movie, just because it is in black and white.