'Metal Gear Solid' Casts Oscar Isaac As Solid Snake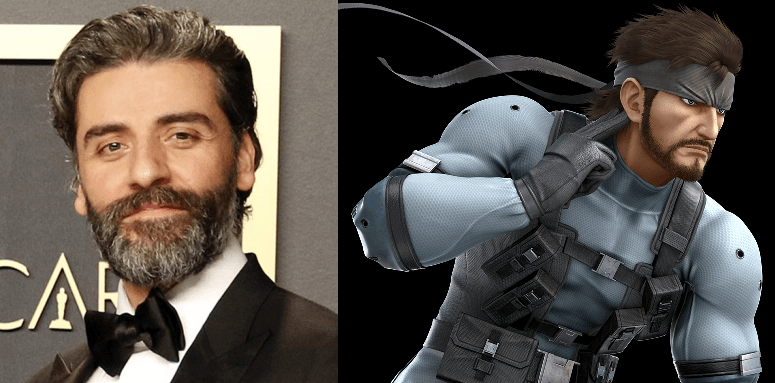 Director Jordan Vogt-Roberts's long-awaited Metal Gear Solid adaptation just moved forward in a big way with Oscar Isaac cast as Solid Snake, the lead protagonist of the series and the legendary soldier who can take down skyscraper-sized mechas on his own.
Deadline broke the news earlier today, which represents the biggest leap forward for the adaptation since it took some steps forward after the success of the director's previous effort, Kong: Skull Island. Given that Snake's backstory is that he's a clone of the legendary solider Big Boss, it's also possible that Isaac may be playing him and potentially other characters, including the likes of Liquid Snake, Solidus Snake, and Venom Snake. The movie adaptation of Konami's video game series is to be directed by Jordan Vogt-Roberts, produced by Avi Arad, and written by Derek Connolly (who previously partnered with the director on Kong: Skull Island).
The Metal Gear Solid franchise revolves around various bipedal weapons known as Metal Gears – mechas that owe their name to the belief in-universe that they are the "metal gear" between infantry and artillery – and the efforts to keep them out of the hands of terrorists or corrupt military officials. The series is known for redefining video games as a potentially cinematic medium with storytelling, its attention to detail and willingness to subvert player expectations, and even its occasional detours into campiness and bizarre humor. Vogt-Roberts has indicated that his pitch for a movie not as a direct adaptation of the industry-defining 1998 PlayStation 1 video game, but a remix of characters and Metal Gears from throughout the franchise's history in a story that would presumably involve time travel or dimensional shenanigans (which would be a first for the series).
The story of the Metal Gear Solid franchise spans decades, from the 1960s to the then-near-future of the late 2010s, which feature a number of quirky characters and unique designs for mechas. In both 2018 and 2020, Vogt-Roberts revealed a large selection of concept art that would help explain his pitch to others, showcasing dream scenarios that wouldn't be possible in a conventional adaptation. Based on what his vision for the series is, you can tell that he has an incredible passion for the video game franchise and would work as hard as he could to ensure that it ends up making a great film. If you haven't seen the pieces already, then you can check out the director's Twitter threads, which reveal an abundance of concept art for the film, below:
DAY 1 of #METALGEAR31st

There's many beautiful+insane+iconic images to come…but I want to start with this piece by Nick Foreman.

The bond we formed via mechs reinforced that we should be loud w/ our love of this franchise as we may find friends & collaborators in the process. pic.twitter.com/5Zj4vRsu5T

— Jordan Vogt-Roberts (@VogtRoberts) July 13, 2018
DAY 1 of #MGSQUARANTINE

This gem was done by my friends at Form Language Studio.

It's the type of image I would've dreamed of having as my desktop wallpaper as a kid. I think the towering and insurmountable nature of REX speaks to the dread we're collectively feeling right now. pic.twitter.com/hxPuU2tomk

— Jordan Vogt-Roberts (@VogtRoberts) May 12, 2020
Oscar Isaac is certainly going to keep busy after Star Wars and Dune, given that he's currently filming Scenes From A Marriage for HBO and he's been in negotiations for a Marvel Studios role with the Disney+ series Moon Knight. There's no word on when Metal Gear Solid will start filming, but it would presumably have to start close to when Moon Knight is expected to wrap, which should be late 2021.

Grant Davis is a freelance writer who has covered entertainment news for more than four years. His articles have frequently appeared in Star Wars News Net as well as as other entertainment-related websites. As someone who grew up on Star Wars and comic book movies, he's completely thrilled with the current era of genre entertainment.