'Jurassic World: Battle at Big Rock' Short Film Hits Internet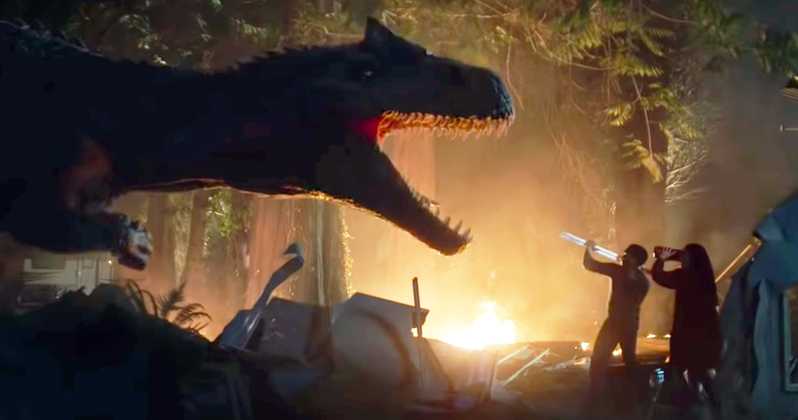 Jurassic World director Colin Trevorrow has released a short film that's set a year after the events of the sequel, Fallen Kingdom.
Originally planned to release in front of Fast and Furious Presents: Hobbs and Shaw, the short instead dropped on FX and then the internet. It's not clear as to why Universal chose not to take advantage of this synergy, given that both are the studio's biggest franchises. The project remained a secret until very recently, when it was formally announced four days before it dropped.
In the short, a blended family (who came together pretty recently, as the short reminds its audience) who go on a camping trip get way more than they bargained for. Their destination is Big Rock National Park, which is pretty close to where the dinosaurs were released at the end of the last Jurassic World story, as they plan to watch a meteor shower. While getting back inside a trailer to enjoy dinner before the light show, the family realizes that there are dinosaurs rummaging through their refuse as what was hoping to be a quiet vacation just got a lot hairer… Or perhaps scalier. It ultimately culminates in a little dinosaur fight, along with some assorted found-footage clips showing other human-dinosaur encounters.
You can see the short below:
Jurassic World: Battle at Big Rock feels like a sort of proof-of-concept for the next film in the series, which director Colin Trevorrow has likened to a "science thriller" and has suggested is more about humanity learning to coexist with dinosaurs rather than a human-dinosaur war, or a "dinosaur apocalypse" of sorts. Life, uh, finds a way, and perhaps a return from more of the original Jurassic Park cast will, too. (If that's the case, then hopefully, they're given a lot more to do than what B. D. Wong and Jeff Goldblum were in the last one.)
The untitled third Jurassic World movie is set for release on June 11, 2021.

Grant Davis is a freelance writer who has covered entertainment news for more than four years. His articles have frequently appeared in Star Wars News Net as well as as other entertainment-related websites. As someone who grew up on Star Wars and comic book movies, he's completely thrilled with the current era of genre entertainment.