'Black Widow' May Introduce a Second Black Widow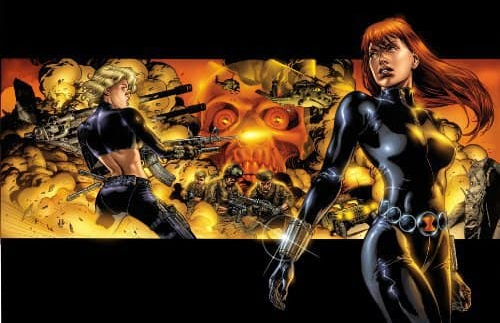 Next year's Black Widow may leave Marvel fans seeing double, as there very well could be a second character to assume the title of Black Widow in the espionage-focused Marvel prequel. The movie is set to follow Scarlett Johansson's Natasha Romanoff, but word suggests that she'll be joined by another Black Widow: Yelena Belova, a character who (if rumors are to be believed) will be portrayed by Florence Pugh.
A brief blurb from The Independent (hat tip HN Entertainment) suggests that Pugh will be portraying a figure familiar to Natasha Romanoff, but not the audience. From what little we know about Romanoff's mysterious past, it's made clear that she's not the only Black Widow assassin who was trained as part of a cutthroat Russian intelligence organization; there were others like her, but they've never come into play. Until now, it seems, with Yelena Belova, another survivor of the program, playing a large part in the story… And if they're introducing her now, then it seems like we'll be seeing more of her down the road.
Some are wondering why Marvel is doing a Black Widow prequel so long after her debut in Iron Man 2, and especially after Avengers: Endgame clearly represented the end of her story. Aside from corporate politics (which is a can of worms I'd rather not open here) getting in the way of this movie happening sooner, the answer may lie in the inclusion of the second Black Widow, who will likely carry on the character's title in the present and will probably have a significant impact on the story going forward. Belova, for instance, is involved with the Thunderbolts, which is a team that Marvel are reportedly interested in bringing into the realm of film.
It's entirely possible that if the movie is a success, Pugh could take over for Johannson in future Black Widow sequels, presuming that they're all set in the post-Endgame world. Otherwise, Johannson could continue appearing in stories that will explore the original character's backstory, and subsequently lay a foundation for future movies. While the movie sounds fairly predictable right now, it's likely that we'll be blown away when it finally arrives.
Black Widow is in development at Marvel Studios, and although no date has been scheduled, the movie is most likely seeking Marvel's tentative May 1, 2020 release date.

Grant Davis is a freelance writer who has covered entertainment news for more than four years. His articles have frequently appeared in Star Wars News Net as well as as other entertainment-related websites. As someone who grew up on Star Wars and comic book movies, he's completely thrilled with the current era of genre entertainment.