Movies Coming Out This Week: 'Godzilla'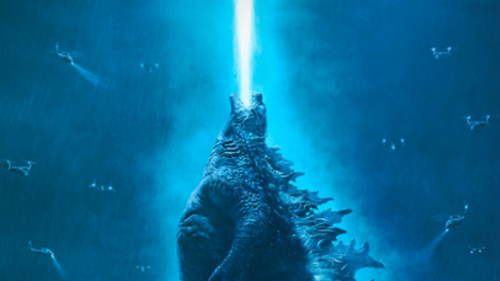 Disney's live-action Aladdin nearly took in over $100M last weekend. Will it be able to compete with Godzilla: King of the Monsters in it's second week?
Godzilla: King of the Monsters

When Warner Bros. and Legendary Pictures released the Gareth Edwards helmed Godzilla back in 2014, it was met with a generally positive reception from critics and audiences. Most criticisms focused on the underdeveloped characters and the lack of Godzilla himself. But the movie went on to earn over $500M worldwide, which was more than enough for WB and Legendary to greenlight a sequel. Gareth Edwards would not return, however, as he went on to work on other projects, such as Rogue One: A Star Wars Story. Krampus director Michael Dougherty was then hired to write and direct the sequel. When making the film, Dougherty admitted that he loved Edwards' film, but that he intended to "take the gloves off" and not hold back with his own movie. This seems evident in the film's trailers since, as the title suggests, there are a lot of monsters in this movie.
Many of Toho's iconic kaiju (including Mothra, King Ghidorah, and Rodan) are all in this movie, and they all seem to be squaring off against one another. If kaiju fights are what the fans want, then they should be in for a treat since Dougherty's film seems to place a huge emphasis on the spectacle of these "titans" fighting with each other. However, critics still seem to have a problem with the human characters, as the movie currently sits at a 51% on Rotten Tomatoes. But fans should have nothing to fear just yet; regardless of how King of the Monsters performs critically or at the box office, we will be seeing Godzilla again shortly since Godzilla vs. Kong is still set to be released in March of next year.
Godzilla: King of the Monsters features an ensemble cast including Kyle Chandler, Vera Farmiga, Millie Bobby Brown, Bradley Whitford, Sally Hawkins, Charles Dance, Thomas Middleditch, Aisha Hinds, O'Shea Jackson Jr., David Strathairn, Ken Watanabe, and Zhang Ziyi. It is the third film set in Legendary's "MonsterVerse", following Godzilla and Kong: Skull Island.
Synopsis:
Members of Monarch rely on Godzilla to face off against Mothra, Rodan, and King Ghidorah, three god-sized monsters who all vie for supremacy, leaving humanity's very existence hanging in the balance.
Rocketman

Though he may not have received directorial credit for his work on the film, Dexter Fletcher is coming hot off of the success of Bohemian Rhapsody – another musical biopic that received numerous accolades and gained over $900M at the box office! I don't think Rocketman will be quite as successful, but it still looks like it's going to be fairly good movie. The film screened early at certain locations and had its premiere at the Cannes Film Festival, where it earned a warm reception. The movie currently has a 91% on Rotten Tomatoes based on 116 reviews, which is easily warmer reception than Bohemian Rhapsody. Rocketman differs from other musical biopics, as it will contain fantastical elements imagined from Elton John's mind.
The films stars Taron Egerton as John Elton, alongisde Jamie Bell, Richard Madden, and Bryce Dallas Howard.
Synopsis:
Elton John grows from a Middlesex prodigy at the Royal Academy of Music to an influential musical iconic. All the while, he struggles with depression, substance abuse, and accepting his own sexual orientation.
Ma

Tate Taylor is probably best known for directing the 2011 film The Help. He followed up with another drama called Get On Up, but he recently tried to dab into a different genre with 2016's The Girl on the Train. Now he's entered into the horror world by teaming up with Blumhouse to create Ma. On a budget of only $5 million, Ma is sure to make its budget back several times over this weekend. Even if the film does sit at a 57% on Rotten Tomatoes, based on Blumhouse's successful financial track record, Ma is sure to garner a few sequels if audiences respond well to it.
Ma stars Octavia Spencer as the titular character, Sue "Ma" Ann.
Synopsis:
A lonely middle-aged woman (who goes by Ma) befriends some teenagers and decides to let them party in her basement. But as Ma's hospitality starts to turn into obsession, what began as a teenage dream turns into a terrorizing nightmare.
Limited Theatrical Releases/Streaming Releases
Domino
A crime thriller directed by Brian De Palma, which stars Nikolaj Coster-Waldau, Carice van Houten, and Guy Pearce. The film is about a police officer who seeks revenge for his partner, who was murdered at the hands of an ISIS member. Despite being directed by someone as influential as De Palma, Domino is receiving a limited release due to production troubles and receiving a poor reception.
Always Be My Maybe
A comedy starring Ali Wong and Randall Park as "two childhood friends who find themselves in vastly different socioeconomic situations when they fall in love as adults." Keanu Reeves also plays a role in the film, which will available on Netflix.
Loners
A comedy about a group of eccentric loners caught in "The War on Loneliness," a program created by politicians to stem the growing tide of violence that loneliness appears to be bringing.
Mouthpiece
A dramedy about a single writer who finds herself in a crises following the death of her mother.
Which movies are you looking forward to? Will you be seeing Godzilla: King of the Monsters? How do you think Rocketman will compare to Bohemian Rhapsody? Let us know in the comments section.