'Aquaman 2': Jason Momoa Has Input On the Plot; Story Has Locked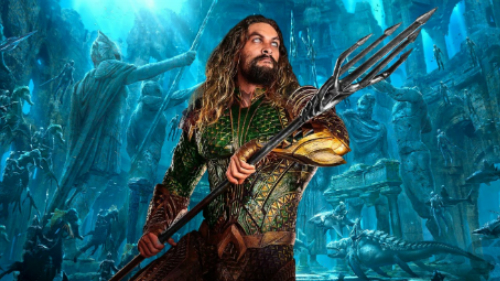 Jason Momoa has revealed that progress on Aquaman 2 is moving along quite swimmingly, as Momoa has been working directly with the movie's screenwriter to figure out where the next big adventure in Atlantis will take the newly-crowned King of the Seven Seas.
While speaking on The Ellen DeGeneres Show (hat tip Screen Rant), a recently-shaven Jason Momoa spoke about what personally has him excited for the next installment in the unexpectedly huge Aquaman franchise. Momoa explained that the conflict is strictly Earth-based, and puts Arthur Curry in a position where he has to make difficult calls as the King of Atlantis. He also noted that he got a shot at working with the writers of the film itself while crafting the new story:
"I was really, really, really passionate to do the second one because it's the first time where it's all on Earth. It's combining land and sea, kind of like what I'm doing with this [environmental cause]. There's no outside aliens destroying Earth, it's us… I was excited to get back in there, and so I've been working with our previous writer, and getting in there, and we've got a locked story, and we're getting into it."
In addition, Momoa mentioned that he would grow his beard back in time for the release of the sequel, which shouldn't be surprising considering that it's still three years away. You can watch the full discussion between Momoa and DeGeneres below:
Barring a change due to the announcement of a new Star Wars movie set to release around the same time, Aquaman 2 will be released on December 16, 2022. In addition, a horror spin-off (The Trench) is in development for a release date before the underwater sequel. James Wan is expected to return as a director, and will likely be joined by writer David Leslie Johnson-McGoldrick, who was one of the writers on the first film.

Grant Davis is a freelance writer who has covered entertainment news for more than four years. His articles have frequently appeared in Star Wars News Net as well as as other entertainment-related websites. As someone who grew up on Star Wars and comic book movies, he's completely thrilled with the current era of genre entertainment.