For the last two years, Paramount has been quietly working away on bringing Dungeons and Dragons back to the big screen, alongside a slew of other properties based on toy lines and role-playing games. Now, That Hashtag Show is reporting the project is gaining momentum with a new script, new release date, and an impressive shortlist for the lead.
Dungeons and Dragons is arguably the most well known role-playing game in the world, but despite a built in fanbase and a fondly-remembered animated series, the franchise hasn't been able to find success at the box office. Paramount are hoping to change all that, with That Hashtag Show reporting that studio executives are buzzing about Michael Gillio's latest draft of the script. According to their report, Gillio has been given some notes for minor rewrites, but if all goes well Paramount will soon be looking for a director who can bring the fantasy world to life. Chris McKay was in the running earlier, but he has not officially signed on, and the movie may be directed by someone else.
Paramount are looking to put some serious star power behind the franchise, with the studio's shortlist for the film's male lead including Will Smith, Josh Brolin, Chris Pratt, Vin Diesel, Matthew McConaughey, Jamie Foxx, Joel Edgerton, Dave Bautista, Jeremy Renner, and Johnny Depp. That's a very impressive, and varied, list! Every one of those actors could bring something unique to the lead role so it will be interesting to see which direction the studio decides to go.
With the script almost in place, the studio have also tweaked their release schedule slightly, pushing the movie back from July 23, 2021 to November 19 2021. It's a smart move, the fantasy adventure is bound to be incredibly VFX-heavy, and with no director in place, yet those extra few months could be crucial for post-production. Paramount clearly sees Dungeons and Dragons as a potential tentpole event for them, so it's much better to take their time and get it right.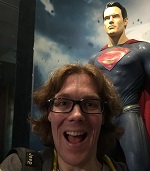 Chris is a lifelong fan of Disney, Star Wars and super heroes who can't quite believe this golden age of movies and TV we're living in. Having written blogs dedicated to Disney's Aladdin musical and Star Wars Celebration, Chris is excited to be part of the MNN team.