'Shazam!': First Look at Zachary Levi as the Original Captain Marvel Revealed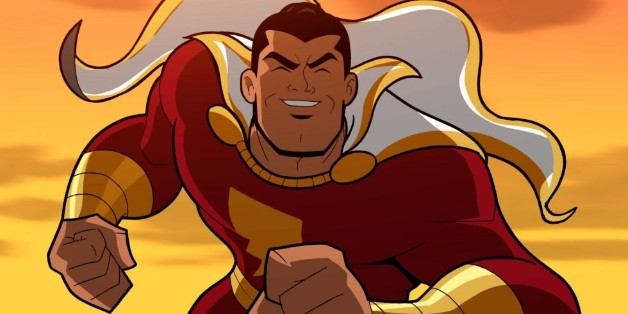 Back in the 1930s, one of the predecessors to the company that would eventually become DC Comics introduced a character named Captain Marvel. Years later, Marvel borrowed that name and made things complicated things for everyone until DC went "screw it" and changed their Captain Marvel's name to Shazam. And now, we have our first official look at what Zachary Levi looks like wearing Shazam's suit.
Levi just revealed an image that looks like it's going to be a future ad for the movie during a licensing show that Warner Brothers attended. In it, we see a bit of the "Like Big, but with superpowers!" pitch that director David F. Sandberg has promised viewers:
From a visual standpoint, aside from the character's iconic lightning-bolt symbol and his cape, the costume design seems to be evocative of the DC Films iteration of the Superman costume. The mesh on the surface of the costume seems reminiscent of the mesh seen on the Kryptonian suits seen in Man of Steel and its follow-ups. To speculate a bit, perhaps the young, powerless version of Billy Batson could be thinking of evoking Superman's imagery before he makes his superhero transformation, given the rumors indicating that he and his fellow friends at the orphanage are all fans of superheroes that exist in their setting.
Shazam will be released on April 5, 2019.

Grant Davis is a freelance writer who has covered entertainment news for more than four years. His articles have frequently appeared in Star Wars News Net as well as as other entertainment-related websites. As someone who grew up on Star Wars and comic book movies, he's completely thrilled with the current era of genre entertainment.