Ms. Marvel Co-Creator Sana Amanat on Kamala's New Powers in the MCU, Why Iman Vellani Was Perfect for the Role, and More
We are now less than a month away from the release of Ms. Marvel on Disney Plus.
As the date approaches us, the marketing campaign ramps up, which includes new interviews with the people behind the series. Entertainment Weekly, as part of their Summer Preview, got the chance to sit down with Sana Amanat, the Marvel Comics editor who, in collaboration with writer G. Willow Wilson, editor Steve Wacker, and artist Adrian Alphona, created the Ms. Marvel character back in 2014.
The character of Kamala Khan, a.k.a. Ms. Marvel, is now making the jump to live-action in the new series for Disney Plus. Kevin Feige announced it back in August 2019, but according to Amanat, discussions about the project have been ongoing for even longer than that. She said:
"It was definitely years ago. There has always been buzz. I know Kevin [Feige] was really excited to try to bring this to life. I think at this point it's been four or five years since we were officially going to adapt it. But it was exciting, and we were very happy to know that not only would it be adapted, but it would be adapted into a live-action series, which is what I had always hoped. I feel like this is a series because there's so much world and community."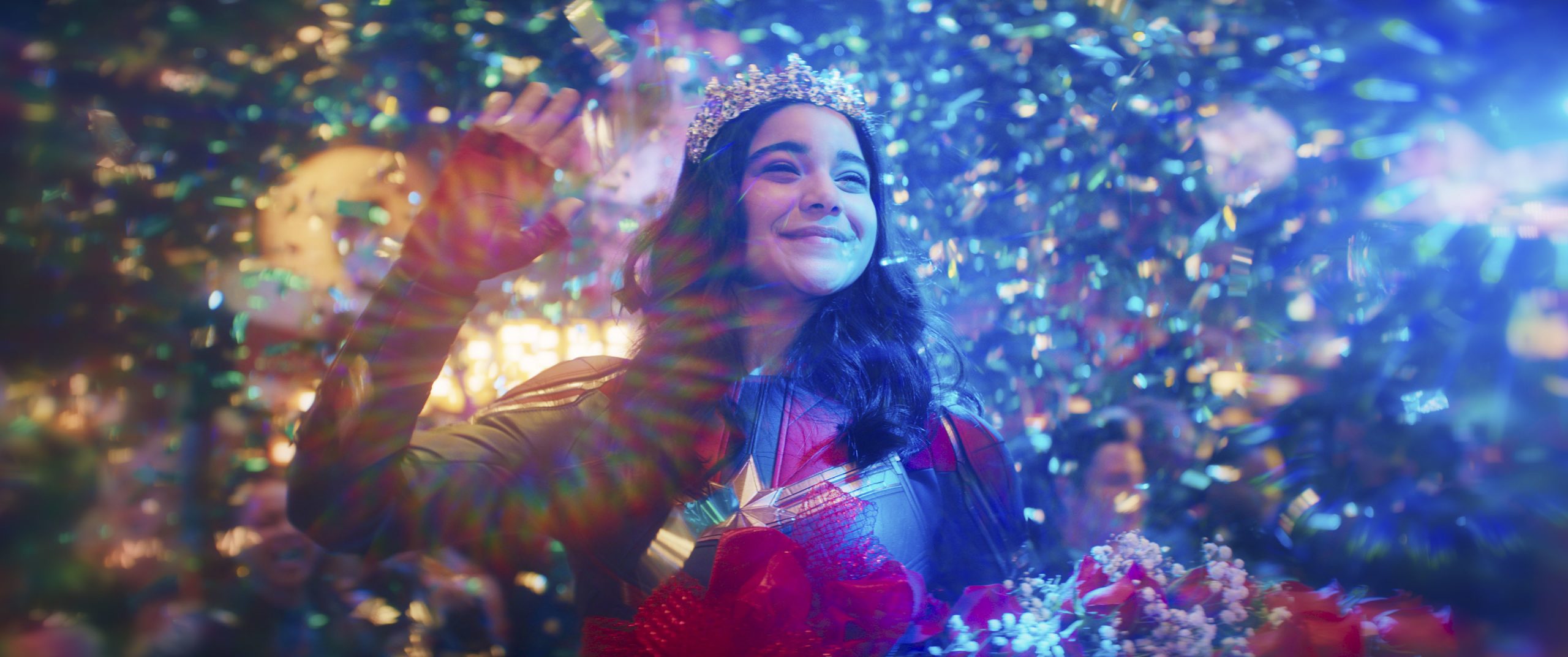 Amanat then explained how the comics acted as their guidelines when it came to creating the world of the show:
"The comic was very much a guiding light for us. We needed to make sure that it worked in the MCU, of course, but we wanted to make sure that we had that quirkiness and the stylistic distinction that the comics did so well. We wanted to find our own MCU version of it. So, we're doing things in this show that we don't really do anywhere else in the MCU. It's kind of told through the lens of Kamala's experience and her wild imagination. I think the brightness and the colors and where we go in the Marvel universe and in Kamala's universe is really what makes it stand out, tonally and stylistically, from everything else."
Kamala Khan will be played in the series by Iman Vellani, who was cast in the second half of 2020. For the character's co-creator, there is no doubt: Iman Vellani is Kamala, both on-screen and off-screen, which definitely helped when casting the character:
"I think once people meet Iman and get to know her and watch her in the show, everyone's going to be like, 'Oh, no question. She's Kamala.' It's no doubt. She is funny and sweet and vulnerable and nerdy and a huge fan of Marvel in real life. She's incredibly smart, like whip smart, and she has such a bright future ahead. I feel like Iman is going to do so much after this show. Sure, she can get an Oscar, but she's probably going to go be a director or a producer. She's going to do so much because she's so smart.

There is so much of Kamala in her because I think Kamala has the same type of view of the world. She looks at the world with eager and hopeful eyes, and I think Iman does that, too. You can't help but root for her and be drawn to her. There are just so many similarities that it felt like such a natural fit to see her put on the costume for the first time [or] see her go into the Khan house for the first time. It just made sense. There's no other Kamala than Iman Vellani."
The show is rooted in a feeling of positivity and joy that is inherent to the title character, as Amanat explained:
"It's so nice to have a character who just wants to do great things and be great, and at the same time, she has so much love for her family and for her friends. There's so much joy in the show. I feel like we're so used to seeing darker stories, especially sometimes about young people. I'm just like, 'Nah, let's just have fun. Let's enjoy ourselves and enjoy growing up with Kamala.'"
Amanat then addressed the online complaints that were brought up after the first trailer indicated that the character would be exhibiting slightly different powers than she did in the comics. She explained the reasoning behind that as follows:
"We wanted to make sure there is a little bit more story to tell after this series. Obviously, she goes into 'The Marvels'. The powers do look different, which is very controversial. I know people are like, 'How dare you change the powers!' I know people are upset about it, but as someone who's probably one of the closest people to this character from the inception, and having spoken to Willow about this as well, I think Willow and I have always felt that this made sense. This was the right move because there are bigger stories to tell.

It's really fun to give Kamala different kinds of powers that feel big in scope and cinematic in a different way. We can do a lot of fun things with her. I don't want to spoil too much about how she uses her powers, but they're fun and bouncy. At the same point, the essence of what the powers are in the comics is there, both from a metaphorical standpoint and from a visual standpoint. We're doing the embiggened fist. We're doing the elements that make her feel and look kind of crazy, but also really cool. I think it's going to be familiar to people, but at the same time, different in a fresh and unique way."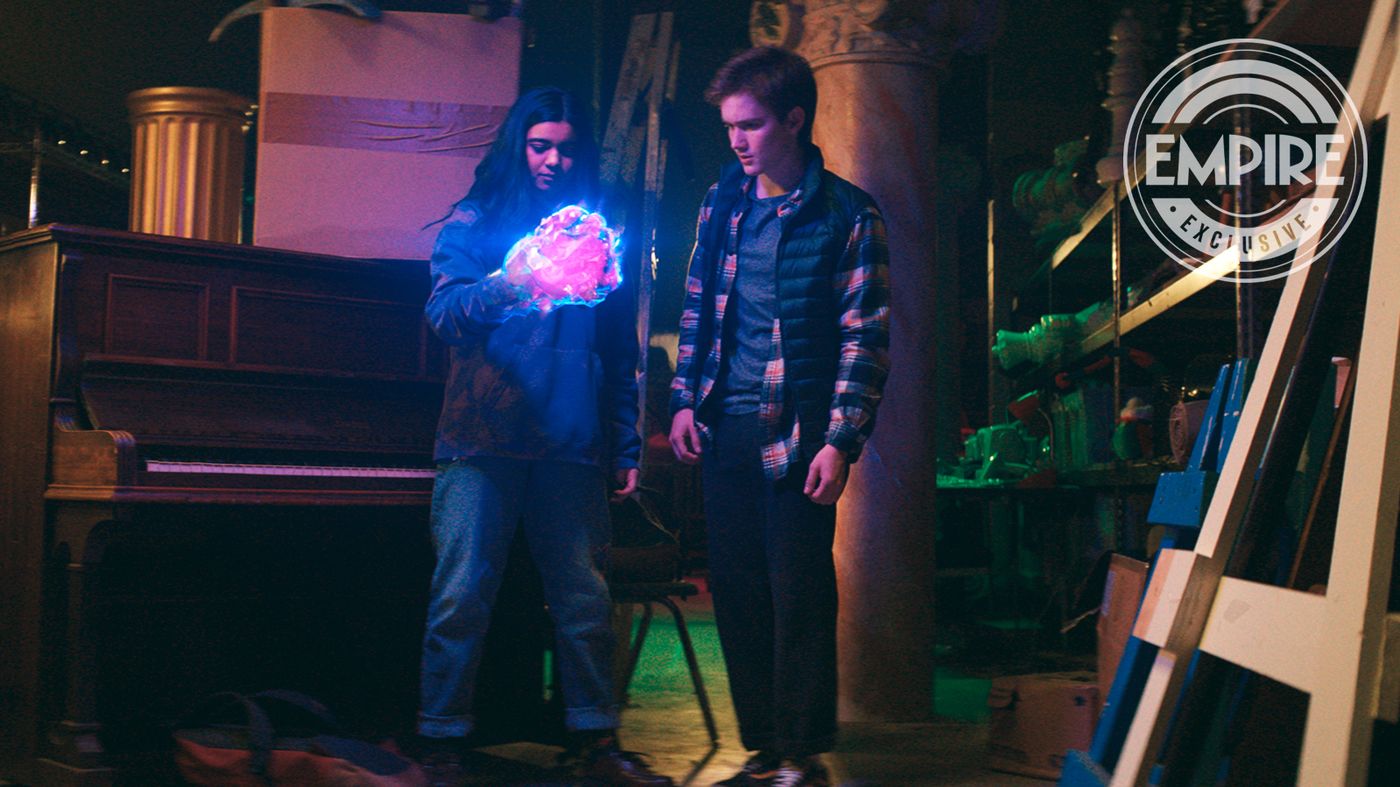 Kevin Feige also addressed this issue in an interview with Empire that was published earlier this week, in which he shrugged off the online complaints by saying:
"We adapt the comics; it's not an exact translation. [Kamala] came about in a very specific time within the comic-book continuity. She is now coming into a very specific time within the MCU continuity. And those two things didn't match.

What we will learn about where those powers come from, and how they come about, is specific to the MCU. You will see great comic splash panels in some of our action sequences. If you want big, giant hands and arms, well they're here in spirit, if not in stretchy, plastic-type ways."
In the Disney Plus series, much like in the comics, Kamala Khan looks up to Carol Danvers, a.k.a. Captain Marvel. The reasoning behind this sense of adoration was slightly changed from the comic-books and adapted to the world of the MCU, as Amanat explained to EW in depth:
"Obviously, in the Marvel comics, the story was different. [Carol] was Ms. Marvel in the Marvel comics, and she's been around for much longer. But in this case, what's unique is Captain Marvel is one of the few really well-known, big-time female Avengers, if you will. She had a pretty significant save in the battle against Thanos, and I think if someone who was young and looking out at the world, and she sees this really powerful, badass woman almost take down Thanos, what does that do to you? How do you internalize that? I think that is a really important story to tell, not only about who your heroes are, but who are your heroes when you're a young person of color? What does that do to your sense of self?"
To cap it off, Amanat was also asked what her favorite moment during filming was, to which she said:
"The lamppost was awesome. It's weird because we have ideas, and we scribble them down, and I talk to Adrian Alphona or Jamie McKelvie or Willow, and we're like, "Here's a picture," and then it's done. And now, it's years of work and so many hundreds of people, and then she's sitting on a lamppost in her costume, looking amazing. It's surreal when you have these little ideas, and then they're out there, everywhere, and they're out there in a big way on billboards and posters. Every day I'm pinching myself, and I just hope people like it."
Sana Amanat is a co-executive producer on Ms. Marvel alongside Trevor Waterson. The executive producers are Kevin Feige, Louis D'Esposito, Victoria Alonso, Bisha K. Ali (also head writer), Adil El Arbi and Bilall Fallah (also directors). Meera Menon, Sharmeen Obaid-Chinoy will direct episodes of the series too. The cast includes Iman Vellani, Aramis Knight, Saagar Shaikh, Rish Shah, Zenobia Shroff, Mohan Kapur, Matt Lintz, Yasmeen Fletcher, Laith Nakli, Azhar Usman, Travina Springer, and Nimra Bucha.
Ms. Marvel will debut exclusively on Disney Plus on June 8, 2022. Check out the most recent TV spot for the series below:
Miguel Fernández is a Spanish student that has movies as his second passion in life. His favorite movie of all time is The Lord of the Rings, but he is also a huge Star Wars fan. However, fantasy movies are not his only cup of tea, as authors like Scorsese, Fincher, Kubrick or Hitchcock have been an obsession for him since he started to understand the language of filmmaking. He is that guy who will watch a black and white movie, just because it is in black and white.