'Cruella' Gets Its First Official Trailer and Poster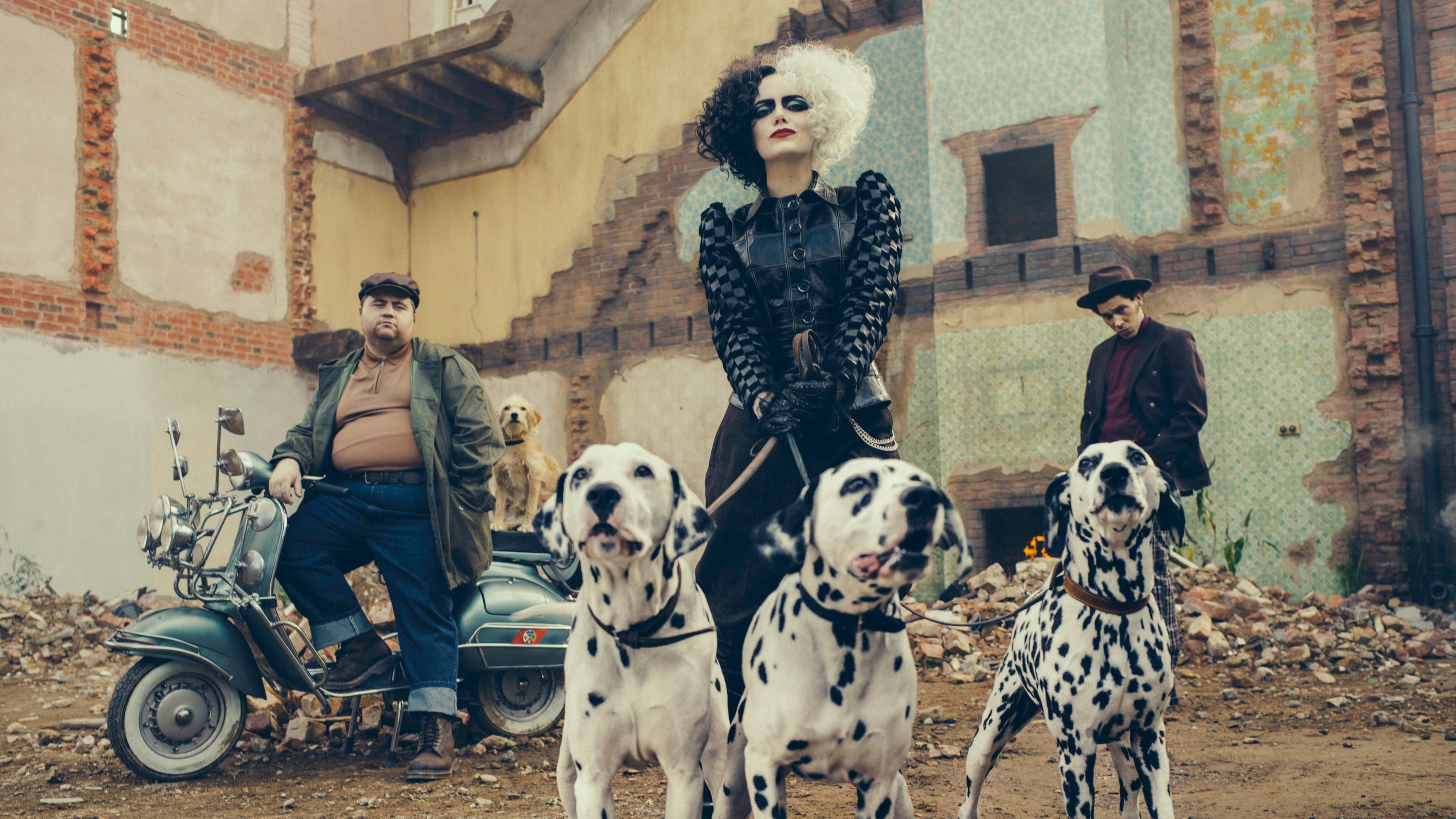 Cruella has released its first official trailer and posters.
Academy Award-winner Emma Stone (La La Land) was announced long ago to be playing a younger version of 101 Dalmatians' villain in the prequel Cruella. The movie was shot in late 2019, and a few weeks into production, they premiered its first official image at 2019's D23 Convention (see above). Ever since then, we haven't heard anything from the movie, besides its delay from December 2020 to May 2021. Last December, at the 2020 Disney's Investor Day, the company stated that the movie would debut theatrically.
Glenn Close famously portrayed the character in a previous iteration, in the 1996 live-action movie. Walt Disney Studios originally released an animated version of the film in 1961, called One Hundred and One Dalmatians, which was released five years after Dodie Smith's novel of the same name. Betty Lou Gerson voiced the character in that movie.
Disney has released two teaser posters for Cruella, one yesterday announcing the trailer, and another one today, right after the trailer dropped. Here they are:
Hello, Cruel World. New Trailer Tomorrow. pic.twitter.com/kWXxbjaF4b

— Disney (@Disney) February 16, 2021
She's just getting started, darling 🖤 pic.twitter.com/m9q9Mmo5hv

— Disney (@Disney) February 17, 2021
While there have been many rumors over the past couple of months saying that the movie would make its move to Disney Plus, or perhaps pull a similar strategy to Raya and the Last Dragon's and release simultaneously on the Premier Access tier and in theaters, Disney is still saying that Cruella is releasing in theaters only. The company will probably make its final decision in the next month, after seeing the results of Raya's performance and evaluating how the coronavirus crisis has evolved.
Here is the first official trailer for the movie:
The trailer is as over-the-top as I envisioned it (and it should be). Cruella de Vil is a very exaggerated character, and if you plan to bring her to today's live-action environment (which is very different from the 90s), you have to fully embrace that. I was never sold on the idea of Emma Stone playing the character, despite me being a massive fan of hers, but the trailer did offer me a couple of moments where I said, "okay, I could see that." And that's all I could ask for. In any case, she is an Academy Award winner, so we should be fine as far as her performance is concerned.
Disney's Cruella is directed by Craig Gillespie (I, Tonya) from a screenplay by Dana Fox and Tony McNamara, with a story by Aline Brosh McKenna, plus Kelly Marcel & Steve Zissis. It was produced by Andrew Gunn (Freaky Friday), Marc Platt (Mary Poppins Returns), and Kristin Burr (Christopher Robin), with Emma Stone, Michelle Wright, Jared LeBoff, and Glenn Close serving as executive producers. Two-time Oscar-winning costume designer Jenny Beavan (Mad Max: Fury Road, A Room with a View) creates the dazzling and imaginative costumes, which take on a life of their own. It stars Emma Stone as the title character, alongside Emma Thompson, Mark Strong, and Paul Walter Houser.
Cruella is scheduled to be released in theaters on May 28, 2021.
Miguel Fernández is a Spanish student that has movies as his second passion in life. His favorite movie of all time is The Lord of the Rings, but he is also a huge Star Wars fan. However, fantasy movies are not his only cup of tea, as authors like Scorsese, Fincher, Kubrick or Hitchcock have been an obsession for him since he started to understand the language of filmmaking. He is that guy who will watch a black and white movie, just because it is in black and white.