RUMOR: 'The Suicide Squad' Roster Includes King Shark and More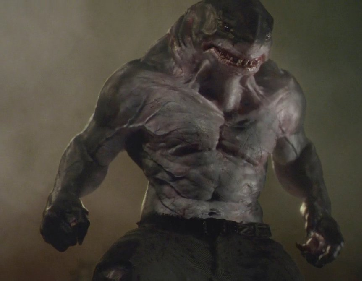 Writer-director James Gunn's The Suicide Squad features a mostly-new roster of characters, including King Shark. They will be joining Margot Robbie's Harley Quinn and Idris Elba's Deadshot, characters who both appeared in the first film.
According to Collider, Gunn's take on the team of anti-heroes is going for the really obscure this time around, with King Shark easily being the most recognizable face on the new team. The new additions are as follows:
King Shark: A humanoid being with a shark's head named Nanaue. He claims that his father is the Shark-God, but others simply believe him to be a mutated human. This role will likely be realized with CGI, much like how The CW's The Flash brings the character to life (pictured above).
Ratcatcher: A gender-flipped version of the character known as Otis Flannegan. Flannegan is one of Batman's lesser-known enemies and commits crime in Gotham City using an army of rodents that she can control. Her past experiences as an exterminator come in handy, as she makes use of poison gases as well. Flannegan is said to potentially serve as a surrogate daughter to Deadshot.
Polka-Dot Man: Also known as Abner Krill. Polka-Dot Man has the unusual power: growing polka-dots on his skin that can transform into weapons. Naturally, he finds these powers embarrassing, though useful nonetheless.
Peacemaker: A pacifist who was went way too far, Christopher Smith is all about keeping the peace… By force. He's initially committed to ideas of pacifism, given that all of his weapons are nonlethal, but mental illness pushes him down a path of violent vigilante justice.
That last character is of interest because it's apparently a role that Gunn wrote with Dave Bautista in mind. Bautista previously slammed Disney over how they fired James Gunn and publicly expressed interest in joining. It should still be noted that he is currently expected to appear in Guardians of the Galaxy Vol. 3 as the last film on his contract with Marvel Studios (which will not start filming until after The Suicide Squad is well into post-production), but his role as Drax the Destroyer will likely be recast after that point if the character is deemed needed later on in the Marvel Cinematic Universe.
The Suicide Squad is set to release on August 6, 2021.

Grant Davis is a freelance writer who has covered entertainment news for more than four years. His articles have frequently appeared in Star Wars News Net as well as as other entertainment-related websites. As someone who grew up on Star Wars and comic book movies, he's completely thrilled with the current era of genre entertainment.