Gotham is holding nothing back when it comes to this final season. Today at the Television Critics Association, attendees were treated to a sizzle reel that showcased the final episodes of the DC origin series and gave an unexpected look at Batman himself.
Gamespot's Chris Hayner live-tweeted from Gotham's farewell panel at the TCA, which opened with a glimpse at the series finale:
We just saw the first footage of Batman in the series finale, along with full on Penguin and Riddler Oswald and Ed. #TCA19

— Chris E. Hayner (@ChrisHayner) 6 February 2019
Yes, Batman is coming. And not just in the final moments of the show. The entire finale is a jump forward to ten years in the future. "[Batman's] in the episode. He's not just in a last scene," showrunner John Stephens confirmed to ComicBook.com and others at the event. "The last episode is one scene in the timeline of the rest of the season, and then the rest of the episode is in the future. It almost feels, in a weird way, like another pilot."
Whilst it's easy to see how make up and prosthetics could be used for most of the cast, how can Gotham convincingly add a decade, and Batman's build, to David Mazouz, the young star who has played Bruce Wayne these last five years? The answer is simply with a body double. Mazouz's face will be behind the mask, but it will be a 6'4″ actor behind the suit when the show jumps forwards. Personally, I'm hoping we do get to see Mazouz fully in the suit at the end of No Man's Land/just before the time jump. He's earned it and it would allow for a striking visual contrast between Year One Batman and the future Batman.
All of the main players will be featured in the flash forward, allowing us to see Robin Lord Taylor and Cory Michael Smith as the iconic Penguin and Riddler, complete with a fat suit for Taylor, Ben McKenzie as a traditional Commissioner Gordon, and Camren Bicondova as Catwoman (no word yet if she will play the aged up role completely herself or if a double will be used like with Mazouz). And yes, Cameron Monaghan will be there. As the Joker? The actor and showrunners wouldn't say, but they did confirm there's still one more evolution to his character that we haven't see yet.
Sadly, those of us who weren't in attendance will have to wait for Gotham's season finale to see the Dark Knight for ourselves. But at least now we know it's not just a tease, it's going to be worth the wait.
Gotham airs Thursdays at 8pm ET/PT on Fox.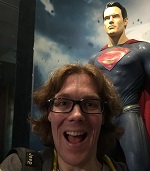 Chris is a lifelong fan of Disney, Star Wars and super heroes who can't quite believe this golden age of movies and TV we're living in. Having written blogs dedicated to Disney's Aladdin musical and Star Wars Celebration, Chris is excited to be part of the MNN team.