'TMNT: Shredder's Revenge' Review: More Than Just Reptilian Nostalgia
The Turtles are back for more with TMNT: Shredder's Revenge, a retro romp that recaptures classic beat 'em up energy and mixes it with fresh new tricks.
In spite of being one of the most famous and enduring media franchises from the 1980s, Teenage Mutant Ninja Turtles has always lacked a constant stream of (really) good video games. Old-timers may remember a handful of bangers from the NES/SNES/GB eras (soon releasing as a bundle in the Cowabunga Collection), but the franchise's presence on modern consoles has been shaky at best, with Nickelodeon putting an emphasis on cheap mobile games, collaborations, and crossovers over actually decent releases. After Activision and PlatinumGames' promising Teenage Mutant Ninja Turtles: Mutants in Manhattan (2016) fell flat on its face, the IP was entirely relegated to a background role.
Retro publisher Dotemu and Canadian developer Tribute Games (Mercenary Kings, Panzer Paladin) were given the chance to craft a brand-new retro-styled beat 'em up that brought the franchise back to its gaming roots. Fans and casual players alike have been anticipating Shredder's Revenge for a while, and it finally released last week across all current consoles and PC. Well, I'm happy to report this opportunity hasn't been squandered.
Gameplay-wise, there are no big surprises in TMNT: Shredder's Revenge — it looks and plays like a classic brawler, only its scale is bigger than you'd expect. Up to six players can team up to take on Shredder and other villains and their goons, with a roster consisting of Leonardo, Raphael, Michelangelo, Donatello, Splinter, and April O'Neil. Moreover, masked vigilante Casey Jones joins the party once you beat the Story Mode. The co-op fun can take place either locally or online, and you don't even need to bring friends, as the game supports online play with random players on any platform (yay for crossplay!).
Arcade Mode, complete with super tough difficulties, is also a thing for those who want to play through the entire thing in one sitting and with a limited stock of lives. I was also surprised by the presence of small side tasks that can be completed as you progress through the levels, rewarding characters with extra boosts — each fighter can reach level 10 and unlock a number of HP upgrades and new abilities. Additionally, there are plenty of cameos from fan-favorite characters in the game, most of which are tied to extra challenges that encourage replaying through a brawler that could've just been an exciting but bare-bones nostalgia trip.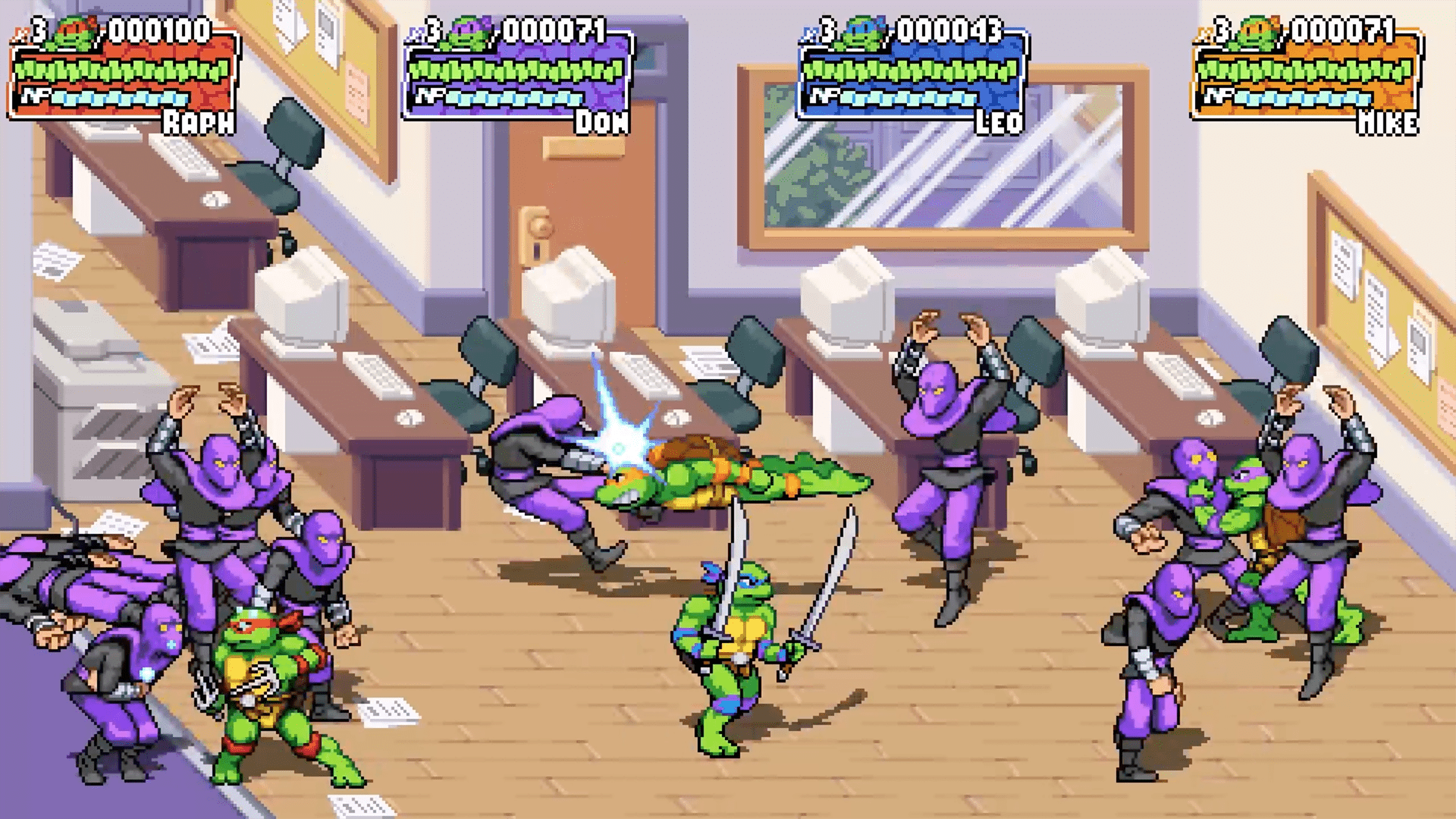 TMNT: Shredder's Revenge is surprisingly long for a traditional beat 'em up too; its 16 levels last around three hours if you don't get stuck. That might not sound like a lot for younger gamers, but these games used to be much shorter due to their arcade roots. I'd even say it could use some trimming, as some levels inevitably feel uninspired, but I wasn't bored at any point either. One of the game's biggest strengths is that it manages to keep things interesting with a nice variety of locales, enemies, and specific scenarios. This could've worked with much less, but Tribute Games went hard on this and dug up plenty of iconic TMNT villains (despite a slight overuse of Bebop and Rocksteady) and references to nurture a rather light-hearted story. Diehard Turtles fans will instantly recognize Shredder's Revenge as a big labor of love.
The pixel art and music are lively and pack a modern sensibility that brings the overall looks and sounds closer to the original cartoon. I adore when retro-styled games actually have an artistic purpose behind them, and this one is simply gorgeous to look at and feels perfect for the task at hand: reviving interest in the franchise and its potential for kickass video games. Shredder's Revenge needed to feel like the most beloved iteration of TMNT, and Tribute Games absolutely nailed it.
Even though the starting non-interactive tutorial looks a bit overwhelming with far too many pages, the controls are simple and intuitive — newcomers to the genre can jump in and start trashing waves of goons with no issues. Thankfully, there are advanced moves as well as tiered specials that add some agility and variance to a pretty straightforward affair. And, like in many classic brawlers, you can abuse certain moves to defeat some enemies before they can even react. Shredder's Revenge might be a modern revival of simple retro fun, but it knows where and when to let players cheese fights.
Looking at how good the final result is, I feel that TMNT: Shredder's Revenge could've dared to push the envelope a bit with some of its wackier stages and enemy encounters. Tribute Games clearly has the experience and passion the project required, but it certainly feels self-limited at times. With the all the boxes now checked, maybe a tentative sequel could open up the possibilities of what a TMNT beat 'em up can be. For now, it's a cowabunga out of 10, my dudes.
TMNT: Shredder's Revenge is now available on PC (Steam), Nintendo Switch, PS4/5, and Xbox consoles.
Thanks to Dotemu and Tinsley PR for the Xbox review code.
Francisco J. Ruiz is that guy who has watched Jurassic Park a thousand times and loves Star Wars. His hunger for movies is only matched by his love for video games. He graduated in English Studies from the University of Malaga, in Spain. As he keeps writing about what he enjoys (and doesn't) for websites all over, he's continuing his studies.