'Thor: Love and Thunder' Releases New Images, Kevin Feige Says We'll Get a Roadmap for the MCU in the Coming Months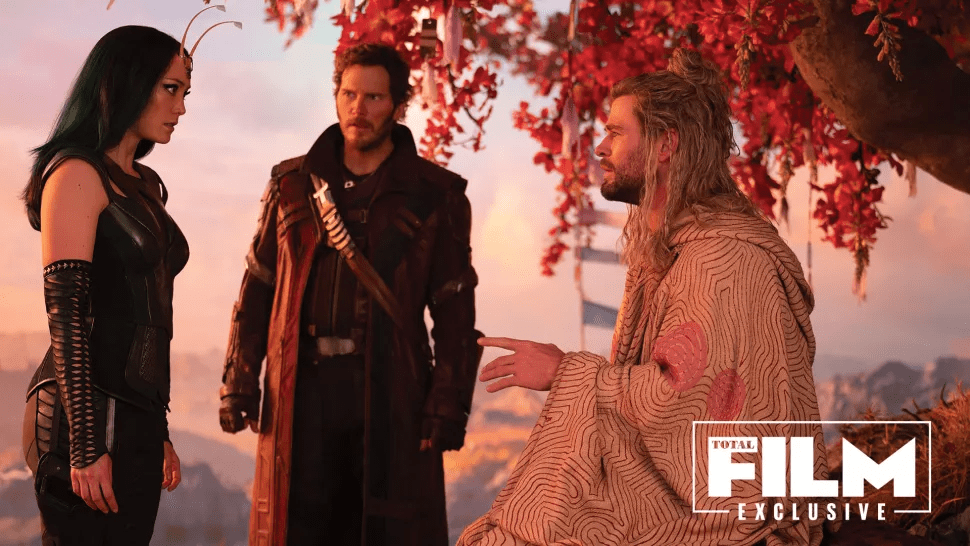 We are now less than three weeks away from the release of Marvel Studios' next big adventure, Thor: Love and Thunder. The movie will take the spotlight on the new issue of Total Film Magazine, and the publication is already dropping some nuggets from their coverage, including some exclusive pictures.
The magazine spoke to Marvel Studios president Kevin Feige, Thor: Love and Thunder director Taika Waititi, and some actors from the cast, including Natalie Portman and Chris Hemsworth. Portman will have a significant role in the film, where she'll play The Mighty Thor and wield Thor's hammer Mjolnir. This is a storyline inspired by the comics, where Jane had to assume Thor's powers to battle the cancer she was rapidly developing.
Portman said the following about becoming a superhero:
"It's exciting to get to be a superhero. And there's no guidebook that comes along and tells you how to do it."
As we've seen in plenty of pictures and the two trailers released, Portman had to bulk up to play the part. Kevin Feige confirmed that they did not enhance her figure through any sort of movie magic, except for one detail:
"The only thing we assisted with was making the Mighty Thor a little bit taller. That was the only movie magic we used. Everything else was all her."
Portman explained her physical transformation:
"I trained for a long time before and during, and I was doing the whole protein shakes [thing]. It really helped prepare me for the level of action that we ended up doing.

We had incredible stunt doubles who did the really hard stuff, but there's still a great deal of running and jumping and swords and hammer-fighting. It was definitely helpful to be strong. To have that weight of the cape all day, you want to have some upper-body strength."
Chris Hemsworth has previously teased that we'll be exploring the moment when Jane and Thor broke up in Thor: Love and Thunder, and he reiterated those thoughts when speaking to Total Film:
"We had a lot of fun exploring that, and answering a lot of the unanswered questions from the second film [onwards], when they parted ways. That was left pretty open, and up for interpretation, as far as: who dumped who? What actually happened there? Did they keep in contact? What were their feelings about how that all ended? We had some good times diving into all of that."
Another nugget from the Total Film Magazine interview with Kevin Feige is that the studio head has confirmed we'll be hearing more about the new direction the MCU is taking in the next few months. He said:
"As we're nearing the end of Phase 4, I think people will start to see where this next saga is going.

I think there have been many clues already, that are at least apparent to me, of where this whole saga is going. But we'll be a little more direct about that in the coming months, to set a plan, so audiences who want to see the bigger picture can see a tiny, tiny, tiny bit more of the roadmap."
He is probably referring to Disney's D23 convention in Anaheim, California. Marvel's presentation will take place on September 10, and it's already set up to be one of the biggest announcements from the company since December 2020, and maybe even summer 2019, when they announced the slate for Phase 4. A report from a few weeks ago suggests that the studio will be skipping San Diego Comic-Con next month, though some locals have already spotted some banners that could indicate otherwise. Whatever the case may be, Marvel has a lot to explain.
There have been a lot of reports of upcoming projects that seem very uncorrelated, much like what Phase 4 has been, and audiences have been demanding a roadmap of sorts for over a year. There is a lot of secrecy surrounding the future of the MCU, so much so that there's even a project coming out in just a few months they haven't even officially announced. It is Marvel's Halloween Special for Disney Plus, which Michael Giacchino directed in secrecy — the director finally acknowledged its existence in a recent interview.
Stay tuned for more news on Thor: Love and Thunder, which comes out on July 8, and the rest of the MCU upcoming titles. Ms. Marvel is dropping a new episode every week, and shortly after that series wraps, She-Hulk will start streaming on Disney Plus. Also, check out the following character posters for Love and Thunder that Disney revealed last week:
Miguel Fernández is a Spanish student that has movies as his second passion in life. His favorite movie of all time is The Lord of the Rings, but he is also a huge Star Wars fan. However, fantasy movies are not his only cup of tea, as authors like Scorsese, Fincher, Kubrick or Hitchcock have been an obsession for him since he started to understand the language of filmmaking. He is that guy who will watch a black and white movie, just because it is in black and white.