'Now & Then' — Apple TV Plus Review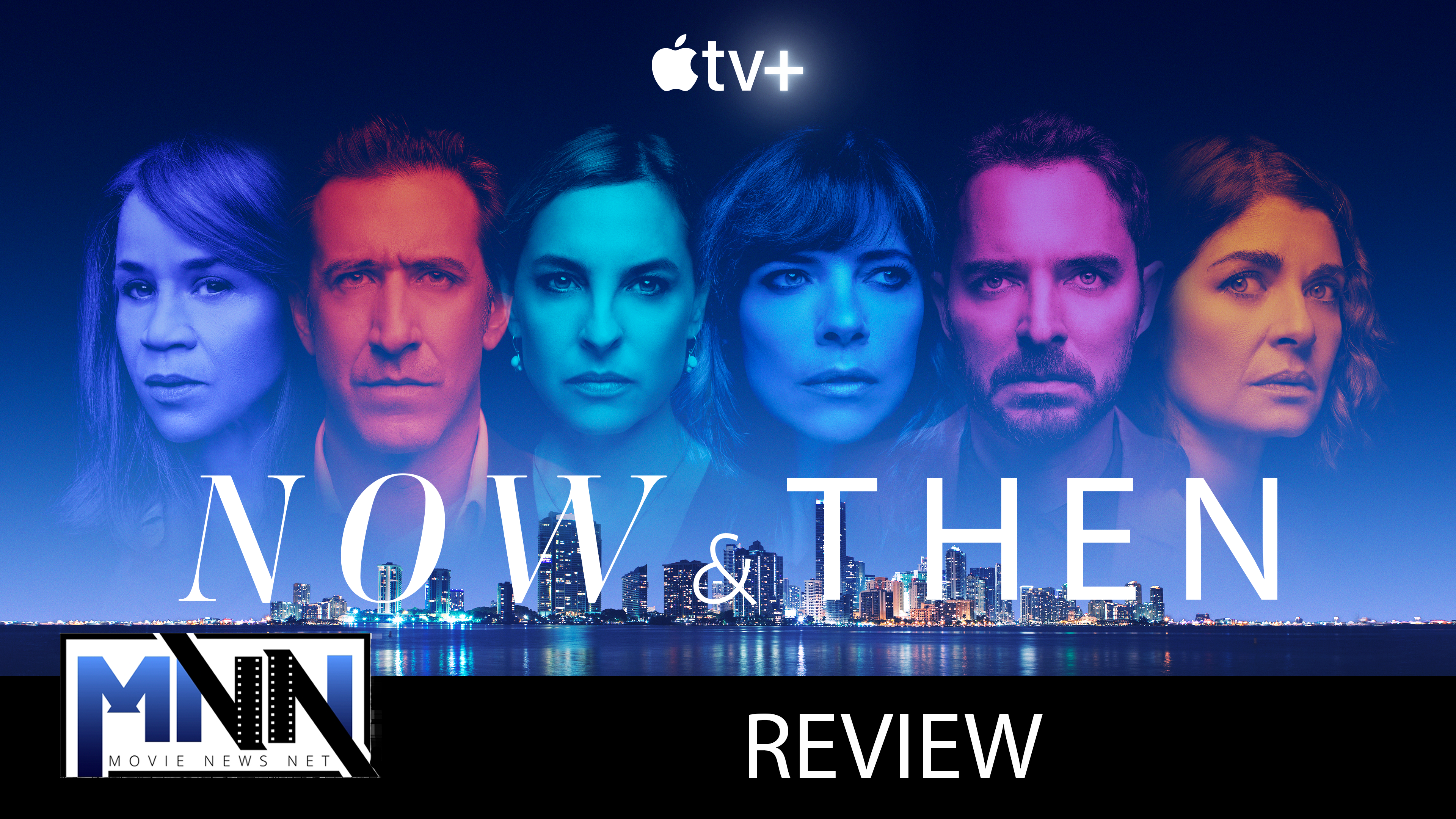 Now & Then is a brand-new bilingual thriller, shot both in Spanish and English, that premiered its first three episodes today on Apple TV Plus.
The series kicks off in the early 2000s, with six 20-year-olds celebrating their recent college graduation in Miami, though only five will make it through the night. The ghosts of that night come back to haunt our protagonists twenty years later, when they are blackmailed into paying $1M if they don't want the secrets of that night spilled out. When things spiral out of control, the detective that failed to solve the case all those years ago is given a reason to start digging again. It is the classic "I know what you did last summer" premise, but with a Latino/Spanish cast and many years in between.
The show's biggest strength is the premise, which at times is enough to hold the narrative together. Since it covers many people's lives in two different timelines, the storyline is a bit convoluted at times, and the audience often needs to be reminded who is who in the flashbacks. Our main characters are now grown up in the main timeline of the show (set in a post-covid era), and as the ghosts of what happened twenty years prior come back for them, so do their younger selves. One of the characters, for instance, is now running for mayor, and his campaign and life are put at risk when the memory of his college graduation comes back. Another one is married, but when his youth love reappears in the picture, things start to crumble.
Now & Then feels like a rollercoaster at times, with a lot of highs, especially when the show lives up to its premise, that is, the adult version of Pretty Little Liars, and a lot of lows when it suddenly turns into a Spanish melodrama. Rosie Pérez plays the detective, the stereotypical "Only I can solve this case" police officer that may or may not step over the line at times, which raises a lot of moral questions the show isn't interested in answering. Her character is given more nuances as the episodes progress, in an attempt to make her feel relevant and stand out among the many cops that are relegated to side roles in shows that are not about them.
Overall, the show isn't necessarily unique or original, but having it be around 60-70% in Spanish makes it feel fresh, though even that runs thin after a while. I'm curious to see how general audiences will receive it — as a Spanish speaker myself, it's a bit jarring to me the fact that the characters are at times changing languages mid-sentence, though I'm aware that it's not that strange for people in Latin America to do that.
All in all, my guess is that Now & Then will work for most people as a character study of how bad decisions can rapidly lead us down a dark path. It aims to be the "Expectations vs. Reality" scene from (500) Days of Summer, turned into an eight-episode miniseries, though changing romantic expectations with life expectations.
Besides Pérez, the cast includes Maribel Verdú, Marina de Tavira, José María Yazpik, Manolo Cardona, Soledad Villamil, Željko Ivanek, Jorge López, Alicia Jaziz, Dario Yazbek Bernal, Alicia Sanz, Jack Duarte and Miranda de la Serna. It was created by Ramón Campos and Gema R. Neira, with Campos serving also as showrunner and co-writer with Neira. Teresa Fernández Valdés and Gideon Raff are executive producers of the show, and Raff also directs.
The first three episodes are now available to stream on Apple TV Plus, and the rest will air weekly on Fridays. We would like to thank Apple TV Plus for letting us watch in advance.
Miguel Fernández is a Spanish student that has movies as his second passion in life. His favorite movie of all time is The Lord of the Rings, but he is also a huge Star Wars fan. However, fantasy movies are not his only cup of tea, as authors like Scorsese, Fincher, Kubrick or Hitchcock have been an obsession for him since he started to understand the language of filmmaking. He is that guy who will watch a black and white movie, just because it is in black and white.