UPDATED – New 'Jurassic World: Dominion' Details and Image Emerge
The marketing for Universal Pictures' Jurassic World: Dominion, which arrives next summer, is beginning to show its teeth.
Shortly after the official channels dropped online the impressive IMAX prologue that debuted in cinemas earlier this year alongside F9, Total Film has released an exclusive image from the film plus a brief but interesting interview with director Colin Trevorrow. Check out the frightening still, which sees Bryce Dallas Howard (Claire Dearing) in deep trouble, below: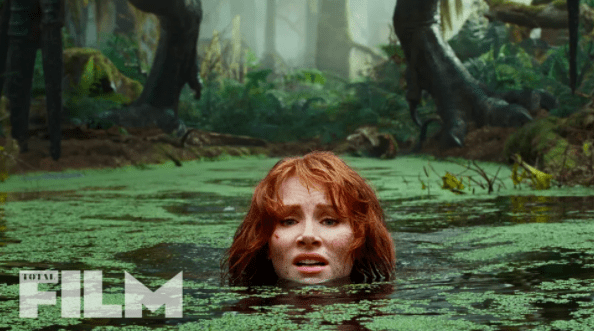 The excerpt with Trevorrow comes from Total Film's upcoming 2022 Preview Issue, which will also feature a Black Adam preview. The writer-director explained it was harder to find references this time around, as Dominion plays out quite differently from the other five entries in the Jurassic franchise:
"This is a rare film where it is so different from anything that I've ever seen before, I didn't know what to watch as inspiration… Honestly, we watched a lot of nature documentaries. I watched a lot of Planet Earth. The movie does rely on the animals acting and reacting in ways that feel natural."
Indeed, the extended preview we saw two weeks ago was especially exciting because it spent a lot of time with the prehistoric creatures shot as if they were part of a documentary, just living their normal, pre-extinction lives. Later in the prologue, we see Rexy being chased through the North American mainland, and inadvertently wrecking havoc at a drive-in theater. That felt like a confused animal in an enviroment which isn't hers, instead of a hulking monster that actively wants to devour humans.
Trevorrow also promises the original Jurassic Park trio (Sam Neill, Jeff Goldblum, and Laura Dern) will crossover with the franchise's new leads, but they'll also have their own separate scenes for a good chunk of the film:
"Laura, Sam, and Jeff have as much screentime in the film as Bryce and Chris do… They're not together the entire time, but we are following both of their stories equally, and you have a sense that they're going to collide at a certain point… there's this tension. It's not structured necessarily in a way that we're used to seeing our Hollywood movies structured. But it works."
It appears that Jurassic World: Dominion is shaking things up in many ways, and its first trailer shouldn't be too far off. For now, diehard fans can chomp on the fourth season of Netflix and DreamWorks Animation's Jurassic World: Camp Cretaceous, plus Jurassic World Evolution 2, the new management sim that arrived on consoles and PC last month — check out our review here.
UPDATE:
Entertainment Weekly also sat down recently with Trevorrow, who briefly discussed how and where we'll find the prehistoric animals in the new film:
"They have been multiplying and living amongst us and clashing with us… Dominion is set all over the world, through many different environments: wilderness, urban, desert, snow. It's exciting to see these creatures navigate environments that they weren't built to survive in. They grew up in a theme park and now they're here!"
He also teased what's next for Chris Pratt's Owen Grady:
"He's not too far from where the dinosaurs got out in the last film," says Trevorrow. "The parasaurs are in danger of being poached. There's a lot of shady types out there who want to get their hands on dinosaurs, so he's working to protect them."
As for Claire Dearing, the filmmaker wants to keep her role under wraps for now, and instead dedicated some nice words to Campbell Scott's Lewis Dodgson:
"He is the main villain throughout both of [Crichton's] novels, and I think what Campbell's done with the character is just amazing… I can't wait for people to see it."
Francisco J. Ruiz is that guy who has watched Jurassic Park a thousand times and loves Star Wars. His hunger for movies is only matched by his love for video games. He graduated in English Studies from the University of Malaga, in Spain. As he keeps writing about what he enjoys (and doesn't) for websites all over, he's continuing his studies.