'Marvel's Guardians of the Galaxy' Review: A Rollicking Cosmic Adventure That Escapes the MCU's Shadow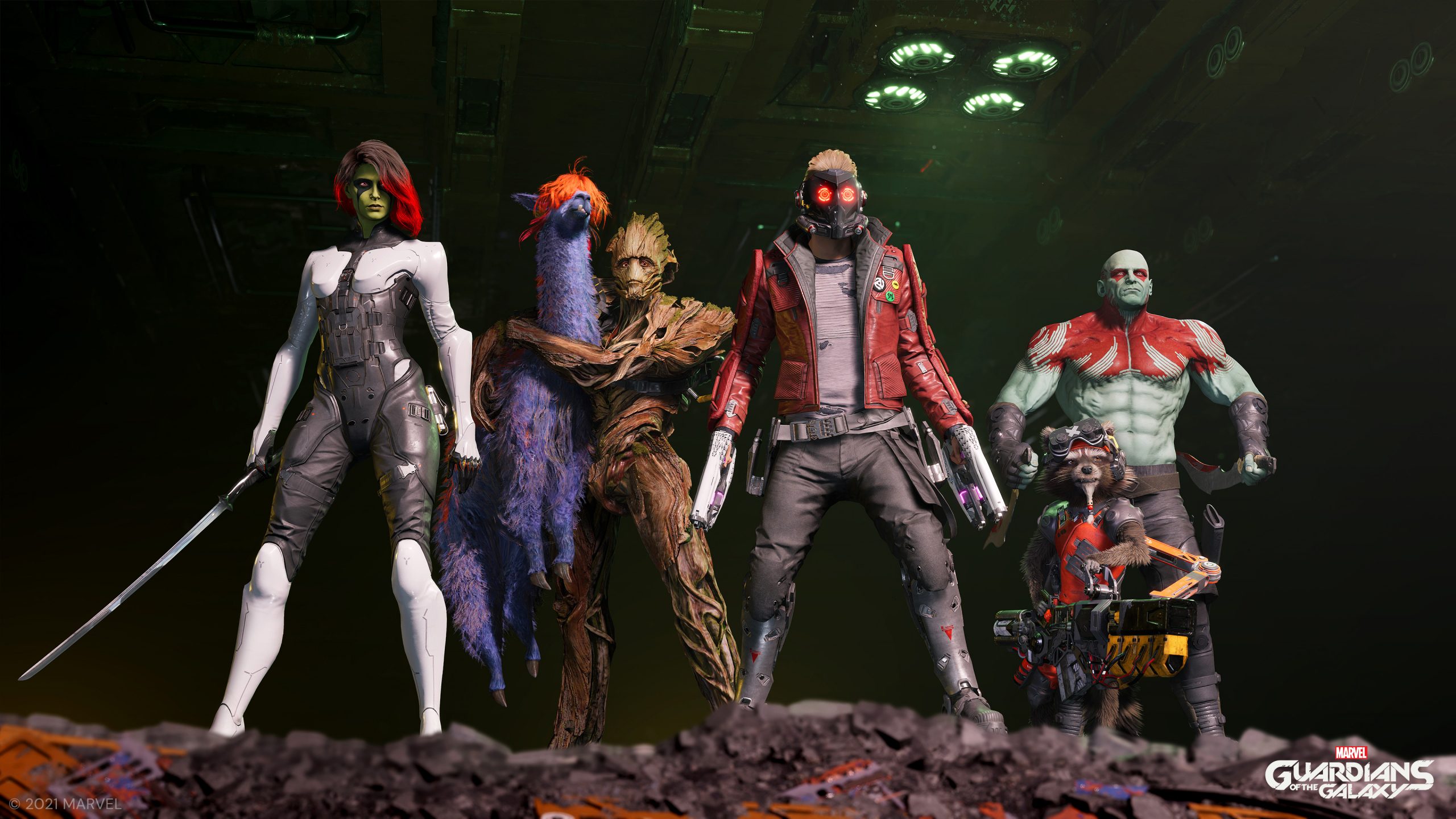 How good can a big audiovisual take on the Guardians of the Galaxy be without Marvel Studios? Pretty darn good, actually.
While most players and Marvel aficionados are still trying to get over the colossal misfire that was Marvel's Avengers, which is nonetheless receiving a fair amount of post-launch content, Square Enix went out this summer and announced that the long-rumored Guardians of the Galaxy game was real. For some reason, many folks had forgotten about this project, yet I vividly remember Marvel and Square jointly announcing back in 2017 that work had begun on both Avengers and Guardians of the Galaxy titles. The former was co-developed by Crystal Dynamics (Tomb Raider, Rise of the Tomb Raider) and Eidos-Montrèal (Deus Ex franchise, Shadow of the Tomb Raider), and ultimately turned out to be a disappointment due to a muddled vision that chased a couple of profitable gaming trends without fully cooking its systems. Marvel's Guardians of the Galaxy, however, is much closer to what Eidos-Montrèal (the sole developer) is used to crafting, and that's why it clicks together so well.
In more ways than one, Eidos' Guardians of the Galaxy feels like a blast from the past, yet its production values and cinematic take on the material are totally modern. It was very easy to turn this game into yet another open-world-ish title with more content than anyone asked for and endless grinding, but it's the complete opposite: a highly focused single-player adventure that feels tight and puts the narrative at the forefront.
The massive influence of James Gunn's Guardians of the Galaxy films is undeniable, and it goes beyond this game, as the Guardians are now much hipper and more retro-ish across every medium. The character dynamics and themes found in those films also nurtured how Eidos understood this band of a-holes: family, individual traumas which are oddly similar, pure heroism coming from a band of criminals… It's all there, it feels familiar, yet Mary DeMarle (narrative director) and the rest of the Eidos team put their own twist on the characters everyone has grown to love thanks to Marvel Studios' efforts.
Marvel's Guardians of the Galaxy is also one of the biggest and most satisfying cosmic Marvel stories I've come across in recent years. It kicks off as a low-stakes adventure about the Guardians biting more than they can chew, but quickly turns into a gargantuan, often dramatic ordeal that effectively turns the group of misfits into legends. Without spoiling too much, the story starts with the group already together and trying to make a name for themselves after a war that ravaged the cosmos and ended with the death of Thanos and the defeat of the Chitauri army. It's a huge event that affected most of the Guardians (before they were a team) and gave them a lot of experience. The game doesn't require players to know tons about the cosmic side of Marvel, but it greatly rewards general knowledge and being familiar with at least some of the comic books — it goes utterly bonkers during its second half, and there are some exquisite deep cuts hidden at every corner. Square's marketing team did an excellent job of selling the game without revealing major plot points.
The gameplay on display here isn't super innovative, but it definitely gets the job done. As I teased before, Guardians of the Galaxy mostly feels like a game that came out more than a decade ago… in a good way. While deep, filled-to-the-brim combat and progression systems are a good thing for expansive games with big worlds and lots to offer, they often bring down experiences which aren't nearly as sprawling and simply want to tell a good story — in this occasion, the people at Eidos clearly knew what they were going for and built just enough systems to push the exploration and exciting narration forward.
Combat becomes very enjoyable as the game progresses and more skills and upgrades are unlocked, but it never feels like the core of the game, and that's completely fine. Surprisingly, Eidos made exploring alien environments while bonding (or discussing) with your team the top priority, and it feels refreshing — it's a nice change of pace amidst a barrage of bloated and relentless triple-A titles which leave very little breathing room for quieter moments. That being said, telling Rocket to blast away a cluster of goons while Drax laughs like a maniac and Gamora cuts down a giant monster never gets old during the game's 15-ish hours — the duration feels long, but also just right for the number of conflicts and character arcs the script manages to juggle.
Exploration, while mostly linear, yields some interesting rewards in the shape of costumes (pictured above) based on Guardians of the Galaxy comic books and the characters' film counterparts. Crafting parts are more important, as they help you maximize Star-Lord's combat potential, but looking for them never becomes a side activity — the game constantly funnels you towards the destination, and the level design is closer to Uncharted than the recent Tomb Raider installments, which toyed with open areas. It's a bit disappointing that Eidos didn't bring a bit more of their Shadow of the Tomb Raider experience to this game, as I feel the platforming and puzzles could be much more interesting, but I also understand the kind of game they wanted to create.
Some fans might think controlling only Star-Lord is a wasted opportunity, but the game (mostly the amazing script) quickly makes a case for this choice and makes the story and the gameplay come together in unexpected ways. Likewise, the inclusion of decision-making in a profoundly linear experience may not appear logical at first, but it also pays off in unexpected ways and makes you itch for a second playthrough as soon as the credits roll (stick with them, by the way). New Game Plus is unlocked once you beat the game, too.
The voice cast is headlined by Jon McLaren (Peter Quill/Star-Lord), Kimberly-Sue Murray (Gamora), Alex Weiner (Rocket), Jason Cavalier (Drax), and Robert Montcalm (Groot and [spoilers]). They're all excellent in their respective roles, and so is the rest of the cast, but the standout performance for me comes from Cavalier's Drax, who's simply hilarious and also nails some of the best poignant scenes I've ever seen in a video game (and everyone gets to shine under a dramatic light, trust me).
Richard Jacques' original soundtrack is fitting and packs a memorable main theme for the Guardians, but I feel that, like the script, it's at its best when it goes into sadder and darker places. On top of that, the selection of absolute 1980s bangers for Peter Quill's mixtape easily rivals the music James Gunn threw into his films, and is the centerpiece of the game's coolest gameplay mechanic, an electrifying rallying call of sorts.
Performance on PS5 was satisfactory — Quality mode makes the resolution go as high as possible (4K target), but is limited by a 30 FPS cap, which feels sluggish as soon as the action gets frantic; Performance mode targets 60 FPS at a dramatically lower resolution, but gets hit hard in some wild sections, although it's a consistently smooth experience and the way to go IMO; a shiny Ray-tracing mode will arrive later in a patch, and word is it'll be targeting 1080p in order to maintain a steady framerate. I feel like the game's engine isn't really optimized for next-gen hardware, especially if we consider what studios like Insomniac are already achieving with cross-gen titles, and PS5 and Xbox Series X/S simply bruteforce through Guardians of the Galaxy. PS4 and Xbox One systems (old hardware by now) can handle the game, but don't expect those versions to hit a steady 30 FPS mark; a free upgrade to next-gen is included though. The PC version appears to be doing okay and, as expected, asks for meaty hardware in order to achieve high performance/visuals, while Nintendo Switch runs the game through a cloud version which apparently isn't very good.
I'm glad to say Marvel's Guardians of the Galaxy is a pleasant surprise, one of the best games I've played this year, and another reminder that focused single-player triple-A games outside Sony's studio ecosystem can coexist with massive open-worlds and hybrid experiences. It's not just a big win for Eidos after finding themselves entangled with a project that clearly didn't take advantage of their strengths, but also a promising new start for non-Spider-Man Marvel properties in big video games after living for years under the shadow of DC — 2K and Firaxis' Midnight Suns will arrive next year, and Insomniac is already working hard on Wolverine in order to expand their Marvel canvas beyond Spider-Man sequels.
Marvel's Guardians of the Galaxy is now available on PC (Steam and Epic), PS4/5, Xbox consoles, and Nintendo Switch (cloud version).
Thanks to Square Enix and fortyseven communications for the PS5 review code.
Francisco J. Ruiz is that guy who has watched Jurassic Park a thousand times and loves Star Wars. His hunger for movies is only matched by his love for video games. He graduated in English Studies from the University of Malaga, in Spain. As he keeps writing about what he enjoys (and doesn't) for websites all over, he's continuing his studies.