'Spider-Man' Animated Sequel Possibly Titled 'Across The Spider-Verse'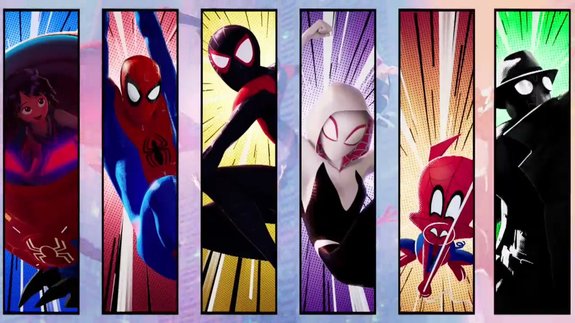 Spider-Man: Into the Spider-Verse was a gigantic breath of fresh air for both the Spider-Man film franchise and Sony Pictures Animation, and after it legged out at the box office and became a streaming hit, a sequel was inevitable. Now, rumor has it that the sequel will be taking things Across the Spider-Verse as part of the second movie's title.
According to The Cosmic Circus – a smaller rumor outlet which recently had a big break in the form of confirming that Will Poulter was playing Adam Warlock before the trades got to it – has revealed another Marvel scoop of note. They are claiming that Spider-Man: Across the Spider-Verse is the name of the sequel to the Oscar-winning animated film. Their source on this comes from a LinkedIn profile for a Character Effects (CFX) supervisor
Into the-Spider-Verse launched an entire Multiverse of Spider-Man characters in a single film, set in the backdrop of New York City. A young Miles Morales (Shamiek Moore) is bitten by a radioactive spider from another universe, and following the death of his universe's Peter Parker (Chris Pine), he's tasked with learning how to become Spider-Man and saving the world in a very short period of time. He ends up being mentored by a down-on-his-luck Peter Parker from another universe (Jake Johnson), the Gwen Stacy from another universe (Hailee Steinfeld), and a handful of other Spider-People (voiced by Nicolas Cage, John Mulaney, and Kimiko Glenn), all of whom have been displaced by a supercollider experiment instigated by the Kingpin (Liev Schreiber).
However, while we saw glimpses of these other universes, we didn't actually leave the one where the events of the film are set in outside of a few flashback sequences… But with the sequel, it looks like that's set to change. The ending of the first film left a window open for a sequel, and it seems likely that a Multiverse-hopping story would be a logical expansion of the narrative. So far, it's been confirmed that Moore, Johnson, and Steinfeld will be reprising their roles from the first film, and they will be joined by Issa Rae as Spider-Woman. Other characters have been teased, such as a new take on the Japanese Spider-Man character from Toho's live-action TV show.
Spider-Man: Across the Spider-Verse will be released on October 7, 2022. A spin-off with an ensemble of female characters involving Steinfeld (and presumably Rae and Glenn) is also said to be in development.

Grant Davis is a freelance writer who has covered entertainment news for more than seven years. His articles have frequently appeared in Star Wars News Net as well as as other entertainment-related websites. As someone who grew up on Star Wars and comic book movies, he's completely thrilled with the current era of genre entertainment.