'WandaVision' Spin-Off Starring Kathryn Hahn as Agatha Harkness in Development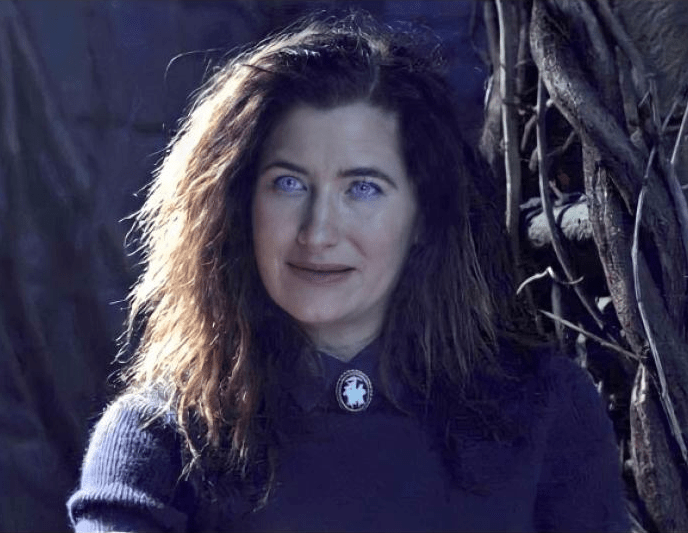 Kathryn Hahn delivered the breakout performance of WandaVision as Agnes, the nosy neighbor pestering the titular couple in their sitcom-oriented pocket dimension, before she was later revealed to be the centuries-old witch Agatha Harkness. Now, she's reportedly getting her own spin-off series.
Per Variety, Marvel is rehiring WandaVision scribe Jac Schaeffer to write and executive produce the series, described as a dark comedy befitting the title character's twisted perspective. Schaeffer had signed a first look deal with Marvel Studios and 20th Television months after the final episode of WandaVision aired, so this Agatha Harkness-centered show would be her first major project as part of that contract. Marvel and Schaeffer's representatives did not comment to Variety, but since Disney has a major presentation for Disney Plus in the pipeline, it is conceivable that the show may be announced there. Deadline added to the news by confirming that Kathryn Hahn is apparently set up for multiple appearances across shows and movies.
In WandaVision (spoilers ahead if you haven't watched the show already), we're only given scant details about the past of Agatha Harkness, with it being established that she was alive during the Salem Witch Trials. Several other witches, including her own mother, tried burning her at a stake after she practiced dark magic using forbidden knowledge, putting them all at risk. Though they attempted to destroy the dark power within her, Agatha survived by absorbing their power and killing them all. Since then, she embraced her villainy and targeted Wanda Maximoff to steal her power, later learning that she is the Scarlet Witch in the process. Ultimately, Wanda bests Agatha and brainwashes her to make her think that she's the sitcom role that she'd been playing.
We don't really know what to expect from this show, whether it's an extended prequel or it involves Agatha Harkness regaining her memories, but we personally hope that the show will be entitled Agatha All Along so we can keep jamming to that infectious theme song that closed out the seventh episode of WandaVision:

Grant Davis is a freelance writer who has covered entertainment news for more than seven years. His articles have frequently appeared in Star Wars News Net as well as as other entertainment-related websites. As someone who grew up on Star Wars and comic book movies, he's completely thrilled with the current era of genre entertainment.