Guillermo del Toro's 'Nightmare Alley' Unveils First Trailer
Things get unsurprisingly weird and mysterious in the first trailer of Guillermo del Toro's new theatrical feature: Nightmare Alley.
In spite of all the buzz Del Toro has been riding ever since the release and massive success of The Shape of Water in 2017, little has been revealed about the film and its plot. We only knew the Mexican director was returning to the horror-meets-weird kind of exercise that we've learned to expect from him. Also, the cast is insane, packing names such as Bradley Cooper, Cate Blanchett, Toni Collette, Willem Dafoe, Richard Jenkins, Rooney Mara, Ron Perlman, and David Strathairn. It makes sense that every big actor and actress in town wants to work with him after his latest home run and a lucrative overall deal with Fox Searchlight (now Searchlight Pictures) that has transitioned without any hiccups into the Disney era.
Vanity Fair had quite a bit to tell (and show) us ahead of yesterday's trailer, too. According to Del Toro himself, fantasy isn't present at all in this new twisted tale of deceit and unexpected danger, regardless of what the trailer might lead audiences to believe. Here's what he told the popular magazine:
"It has happened to me in the past with Crimson Peak, where people went in expecting a horror movie. I knew it was a gothic romance but it was very difficult to put that across. But yes, this has no supernatural element. It's based completely in a reality world. There is nothing fantastic. It's a very different movie from my usual, but yes, the title and my name would create that [impression]."
Indeed, Nightmare Alley looks odd and trippy, but the filmmaker seems to be toying with a somber atmosphere and our expectations (and maybe the monsters we create ourselves) rather than delivering a spooky supernatural ride. Check out the stunning first trailer below:
It's striking to see a star as big as Bradley Cooper being utterly silent and letting everyone else take control of this preview. Of course, that's just how the trailer has been edited, but it's a very interesting and conscious decision that may be telling us something important. Let's see what theories people come up with before the film arrives this fall.
The cinematography on display here is stunning as well. Del Toro reteamed for Nightmare Alley with Dan Laustsen, who worked on his past two films, so it's no surprise to find out they've crafted another looker together. Alexandre Desplat is back to handle the musical score too. Del Toro wrote the screenplay alongside rookie Kim Morgan, based on the 1946 novel by William Lindsay Gresham.
Here's the first poster, which also toys with assumptions: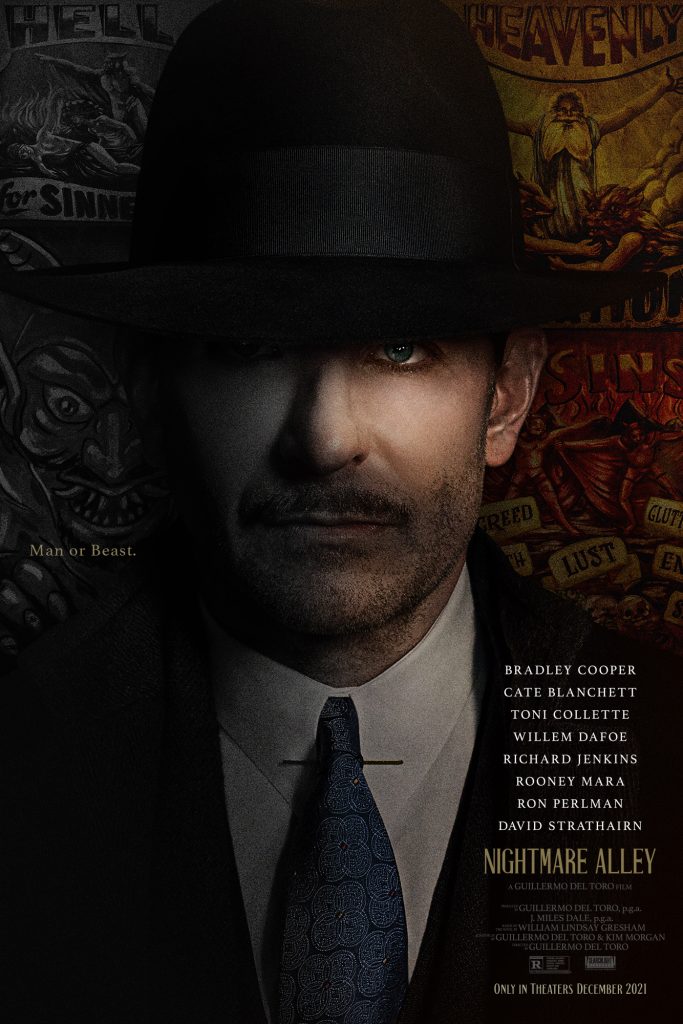 Nightmare Alley hits theaters on December 17, going up during Christmas against massive blockbusters such as Spider-Man: No Way Home and The Matrix Resurrections. I guess Disney's counting on Del Toro's name, plus the awards buzz, to carry this medium-sized production. And they are probably right.
Francisco J. Ruiz is that guy who has watched Jurassic Park a thousand times and loves Star Wars. His hunger for movies is only matched by his love for video games. He graduated in English Studies from the University of Malaga, in Spain. As he keeps writing about what he enjoys (and doesn't) for websites all over, he's continuing his studies.