Disney Gives 'Eternals' and 'Encanto' Exclusive Theatrical Releases, Universal Moves 'Halloween Kills' to Day-and-Date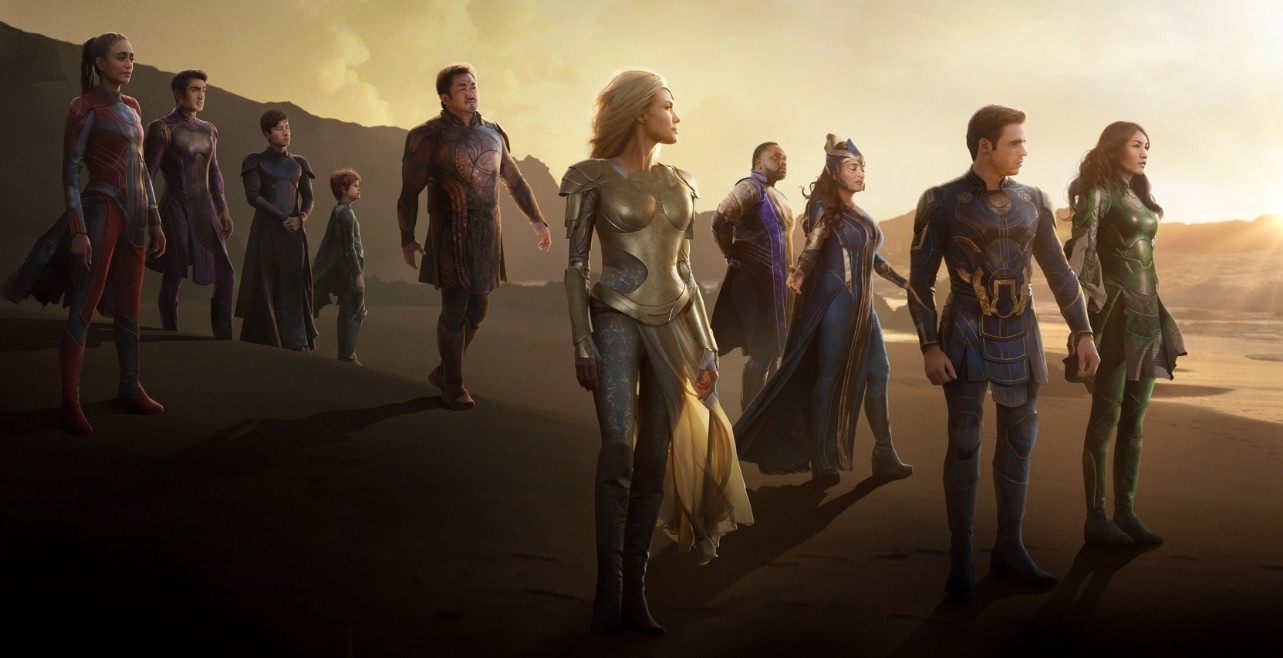 It looks like the folks at Disney are sticking to their words, and will give Eternals the theatrical run after Shang-Chi's great box office opening.
The move was announced today by Disney (via Variety), saying that the next Marvel movie will have a 45-day exclusive theatrical window when it debuts on November 5. But it will not be the only movie to do so — The Last Duel (October 15), Ron's Gone Wrong (October 15), West Side Story (December 10), and The King's Man (December 22) will receive the same treatment.
In addition to that, Disney's next animated feature, Encanto, will have a 30-day exclusive theatrical run. This move was probably the situation that most benefited both Disney and theater owners. The studio wants that movie available to all families during Christmas Day, while the exhibitors want to capitalize on the Thanksgiving holidays. Those days are usually big for family movies, especially Disney's — in the last few years, the studio debuted during that weekend Moana, Coco, Ralph Breaks the Internet, and Frozen II.
As far as Eternals go, this is a big win for Marvel Studios and its chief executive, Kevin Feige, who is a big advocate of the exclusive theatrical model, and was reportedly very upset at Disney's decision to pull a hybrid release on Black Widow. In addition to that, this shows that the theatrical model could survive after all. The pandemic brought it to a tipping point, and one of the first casualties was the theatrical window, which used to be 90 days. That was the key for everything to hold together in the movie industry, and the reason why we were able to get multiple billion-dollar movies every year. The pandemic, however, had other plans, and studios started to realize they could make a lot of money through their streaming services.
The two opposite models first came to an understanding with the day-and-date approach, which one would think is the best of both worlds, but in the long run, it will probably be the worst option for everyone involved. Warner Bros. was the first proponent of this model in late 2020, and Disney jumped on board shortly after. With this move, and thanks to Shang-Chi and Free Guy, as well as the entire Hollywood community that pushed against it, Disney is now moving away from the idea. However, this does come at a prize — things must work out for them. People must go out to see Eternals opening weekend and the few weeks after that. In another reality, the movie would have probably been a contender for the billion-dollar club. Now, if they can cross $600 million worldwide, it will be a huge success. Thankfully for them, there is precedent — F9, which also had a 45-day exclusive theatrical window, managed to gross $710 million. Unfortunately for Marvel, that movie had a huge push in China.
On the other side of the spectrum, the day-and-date model is not fully dead yet. While Disney is seemingly pulling away from it, and Warner Bros. has already announced that they will not take it for any 2022 release, Peacock is now jumping into the game. Yesterday, Universal announced that the new Halloween sequel, Halloween Kills, will do the hybrid release, both in theaters and on Peacock. This is not the first time this streaming platform is doing such a thing — Boss Baby: Family Business already received the treatment earlier this summer. According to Deadline, Halloween's move is due to Universal being happy about that movie's performance on the platform.
Miguel Fernández is a Spanish student that has movies as his second passion in life. His favorite movie of all time is The Lord of the Rings, but he is also a huge Star Wars fan. However, fantasy movies are not his only cup of tea, as authors like Scorsese, Fincher, Kubrick or Hitchcock have been an obsession for him since he started to understand the language of filmmaking. He is that guy who will watch a black and white movie, just because it is in black and white.