'Annette' Movie Review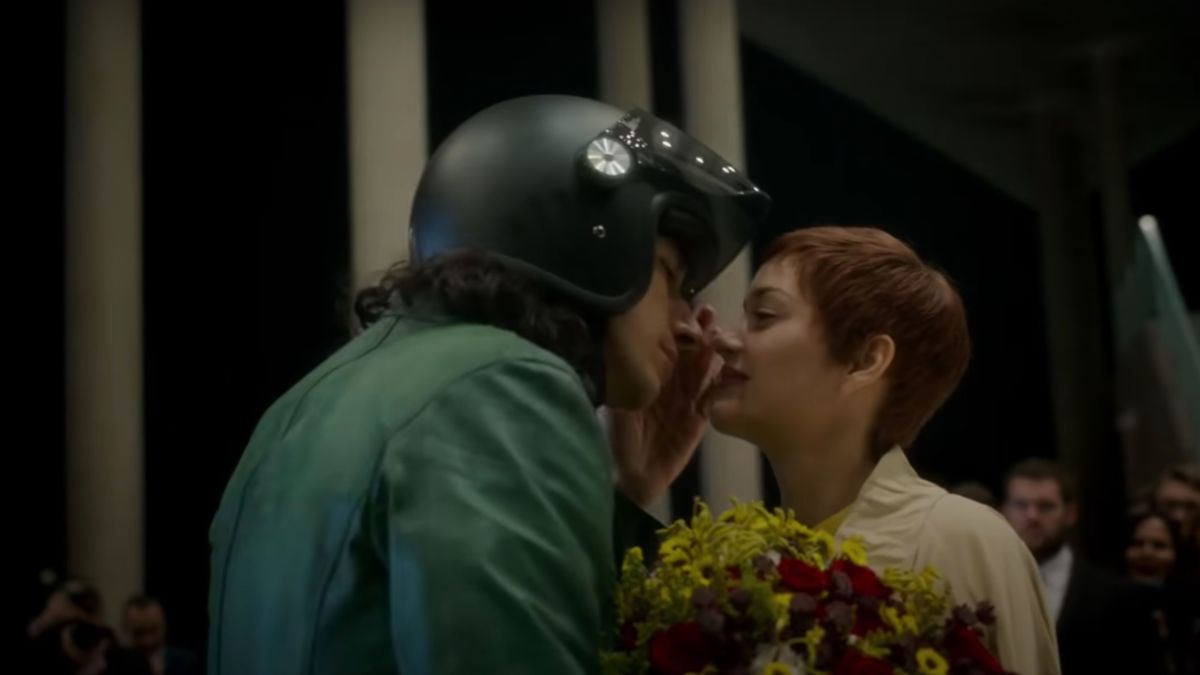 Leos Carax's Cannes-acclaimed feature has been out for a little bit, but it's probably as good a time as any to talk about the movie, which is probably not doing great either in theaters or on Amazon Prime (where it can be found in the U.S. right now).
Annette started getting some buzz ahead of its Cannes premiere in July after they dropped the official poster in late May. It was probably one of the most provocative yet intriguing posters of the past few years. And after seeing the movie, I can tell you that they managed to transmit with the poster the exact same thing Carax did with the movie.
Annette should be one of the most talked-about movies of the season. That doesn't necessarily mean it will be one of the best movies overall, but it's certainly one that can be the topic of conversation at a bar with a group of friends, throughout the entire night. It is also one of the hardest movies to sell this year, and also one of the hardest to explain. Annette is The Umbrellas of Cherbourg meets Joker meets A Star Is Born meets parts of Being John Malkovich. That is probably the best yet the worst description I can give.
It follows a very famous comedian, played by Adam Driver, who is in love with a very famous singer, played by Marion Cotillard. When the two of them have a baby, things radically start to change. And also, 90% of the dialogue is delivered through songs. Annette feels like a musical theater play, shot on camera and with outstanding production design. The movie opens with an off-screen voice asking the audience to be quiet and not react, either through laughter or weeping, to what they are about to see. It is never explicit who that voice is talking to, although it is heavily implied that they are asking the viewers of the movie to remain quiet (they/we can't even breathe). It then cuts to an outstanding oner in which cast and crew gather up to sing the opening song, which is not part of the story. They gather up again during the middle of the credits to see them off.
It is a very hard movie to recommend, not because it's good or bad, but because it will alienate most viewers. Either you get into it or not, and even if you do, you will feel many times like getting out. Carax asks for your patience in one scene, and in the next one he'll have you asking yourself "What am I watching exactly?" Nudity and explicit sex is not red-taped, and can make the audience member feel a bit uncomfortable at times, which may or may not be the intent of the director.
And what is the intent of the director? The movie feels at times hard to watch because it is hard to grasp the theme the story is trying to transmit. That may also be because each step of the way has several possible interpretations, though there is one overall arc for the movie — love, felt by the wrong people, is a double-edged sword. But what should we do? Should we ban them from loving, or allow them to? Either way, they might cause some tragedy.
Carax often brings up a shot that may be interpreted two different ways. In the context of that scene, he clearly states which way he is going, but as the story unfolds, you then go back in your mind and start to ask yourself "did he actually mean this other thing?"
As far as performances go, Adam Driver shines like he never has. It's hard to call this his best work (I still think his performance in Marriage Story is one step up from this one), but it's definitely up there. This is his movie — he drives the entire narrative, and is present in the vast majority of the scenes. Marion Cotillard is oustanding as well, as usual, but perhaps the one actor that might get most people's attention is Simon Helberg, who stood up to Driver, perhaps one of the three best actors under 40 working right now, and Marion Cotillard, a veteran actress both in Hollywood and in France.
Lastly, there is one group of people that deserve to be congratulated too. The official trailer of the movie doesn't really give it away, so I will say as little as possible about it, but there is a puppet in the movie. The puppeteers that brought her to life deserve every award they are able to nominate them for. It was unbelievable.
Annette was directed by Leos Carax, from an original story by Ron and Russell Mael (the Sparks). The main cast is made up of Adam Driver, Marion Cotillard, and Simon Helberg. The Sparks also wrote the music for the movie and have a special apperance in the opening and closing credits of the movie. Nelly Quettier edited the movie, with Caroline Champetier credited as the cinematographer, and Florian Sanson in charge of the outstanding production design. It won the Best Director Award and the Soundtrack Award at the Cannes Film Festival, and was nominated for the Palme d'Or.
Annette is now available in theaters in most of the world, and on Amazon Prime Video in the U.S., India, Italy, Turkey, Canada, and Brazil.
Miguel Fernández is a Spanish student that has movies as his second passion in life. His favorite movie of all time is The Lord of the Rings, but he is also a huge Star Wars fan. However, fantasy movies are not his only cup of tea, as authors like Scorsese, Fincher, Kubrick or Hitchcock have been an obsession for him since he started to understand the language of filmmaking. He is that guy who will watch a black and white movie, just because it is in black and white.