'Doki Doki Literature Club Plus' Review: Love, Poetry, and Shock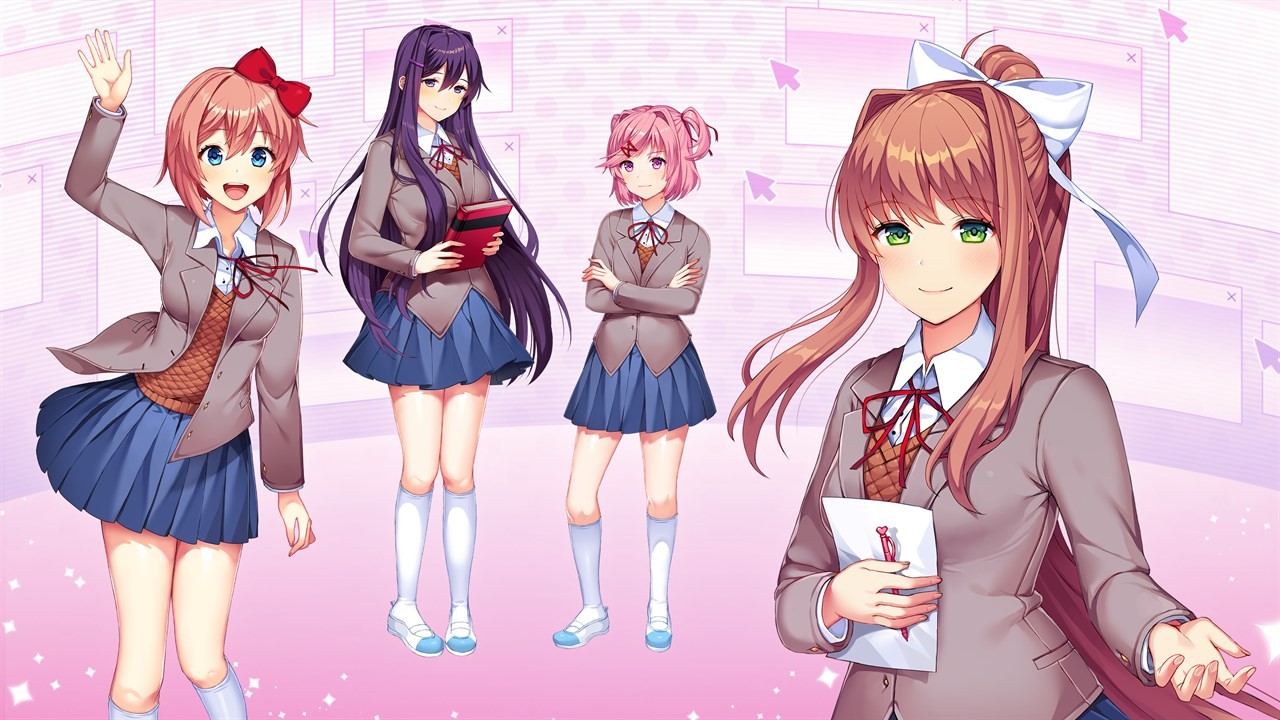 Doki Doki Literature Club is back with an extended cut. This is not going to go the way you think.
This is one of the hardest reviews I've ever had to write, and it's not because the game's bad (quite the opposite). Talking about Doki Doki Literature Club is just… difficult. Below its cute surface, which suggests an anime-inspired visual novel plus dating sim mix of sorts, lies one of the most insidious games I've ever played. Its original version was released in 2017 for free and marked Team Salvato's first venture into visual novels, quickly gaining a cult following. Shortly afterwards, Doki Doki spread like wildfire around the Internet, with several gaming sites and youtubers raving about how crazy it was. And pretty much everyone was in on the joke, enticing new players to try it out without spoiling the goodies.
Doki Doki Literature Club has sat on my Steam library for the longest time, but I never got around to play through it. Unexpectedly, an extended, polished cut of the game was announced during this month's disjointed E3 madness. The universe was telling me to play the damn thing already. A bit later, I got the chance to jump on a review code, so here we are. Let me tell you: what a ride.
The starting premise is simple, and you've seen it a million times before: a male student who doesn't do great around girls reluctantly joins his school's literature club in search of a romantic interest. Four girls (Sayori, Natsuki, Yuri, and Monika) are in the club, which is small and has trouble enlisting new members, and all of them seem to be interested in spending time with you. Sounds amazing, right? You might know where this is going, but you do not. The fun and smart thing about Doki Doki Literature Club is that it totally would work as a normal visual novel and/or dating sim if it didn't progressively go off the rails. Its characters are undeniably cute and engrossing, and the game's easy to pick up and play (read) through, plus there's an inherent audiovisual charm to the whole package. But things get weird, really weird.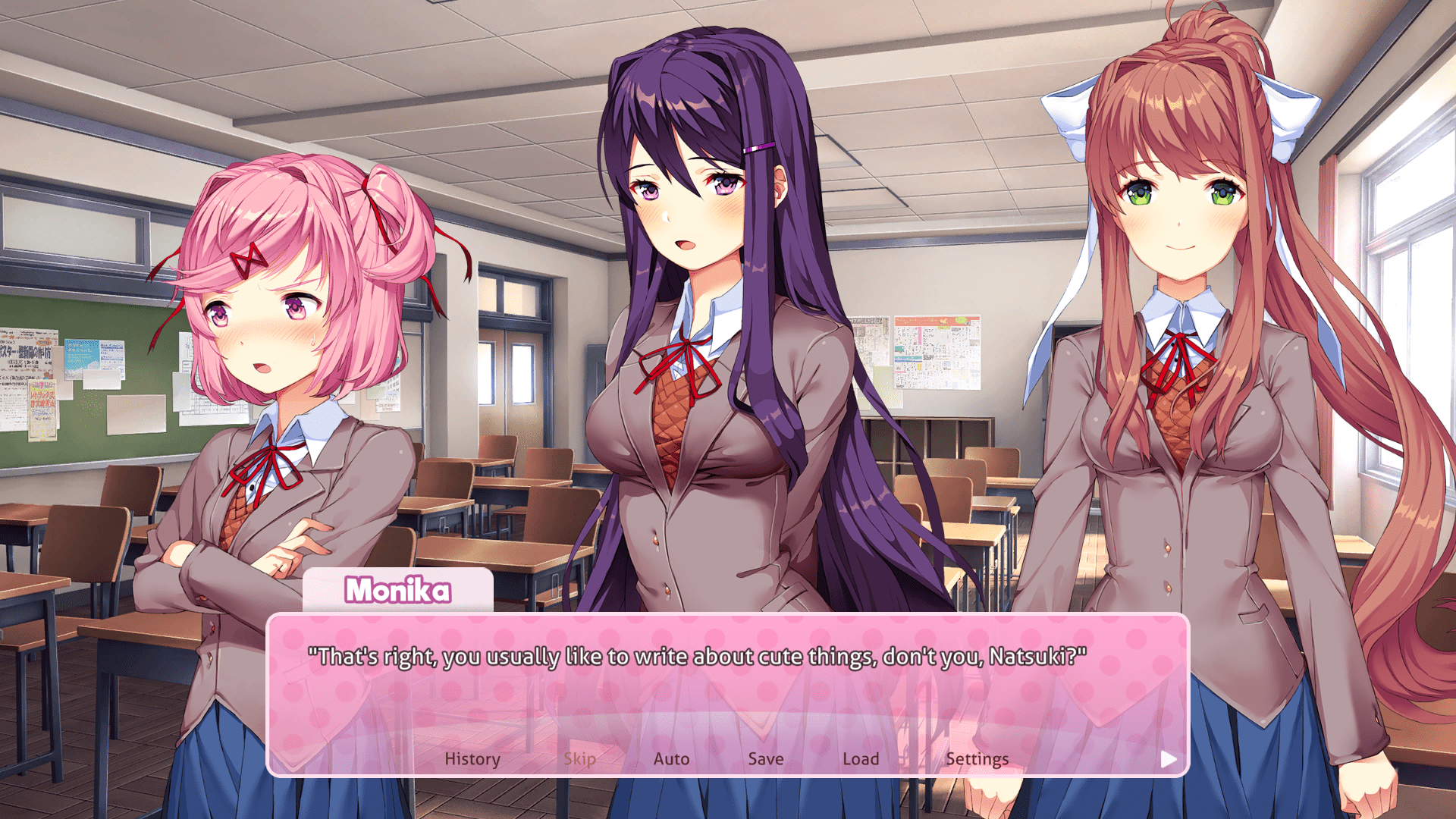 The gameplay is non-existent, as typically expected from a visual novel, so there are no roadblocks of any kind for unexperienced folks here. Anyone can play through this, and it's not long at all: around four hours if you're a fast reader — but it's replayable. Thankfully, there are small breaks which offer seemingly small choices and often task you with "writing poetry" (choosing key words, actually) that can impress some girls, but won't be universally liked. These poems serve as the main source of "deeper" interactions between the main character and the other members of the club.
In spite of how weird things get, the plot is easy to follow at all times and doesn't spend too much time meandering around, plus the roster of characters simply consists of you and the four girls. This allows every bit of the story and its characters' psyche to truly bloom. Once you reach the ending (one of them), you'll know a bit too much about the girls. Here's the thing: Doki Doki Literature Club is both an excellent homage to animes and visual novels about awkward high school romances, and an acute satire of the subgenre. As stated before, it could be a great "by the numbers" love story, but it gradually chooses to veer into cursed territory.
While the marketing (for both the original release and the Plus version) is happy and colorful, Team Salvato fully acknowledges the game can eventually get hard to sit through for some people, and initial warnings let players know, without spoiling anything, about the disturbing and impactful stuff they might find down the line. Additional details are offered for those who aren't sure despite wanting to push forward, but it's spoilery stuff. I'm glad the makers behind the game took their time with these warnings and disclaimers; I don't think Doki Doki Literature Club is a visual novel that people in a state of serious depression or recurring negative thoughts should approach. As engrossing and thoughtful as it is, sh-t gets pretty dark (and meta).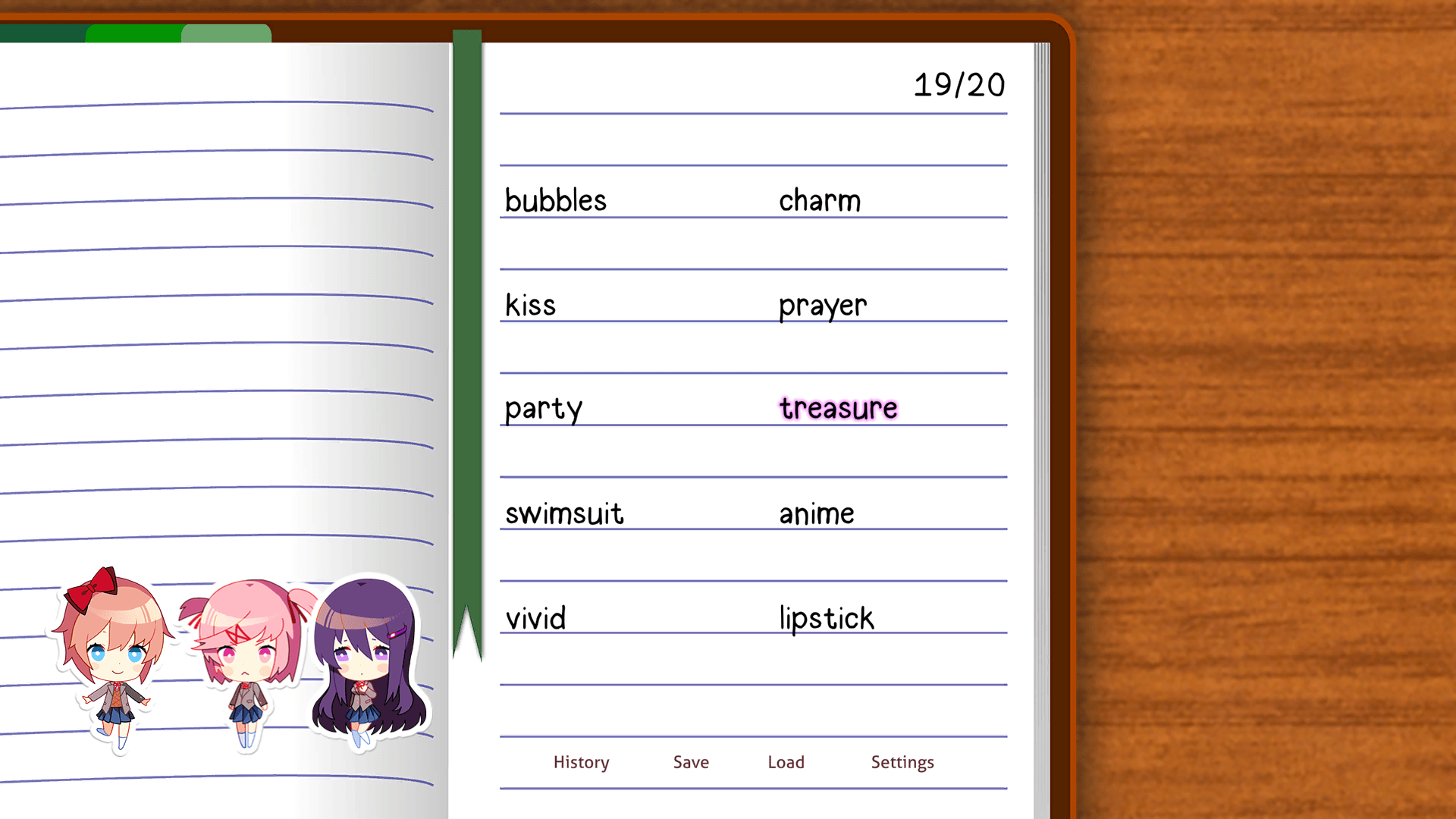 I'd absolutely recommend giving this a chance if you're okay with what I've just explained. It's a game daring enough to ask truly important questions about why we act in certain ways around other people, to bring the best and worst of its characters out, and to turn the plot on its head with clever twists that are written around how we relate to interactive stories. Somehow, Team Salvato found a sweet balance between easy-to-follow narrative and throwing massive curveballs at unsuspecting players/readers. By the time I cracked the true ending and the credits rolled, I was left completely stunned and wondering about how they have translated some of the odder late-game bits to consoles.
On top of that (and the reworked HD visuals and audio), Doki Doki Literature Club Plus includes six smaller side stories which flesh out its characters even further, and stick to more traditional storytelling. Extras such as unlockable illustrations and music tracks are available alongside achievements, too. In many ways, it feels like a farewell and the ultimate thank you to the fans who have been there since the beginning. I can't wait to see where Team Salvato goes next with its wild ideas.
Doki Doki Literature Club Plus is now available on PC (via Steam and Epic), PS4/5, Nintendo Switch, and the Xbox systems. The price hovers around $14.99, but launch discounts are being offered on some platforms, and a limited physical premium edition for PlayStation consoles and Switch is arriving on August 20 for $29.99.
Thanks to Serenity Forge (publisher) and Tinsley PR for the review code.
Francisco J. Ruiz is that guy who has watched Jurassic Park a thousand times and loves Star Wars. His hunger for movies is only matched by his love for video games. He graduated in English Studies from the University of Malaga, in Spain. As he continues to write about what he enjoys (and doesn't), he's studying for a master's degree and working on becoming a teacher.