Netflix Details and Previews Animation Releases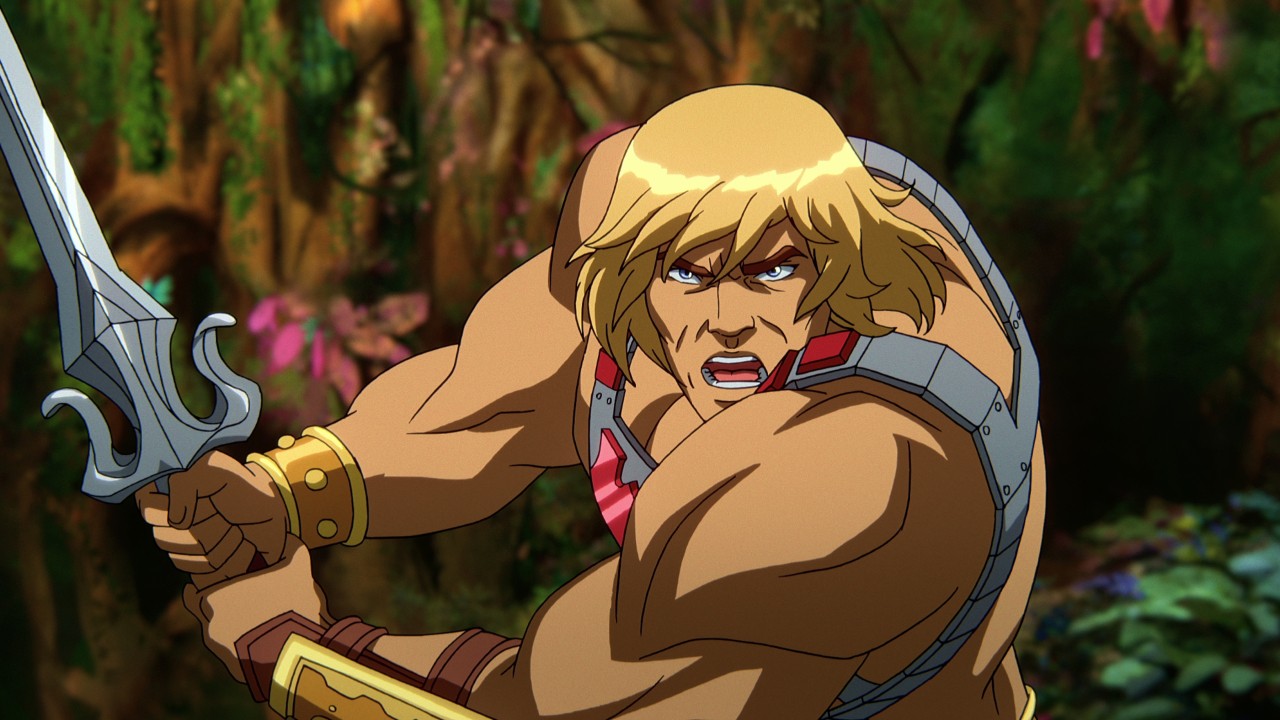 The bulk of Netflix Geeked's big summer event has been dedicated to animation, one of the platform's biggest strengths in the streaming wars.
Besides previewing The Witcher Season 2 and the upcoming live-action Resident Evil series, this "Geeked Week" event dropped other juicy bits, such as surprise hit Shadow & Bone being renewed for a second season, or the Fear Street trilogy receiving a full-length trailer ahead of next month's debut. However, most of the time was spent talking about upcoming animated productions, which are slowly becoming Netflix's backbone and could give the streamer a strong identity moving forward.
Lots of original animated series and films (plus some animes distributed by the streamer) were previewed through Thursday and Friday, so let's just focus on the biggest stuff.
Masters of the Universe: Revelation
Set after the events of the original show, the new animated series from Kevin Smith serves as both a continuation and an upgrade of the legendary 80s TV series, plus the voice cast is unbelievably packed. It debuts on July 23, and you can check out the first (and glorious) trailer below:
Zack Snyder's Twilight of the Gods
We heard long ago about this one, but his cut of Justice League and last month's Army of the Dead (also produced by Netflix) made us all forget about it. Well, the Norse mythology-inspired animated series is alive and kicking, and here's its impressive voice cast:
Exception
This one's a bit weird and came out of nowhere: a new story by Hirotaka Adachi (pen name — Otsuichi), the famous Japanese writer of short horror stories. Adachi also toyed with filmmaking, but we don't know for sure if he'll direct this space horror anime series. The character designs are being handled by Final Fantasy veteran Yoshitaka Amano.
Here's your first glimpse at Exception.

The new space horror anime series is based on a new story by Hirotaka Adachi (aka "Otsuichi"), with character designs by Final Fantasy's Yoshitaka Amano. #GeekedWeek pic.twitter.com/7CWhmNu9O6

— Netflix Geeked (@NetflixGeeked) June 10, 2021
Bright: Samurai Soul
David Ayer's Bright (2017), one the Netflix's biggest films ever, wasn't very good, but everyone agreed that its world was interesting enough to warrant further exploration. Last year we heard that Louis Leterrier (The Dark Crystal: Age of Resistance) could take over the sequel, which is (thankfully) also moving away from disgraced screenwriter Max Landis. What nobody expected was an Edo-set (?) anime film directed by Kyohei Ishiguro (Your Lie in April, Occultic;Nine). It's a surprising but welcome twist for a franchise that could easily grow beyond live-action buddy cop films.
Announcing Bright: Samurai Soul.

Izo, a Ronin, and Raiden, an orc, work to bring a young elf girl and the wand she carries to the land of the elves in the north.

Based on the Netflix movie, the anime film will be directed by Kyohei Ishiguro. #GeekedWeek pic.twitter.com/K03gZVMUie

— Netflix Geeked (@NetflixGeeked) June 10, 2021
Godzilla: Singular Point
The marketing machine behind this all-new animated series has been working for quite a while now, and it finally hits international territories this month via Netflix. It has been produced by Toho, Bones, and Orange, with striking character designs from Kazue Kato (Blue Exorcist). Here's a short clip which introduces the show's surprising take on Rodan:
If you see Rodan – run.

Godzilla: Singular Point is available globally June 24th. Here's your first look at the English dub. #GeekedWeek pic.twitter.com/hoq2LnEvCY

— Netflix Geeked (@NetflixGeeked) June 11, 2021
Maya and the Tree
From The Book of Life director Jorge R. Gutierrez comes a limited series "about a warrior princess on an epic quest to save humanity from vengeful gods of the underworld." Here are the first pictures, with more to follow soon:
League of Legends: Arcane
This stylish adaptation of the famous MOBA video game was unveiled last month, giving us the promise of a fall release date. League of Legends developer Riot Games is handling the animation in-house; that's why it looks so good and in line with the game's visuals, and also explains how long it's taking to complete. After last month's teaser, here's the first official clip:
Nothing like a little sibling rivalry.

Watch the first clip from #Arcane, the @LeagueofLegends animated series coming fall 2021 to Netflix. #GeekedWeek pic.twitter.com/m25ciGHr9M

— Netflix Geeked (@NetflixGeeked) June 11, 2021
The Cuphead Show
Cuphead stole many hearts back in 2017 thanks to its unique, hand-drawn retro look and a seemingly innocent sense of humor. While we wait for its long-awaited story DLC (first announced in 2018, wow), Netflix is bringing The Cuphead Show to TV screens worldwide. Here's a clip starring secondary antagonist King Dice, who is being voiced by game show host Wayne Brady (fitting):
"Who will be the first contestant to roll the dice?"

Here's a sneak peek clip of King Dice in The Cuphead Show! #GeekedWeek pic.twitter.com/8DLDfxD7Gj

— Netflix Geeked (@NetflixGeeked) June 11, 2021
Ubisoft x Netflix projects
In 2020, Netflix and Ubisoft solidified their relationship and started development on several video game adaptations, both live-action and animated. Ubisoft's library is vast and varied, and the first collaborations between the streamer and the French gaming behemoth should arrive soon-ish.
Splinter Cell is an animated series which aims to stay fairly close to the original 2002 title and (probably) its many sequels. Extremely busy scribe Derek Kolstad, creator of the John Wick franchise and other action-heavy stuff, is writing.
Here's your first look at the Splinter Cell animated series, an adaptation of the bestselling @Ubisoft game.

Derek Kolstad, creator of the John Wick franchise, is onboard to write the series.
#GeekedWeek pic.twitter.com/c3vjJV0wfR

— Netflix Geeked (@NetflixGeeked) June 11, 2021
Adi Shankar, the mind that kickstarted the highly successful Castlevania series, has been allowed to toy with Blood Dragon (an over-the-top, parodic cyberpunk Far Cry spinoff) plus many of their properties; the aim here is to create a "bootleg universe" that borrows elements and characters from Ubisoft's library "to deliver a visually distinct nostalgic acid trip." Captain Laserhawk will be the first installment, and here's out first look at the series (thread):
Breaking news! @Ubisoft allowed me to create a new Universe for them that acts as a "Blood Dragon remix" of all Ubisoft properties … think Captain N: The Game Masters but good … or the Bootleg Universe short films without copyright infringement! 1/3 pic.twitter.com/FuwZZji2J7

— Adi Shankar (@adishankarbrand) June 11, 2021
And what about the mainline Far Cry games? Fear not, because of course they're turning it into an animated series as well. Nothing to see here at this point though, but they could go literally anywhere with that project. Same goes for the Assassin's Creed series they announced many moons ago.
Netflix and @Ubisoft are developing a brand new Far Cry animated series. #GeekedWeek pic.twitter.com/BX4FkS9v5r

— Netflix Geeked (@NetflixGeeked) June 11, 2021
Castlevania spinoff (sequel, actually)
They promised we would learn soon enough about their plans for the Castlevania IP past the show's fourth (and final) season. With that now out of the way, here are the first details about the follow-up:
The Castlevania Universe is getting even bigger.

An all new series starring Richter Belmont (the son of Sypha and Trevor) and Maria Renard, set in France during the French Revolution, is currently in the works. #GeekedWeek pic.twitter.com/tsdeDpvNGQ

— Netflix Geeked (@NetflixGeeked) June 11, 2021
While this is being described as an all-new series, it's pretty much a sequel that follows the structure dictated by the legendary video game saga. Fans could see this coming. It's about family.
This is only the tip of the iceberg, as Netflix is readying up an absurd amount of animated shows and films, many of them coming from famous video game IPs. We'll keep you updated with the latest and biggest news concerning the streamer's vigorous efforts.
Francisco J. Ruiz is that guy who has watched Jurassic Park a thousand times and loves Star Wars. His hunger for movies is only matched by his love for video games. He graduated in English Studies from the University of Malaga, in Spain. As he keeps writing about what he enjoys (and doesn't) for websites all over, he's continuing his studies.