'Indiana Jones 5' Set Photos Seemingly Confirm Nazis, De-Aging, and Toby Jones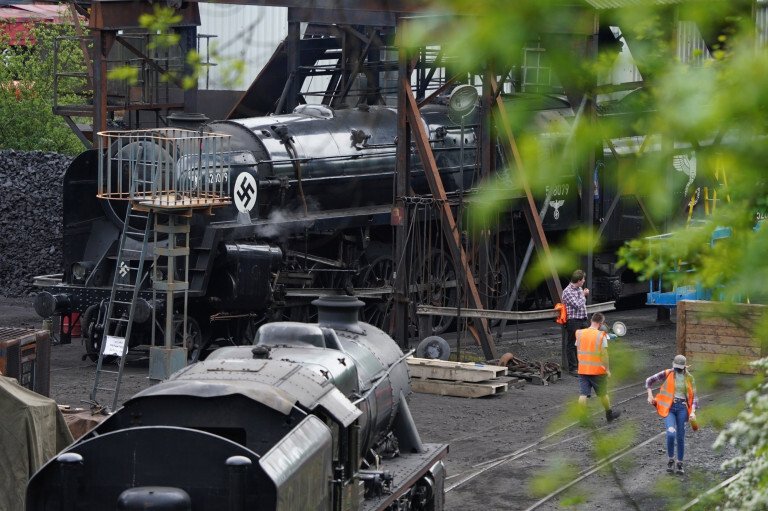 New leaked pictures from the Indiana Jones 5 set in England have just arrived, and they are most interesting!
After lots of rumors and speculation about possibly some flashbacks to the Nazi era and a de-aged Harrison Ford, we have now visual proof of all of that. Several pictures surfaced online on Friday showing us several Nazi symbols on a train (see above), as well as Nazi-era vehicles in the set of the movie (via Metro News). Additionally, a bunch of pictures leaked on Reddit (see the post below), showing us that MCU's very own Doctor Zola, Toby Jones, is in this movie (which we didn't know). Additionally, if you look close enough, you can easily see dots on Harrison Ford's face, which would confirm that Lucasfilm is planning to de-age him for a few scenes in this movie.
Here are some World War II-era vehicles: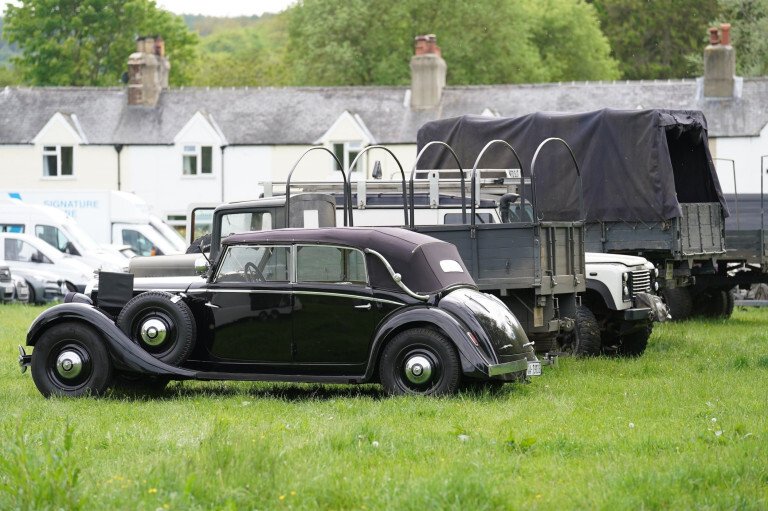 Also, here is the Reddit post with the pictures:
While plot details are still being kept under wraps, there are lots of rumors going around. One of the prominent ones says that the Space Race will play a role in this movie, in some way. Lots of people are speculating that the McGuffin for this movie will be the Fountain of Youth, which could give them an excuse to have a de-aged Harrison Ford for a good chunk of the movie. However, right now they are probably filming some flashback scenes, due to the abundance of Nazi props.
We don't know why nobody has either reported or announced Toby Jones' involvement, but a possibility is that Lucasfilm maybe wanted to keep the Nazis under wraps, and given the actor's role as Doctor Zola in the MCU, they probably thought many fans would connect the dots immediately. If that were the case, they haven't been exactly careful with set leaks, because they are keeping a lot of surprises out in the open.
Indiana Jones 5 is currently shooting in England. James Mangold (Logan, Ford v Ferrari) is directing the movie, from a script by Jonathan Kasdan, David Koepp, and James Mangold. Harrison Ford is returning as the title character, and is bringing along Phoebe Waller-Bridge, Mads Mikkelsen (who is supposedly playing the villain), Thomas Kretschmann, Boyd Holbrook, and Shaunette Reneé Wilson. John Williams is returning to score the movie. Kathleen Kennedy is producing, and Steven Spielberg is executive producer (and has supposedly been overseeing the project despite dropping out last year as the director).
The movie will be released on July 29, 2022. Stay tuned for more updates, set photos, and eventually, the title for the movie.
Miguel Fernández is a Spanish student that has movies as his second passion in life. His favorite movie of all time is The Lord of the Rings, but he is also a huge Star Wars fan. However, fantasy movies are not his only cup of tea, as authors like Scorsese, Fincher, Kubrick or Hitchcock have been an obsession for him since he started to understand the language of filmmaking. He is that guy who will watch a black and white movie, just because it is in black and white.