'Spider-Man: No Way Home' Main Villains Reportedly Revealed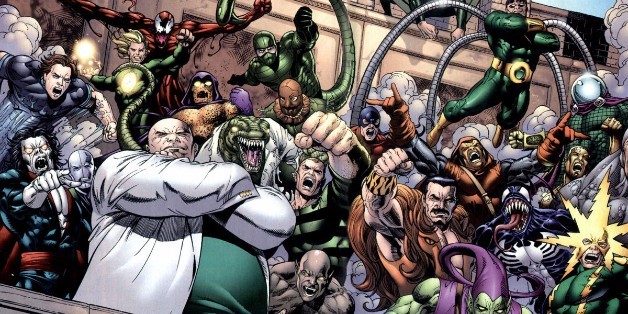 Spider-Man: No Way Home apparently has a supervillain bonanza befitting of a big finish for a trilogy. Possible spoilers ahead!
Jeff Sneider, who previously revealed that Tobey Maguire, Andrew Garfield, Kirsten Dunst, and Emma Stone had conversations to return in Spider-Man: No Way Home, has now added to his list of returning faces on his podcast. (Rumor has it that Tobey, Andrew, and Kirsten are back for sure, but it's unclear if Emma filmed anything as of yet due to her pregnancy taking place during production; and even if she didn't shoot anything during principal photography, there's potentially still time for her to film something during a period of additional photography, now that she's had her baby.) If what he's heard is true, then none other than an iteration of the Sinister Six are set to appear in this film and put three iterations of Spider-Man through the gauntlet.
The movie will apparently put a twist on the concept, however: instead of being from the Marvel Cinematic Universe, the supervillains will be from offshoot timelines of the continuities seen in Sam Raimi and Marc Webb's movies, with three from each. This way, audiences who have kept up with the franchise should already be aware of these characters and their origins rather than having to deal with all of them in a movie that's going to be packed with content as it is. The lineup consists of:
Spider-Man 1's Green Goblin (Willem Dafoe).
Spider-Man 2's Doctor Octopus (Alfred Molina).
Spider-Man 3's Sandman (Thomas Hayden Church).
The Amazing Spider-Man 1's Lizard (Rhys Ifans).
The Amazing Spider-Man 2's Electro (Jamie Foxx) and Rhino (Paul Giamatti).
One insider by the name of ViewerAnon indicates that these characters aren't the same ones that Tobey Maguire and Andrew Garfield's Spider-Men faced off against, but ones from alternate iterations of those timelines. The big twist is that all of them are "dead" in their universes of origin, and are resurrected into the MCU somehow (likely some story element that will be further clarified in Doctor Strange in the Multiverse of Madness):
The Sinister Six are all from other universes and remember dying — specifically, dying at the hands of Spider-Man. This causes great guilt in Holland's Peter and he ends up doing something stupid against Doctor Strange's orders.

— David Manning (@ViewerAnon) May 28, 2021
That's an interesting twist on the concept, considering that Spider-Man has been framed for the apparent death of Mysterio. The fact that the other villains blame their deaths on Spider-Man give the characters a more personal connection to this Spider-Man, who they will likely initially mistake for the Spider-Man of their native universes. Of course, that's not to say that characters that Jon Watts had a hand in bringing to the big screen will be left out in the cold. Take this with a grain of salt for now, but there are rumors that we'll properly be introduced to Scorpion (Michael Mando), even though he won't be a part of the Sinister Six team. The same also goes for Vulture (Michael Keaton), Tinkerer (Michael Chernus), and Mysterio (Jake Gyllenhaal). However, should any or even all of these characters appear, they will not be a part of the team and have different roles in the narrative. This movie is going to be huge, and perhaps there's no better way to commemorate 20 years of Spider-Man movies than a show-stopper of a movie.
Spider-Man: No Way Home is set to release on December 17, 2021. The future of the Marvel Cinematic Universe includes the films Black Widow, Shang-Chi and the Legend of the Ten Rings, Eternals, Spider-Man: No Way Home, Thor: Love and Thunder, Doctor Strange in the Multiverse of Madness, Black Panther: Wakanda Forever, The Marvels, Guardians of the Galaxy Vol. 3, Ant-Man and the Wasp: Quantumania, Captain America 4, and reboots of the Blade, Deadpool, Fantastic Four, and X-Men franchises. Another Avengers movie is confirmed to happen eventually, but it will be a ways off. In addition to the aforementioned movies, there are several Marvel Studios shows confirmed for the Disney+ lineup: Loki, What If…?, Hawkeye, Ms. Marvel, Moon Knight, She-Hulk, Secret Invasion, Ironheart, Armor Wars, The Guardians of the Galaxy Holiday Special, an untitled show about Wakanda, and I Am Groot.

Grant Davis is a freelance writer who has covered entertainment news for more than seven years. His articles have frequently appeared in Star Wars News Net as well as as other entertainment-related websites. As someone who grew up on Star Wars and comic book movies, he's completely thrilled with the current era of genre entertainment.