'Eternals' Teaser Reveals A Hidden History Of The Marvel Universe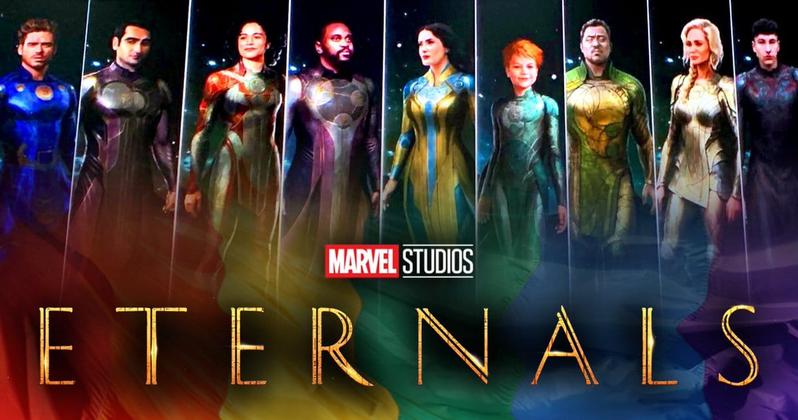 The first teaser for Marvel's Eternals has arrived, showcasing a new team of heroes unlike those we've seen before in the Marvel Cinematic Universe.
Directed by Oscar-winning director Chloé Zhao, Eternals brings the characters of Jack Kirby to life in a new context. Set over the course of thousands of years, Eternals follows a group of aliens that have been living among humanity and guiding the growth of civilizations for a very long time. While they have vowed not to directly interfere in human affairs, something causes them to change their direction and they are forced into action.
Despite being a superhero blockbuster, Zhao approached the material much in the same way that one would approach a prestige film, which shows with the emphasis on wide shots and natural lighting, although there's still plenty of CGI and action that's befitting of a movie of this kind. Check out the teaser below:
Along with this, the first poster has arrived, revealing that Zhao wrote the screenplay alongside Patrick Burleigh:
Experience Marvel Studios' #Eternals in theaters this November. pic.twitter.com/T4kTcyaDvA

— Marvel Studios (@MarvelStudios) May 24, 2021
Eternals is set to release on November 5, 2021. The future of the Marvel Cinematic Universe includes the films Black Widow, Shang-Chi and the Legend of the Ten Rings, Eternals, Spider-Man: No Way Home, Thor: Love and Thunder, Doctor Strange in the Multiverse of Madness, Black Panther: Wakanda Forever, The Marvels, Guardians of the Galaxy Vol. 3, Ant-Man and the Wasp: Quantumania, Captain America 4, and reboots of the Blade, Deadpool, Fantastic Four, and X-Men franchises. Another Avengers movie is confirmed to happen eventually, but it will be a ways off. In addition to the aforementioned movies, there are several Marvel Studios shows confirmed for the Disney+ lineup: Loki, What If…?, Hawkeye, Ms. Marvel, Moon Knight, She-Hulk, Secret Invasion, Ironheart, Armor Wars, The Guardians of the Galaxy Holiday Special, an untitled show about Wakanda, and I Am Groot.

Grant Davis is a freelance writer who has covered entertainment news for more than seven years. His articles have frequently appeared in Star Wars News Net as well as as other entertainment-related websites. As someone who grew up on Star Wars and comic book movies, he's completely thrilled with the current era of genre entertainment.