New 'Jurassic World: Dominion' BTS Image Hits, Colin Trevorrow Talks COVID Restrictions
Jurassic World: Dominion won't chomp on theaters until June 10, 2022, but Universal is pulling back the curtain a little bit.
As cinemas are set to reopen across the United Kingdom next week, Empire has been preparing an extended look at several productions that have gone through hell and back to get shooting done and move on to post-production. One of them is Colin Trevorrow's Jurassic World threequel, which is being handled as the culmination of the story that started back in 1993 with Steven Spielberg's Jurassic Park.
About the "off time" they had to face last year due to COVID-19, Trevorrow told the magazine the following:
"On the very last day we were shooting, I didn't find out officially that we were going to shut down until about three hours before we wrapped… We were shooting in this old, industrial barn. [Producers] Alexandra Derbyshire and Pat Crowley and I had a phone call with Universal, and all of us agreed it was the right thing to do. But I still had a shoot day to finish… Whispers had begun, but we didn't want to compromise that moment in the movie by having it be fraught in any way. So we captured it and then we went home for three months. And that day is in the movie. We didn't go back and reshoot it."
Shooting resumed in July, but things got shaky again in October, when the team was about to finish off the complicated production:
"The scariest moment was [in late October] when we just had a couple of weeks left and the cases were rising exponentially… Because we had the crew that we did and the actors were always on set, we were able to accelerate what we were doing. But we definitely had a fear that we might have a movie that was nine-tenths finished and remain that way."
Additionally, a new BTS image featuring Chris Pratt and Omar Sy has surfaced: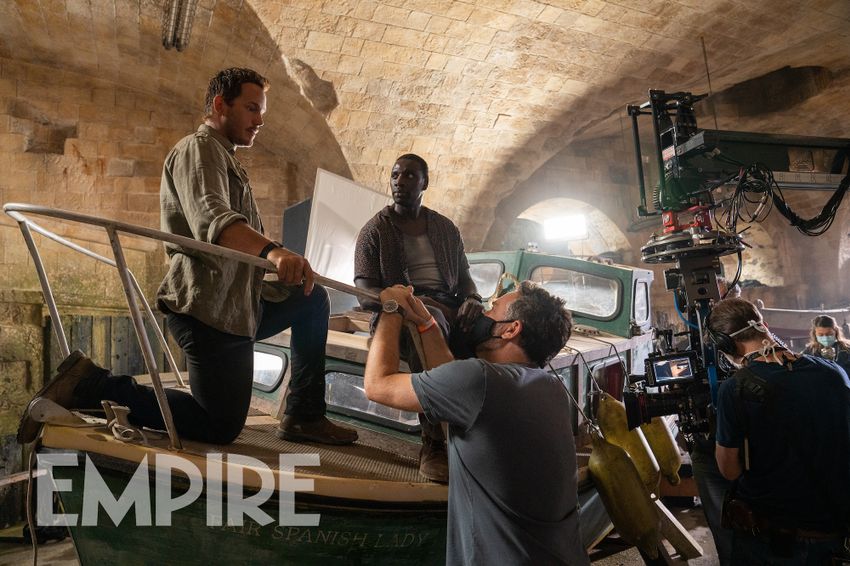 No dinos in this picture, but it's great to see Omar Sy back as Barry Sembène after he was left out of Fallen Kingdom. I thought he had some fun interactions in the first Jurassic World, and I'd like to see his professional relationship with Owen grow in this film. By the way, there's a nice Jaws nod in there for eagle-eyed Spielberg fanatics.
Francisco J. Ruiz is that guy who has watched Jurassic Park a thousand times and loves Star Wars. His hunger for movies is only matched by his love for video games. He graduated in English Studies from the University of Malaga, in Spain. As he keeps writing about what he enjoys (and doesn't) for websites all over, he's continuing his studies.