'Godzilla vs. Kong' Review: A Roaring Success in Titan-Sized Fun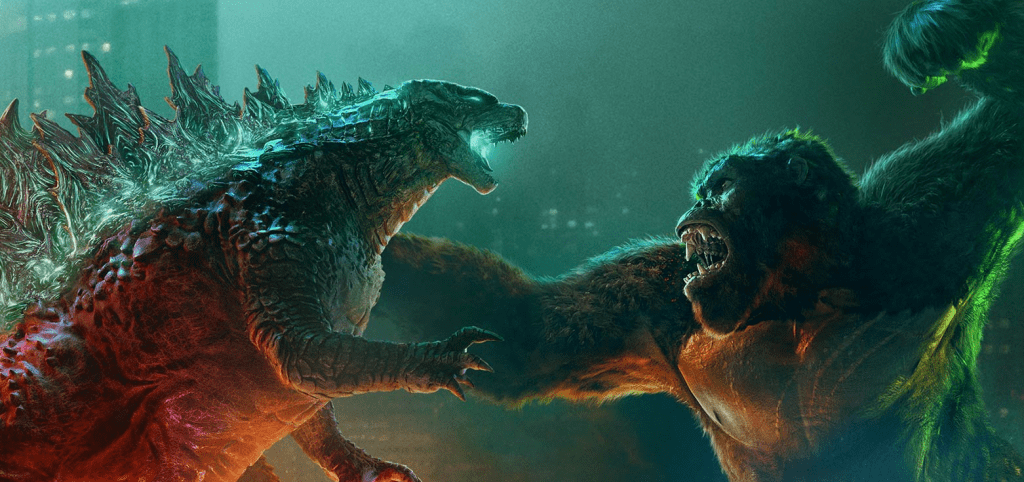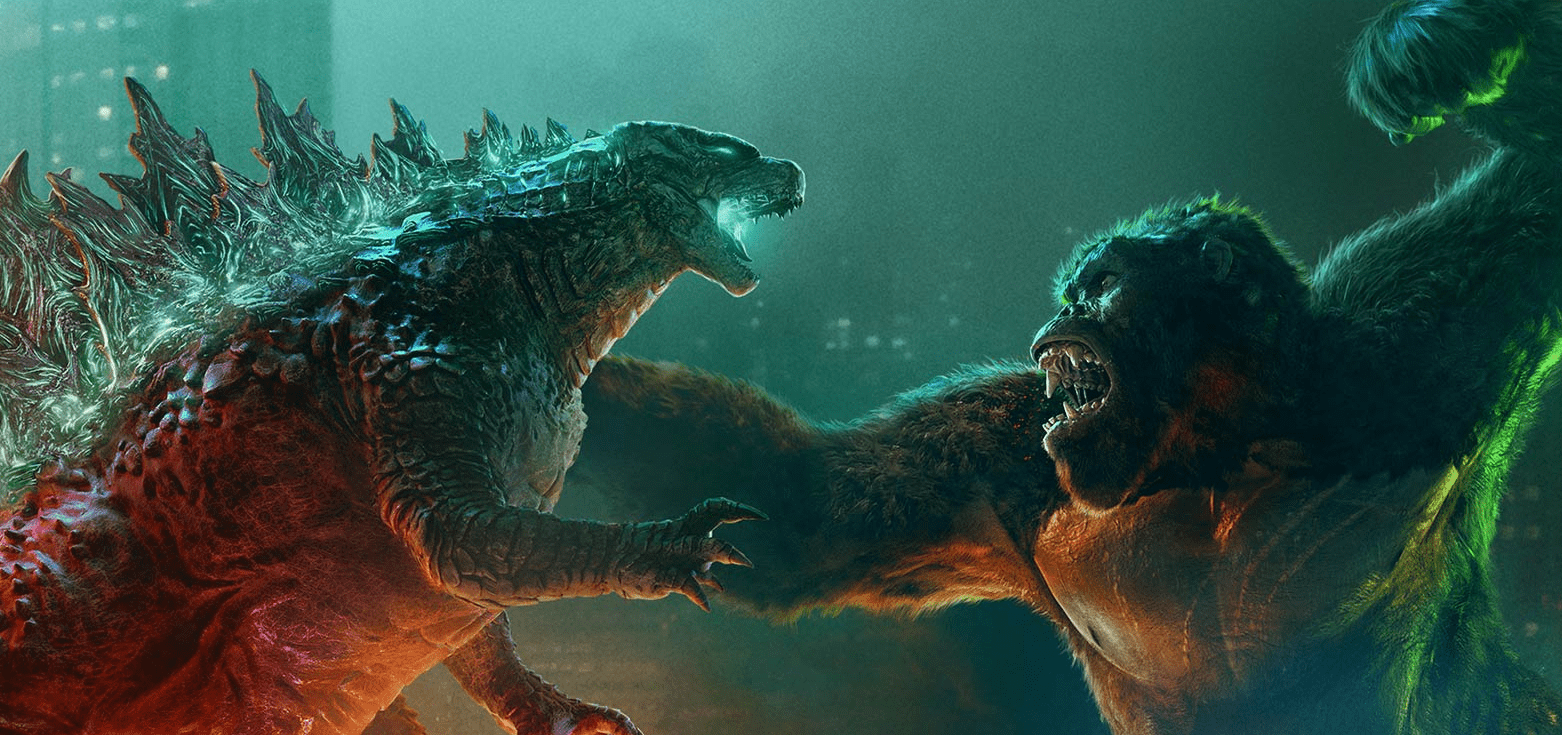 After numerous delays, Godzilla vs. Kong is finally hitting theaters (and soon HBO Max). Does this gigantic crossover deliver on its promises?
It's been a while since people flocked into cinemas. Despite some major releases by Warner Bros. over the last year in the form of Tenet and Wonder Woman 1984, the box office numbers haven't been exciting for a long time due to the COVID-19 pandemic (obviously). In the case of the second Wondie film, however, the haul plus its performance on HBO Max were enough to kickstart work on a threequel.
With Black Widow and F9 now opening well into the summer season, Godzilla vs. Kong has become Hollywood's (not just Warner's) key tool to check the international box office's temperature in a world where vaccines are being rolled out in big numbers. And it turns out that people are quite interested in returning to cinemas already. Early opening weekend tallies from international markets are showing more promise than initially expected (it's poised to hit over $100 million today), and the film is already the biggest theatrical release since the start of the pandemic. If we consider that Warner Bros. had to pay Legendary over $200 million in order to compensate for the Netflix deal that was ruined by the unilateral announcement of Warner doing theatrical plus HBO Max same-day releases across 2021, this is looking good for the long-delayed behemoth, which follows on the steps of Godzilla: King of the Monsters' disappointing final $386 million haul. Again: remember that it hasn't hit the States nor HBO Max yet, plus COVID-19 is far from gone.
Now, what about the film itself? Well, it certainly delivers everything you would (or should) expect from a humongous blockbuster called Godzilla vs. Kong. It's arguably one of the most sincere and explosive major releases in recent memory. To put it simply: look for the biggest screen and the loudest sound system available near you.
No spoilers ahead.
While 2014's Godzilla reboot, helmed by Gareth Edwards (Monsters, Star Wars: Rogue One), was a slow burn and gazed at the monsters from far away for most of its runtime, the 2019 sequel directed by Michael Dougherty (Trick 'r Treat, Krampus) opted instead to treat the kaijus as mythological, bigger-than-life figures that started to settle prehistorical feuds once awoken. Meanwhile, Kong received a reboot by Jordan Vogt-Roberts (The Kings of Summer), who basically surrounded the legendary beast with an end-of-Vietnam-War extravaganza. Believe it or not, all these films have been coordinated by a writers room, so there has been a natural evolution of the narrative tissue connecting all of them and the universe which houses these two previously separate franchises.
Adam Wingard was chosen to oversee Godzilla vs. Kong, the culmination of the "shared universe" efforts by Legendary (with the help of Toho, who own Godzilla). He's known for his work on low-budget horror flicks and thrillers such as You're Next (2011) and The Guest (2014), although some people only know him from the critically panned Death Note adaptation that released on Netflix in 2017. His resume probably wasn't the most enticing for a studio that was preparing one of the biggest crossovers in modern cinema, but he got the job after several meetings and dropping a chance to drive Universal's eighth Fast & Furious. Then again, Gareth Edwards had only made a $500K film (which he had to post-produce on his personal laptop) before Godzilla, which to this day is one of the most gorgeous blockbusters of the last decade regardless of what you think about the script. Furthermore, I think the MonsterVerse's biggest strength is how different each entry feels from the others while nurturing an immaculate continuity.
Let me tell you this: Godzilla vs. Kong is a damn fine Godzilla film, an even better Kong installment, and exactly the culmination fans were hoping for. Anyone can jump in and enjoy it, as it's slimmer and more direct than previous entries, but longtime kaiju aficionados (not just MonsterVerse) will find lots to love here. If King of the Monsters felt like a pitch-perfect imitation of Heisei-era Godzilla flicks, GvK strikes me as more of a Millennium-era offering, at least tonally. For folks who aren't savvy about Toho Godzilla and obscure Kong films, this one largely feels like Guillermo del Toro's Pacific Rim, something you probably inferred from the trailers. Wingard's style is in full force here: the runtime sits well under two hours, the pacing is agile, neon lights constantly light up the screen, synth music has a strong presence (Tom Holkenborg's score is a stunner), and old songs are peppered throughout the film.
And you shouldn't worry about the fights that you are paying for; they have never been clearer, longer, and more creative. The sense of scale which dominates these films is present, but Wingard likes to play with cinematography that makes the scenery feel small and maquette-like as well, effectively sending die-hards back to the simpler days of men inside goofy suits tumbling around sets. The visuals are delightful, and the CGI work on display is consistent from beginning to end. You are getting a good deal of adventurous sequences from the POV of humans, too.
Yeah, you must be wondering about the humans. Well, let's start by saying you're not looking for deep human interactions in these flicks. One of the biggest criticisms (one that I agree with) against Godzilla '14 was how boring the characters were considering how much time we spent with them instead of getting kaiju-sized action. Edwards' knack for creating suspense is great, but the script, written by Max Borenstein, struggled to hold the audience's attention during the in-betweens. King of the Monsters also got a lot of flak due to its oversized roster of scientists and soldiers (which I personally found mostly fun but, yeah, overcrowded). Kong: Skull Island fared better thanks to its cartoony approach to characters and the insane cast of great character actors it worked with. In the case of Godzilla vs. Kong, I think we're looking at a well-defined set of uncomplicated individuals who get stuff done, but let the monsters push the plot along in this instance; Godzilla and Kong are the stars of the film, especially the latter, who goes on a rollicking, colorful side-adventure.
The key here is, as I said before, the tone: no forced human drama this time around, only effective motivations. You're getting some extra stuff if you have recently watched the previous entries, but the film isn't interested on selling you anything other than Godzilla and Kong (and some other monsters) duking it out. The standout performance comes from newcomer Kaylee Hottle, who plays a deaf child who can communicate with Kong. She's the human heart of the film and shares some sweet moments with the titular giant ape. Her acting is also genuinely touching, as she's a deaf actress; Rebecca Hall and Alexander Skarsgård, who thankfully wasn't typecast in this, had to learn sign language, as they spend most of the film together with Hottle. Another surprising performance comes from Brian Tyree Henry, who, without revealing too much, plays a conspiracy nutjob that interacts with Millie Bobby Brown and Julian Dennison's characters.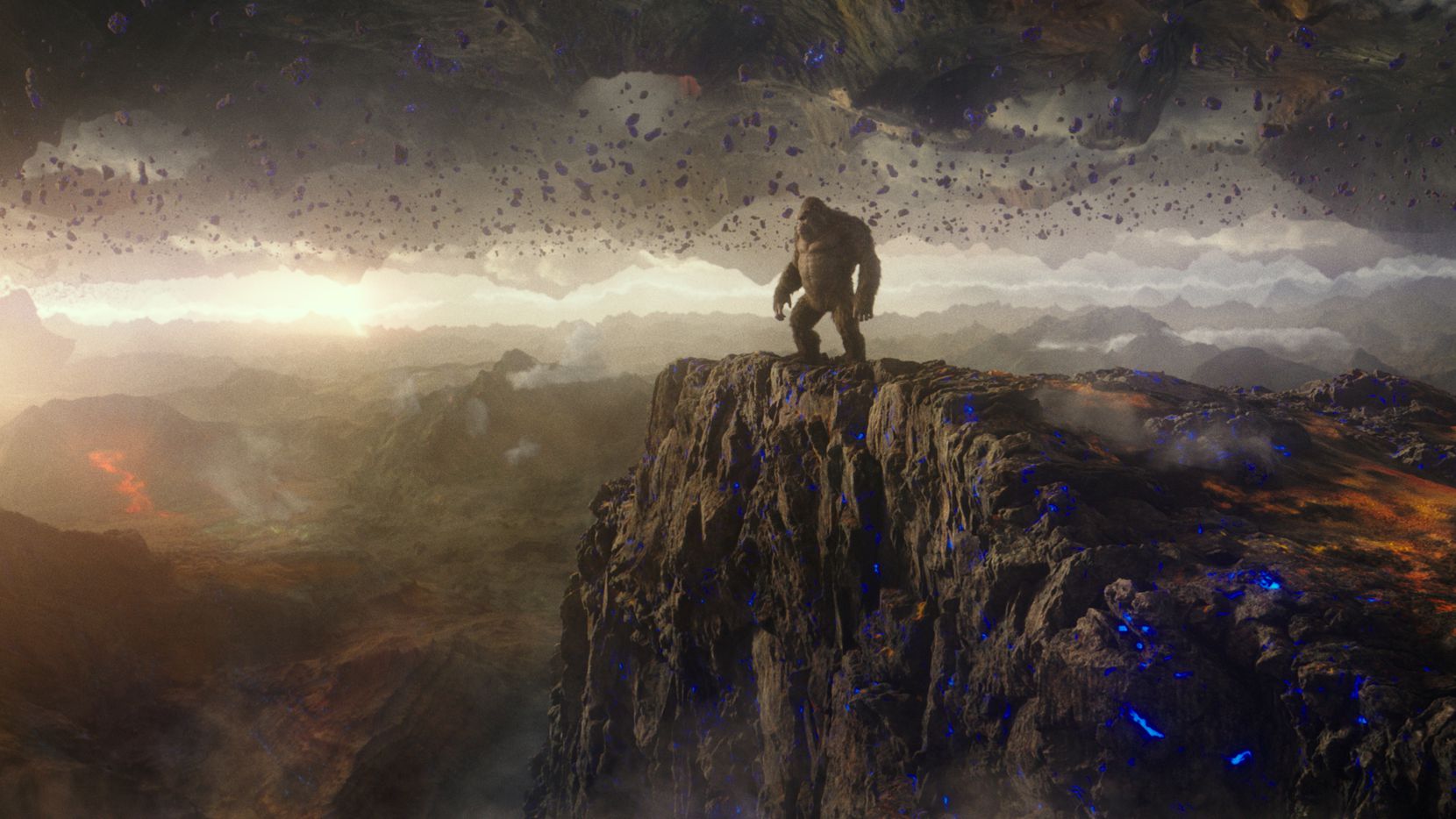 Even if we shouldn't expect too much from the human characters in these films, as the filmmakers aren't going for the critique and allegories displayed in the original Gojira or Hideaki Anno's Shin Godzilla, I must say the human antagonists in this film feel extremely undercooked. I won't spoil who they are or what they want to do, but they're very important to what goes down since the very beginning of the story. Their goal is clear, but their full vision or motivations aren't explored at all; we do get a revealing and funny speech near the end by the main villain, but it simply doesn't cut it. And don't get me started about that one character who has a strong connection to previous Godzilla films, plays a pivotal role in this, and then gets completely pushed aside; huge missed opportunity for an emotional connection on the same level (but opposite) as the one the child has with Kong.
Adam Wingard wasn't lying when he said that his versus film would have a clear winner. I'm sure some members of the losing team will try to spin it, and the script is quite smart and balanced when it comes to handling the "match of the century," but the big question receives an answer before the credits roll. I can only say that everyone into this "Big Lizard vs. Giant Monke" Internet thing will be happy and satisfied. Godzilla vs. Kong is a massive crowd-pleaser, there's no denying that. The audience in my screening went absolutely bananas several times during the final act, and the same thing seems to be happening all over the world, so the folks behind this must have done something right.
Hopefully, Warner and Legendary's kaiju party won't stop here, and this 2014-2021 era will merely be the "Phase 1" of the only shared universe that has come close to Marvel Studios' long-form storytelling model. Negotiating with the Toho guys is always hard, but some potentially interesting roads are opened by the end of this film; losing Godzilla right after Hollywood finally nailed the style of the Japanese kaiju films would be frustrating.
Long live the king. Or kings? Catch Godzilla vs. Kong in theaters or on HBO Max to find out.
Francisco J. Ruiz is that guy who has watched Jurassic Park a thousand times and loves Star Wars. His hunger for movies is only matched by his love for video games. He graduated in English Studies from the University of Malaga, in Spain. As he keeps writing about what he enjoys (and doesn't) for websites all over, he's continuing his studies.