'Cherry' – Spoiler Free Review
Cherry is a movie that has a lot of weight on its shoulders, and not just because of its subject matter. The movie drops in theaters tomorrow, February 26.
This review is SPOILER FREE.
This is the first movie the Russo brothers are directing since they started working in the MCU. Also, while Tom Holland has been working since he was cast as Peter Parker/Spider-Man, mostly voice acting gigs, this movie is his first real attempt at a full-on dramatic role. While he did star in last September's The Devil All the Time, Cherry was always seen as the litmus test for his true acting abilities. Because let's be honest, while he has done a great job as Peter Parker, there is only so much acting range he was supposed to display.
I'm pleased to say that he fully succeeded. He is not unrecognizable in this movie from a physical point of view, but he is from a psychological one. In this particular case, however, that is not the best compliment ever, because as an audience member, even though I've seen him in a couple of other projects, to me he is Peter Parker. It's not as extreme as with, say, Daniel Ratcliffe as Harry Potter, but it's quite close. When you see him in an interview, sometimes it is easy to see the differences between Holland and Parker, but many times it's hard to separate the two (especially if you turn the volume down).
In the first few minutes of this movie, you can also kind of see in Holland some of Parker's naïveté and other aspects of that character, although he is not the same character at all, and that is made very clear by the script, very early on. However, once the story really kicks off, Peter Parker fades away and a new version of Tom Holland comes into the picture.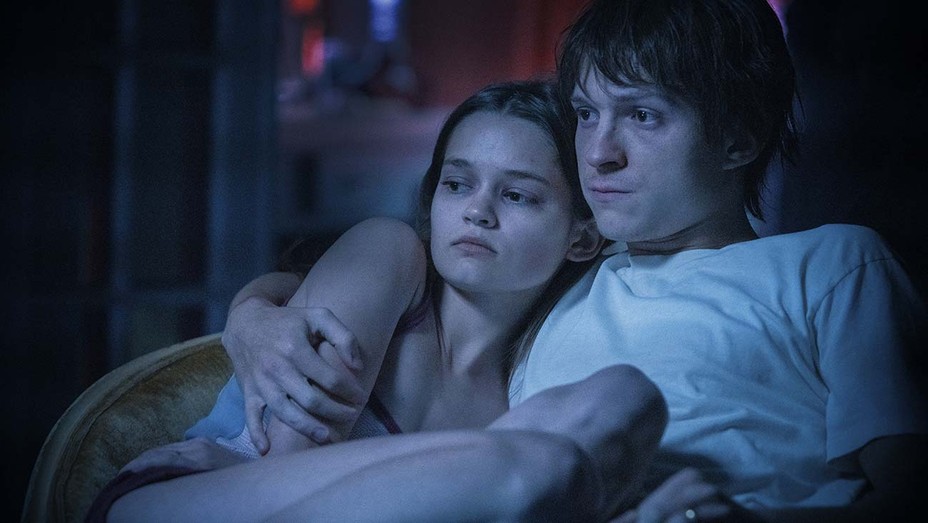 There is a lot to be said about Holland's performance in this movie, and I do see it as a great one, but the build-up to this movie may have confused a lot of the audience. Cherry is not built around the performance of the main actor but around the storytelling. I see this movie more as a triumph for the Russo brothers than for Holland, even though he was outstanding. Let's put it this way – usually, it is the actors who help enhance the narrative and the storytelling being done by the director. I feel like, in this movie, it's the other way around, and it's the actor's performances that are enhanced by the way the story is told. I know it may sound crazy, but hopefully, I'll make it more clear in a moment.
Before I move on to the directing and cinematography aspect of this movie, I'd like to remain in the performance area and talk about my favorite one from this movie; Ciara Bravo, who plays Holland's girlfriend, is a revelation. I'll talk more about this in the narrative section, but her character goes through such a journey it's pretty unbelievable this is her first mainstream role. She starts off almost as an angel-like character (at least that's how we see her, through Holland's eyes), and then she becomes one of the most flawed characters of the movie, with Holland being her only competitor. And she is able to convey those flaws to the screen while pulling the audience's hearts out. It's difficult to talk about her emotional journey in the movie without going into specifics, but it is a ride.
Speaking of rides, let's talk about the narrative for this movie, because it is something that really surprised me. First of all, this movie just does not stop. In terms of scope and ambition, this movie is nothing short of an epic. It travels through space and time to tell an intimate story of a character going through one of the wildest journeys I've ever seen. This doesn't mean it's one of the best movies ever or even one of the year's finest, but I think it's safe to say it is one of the most ambitious movies of the year.
If you don't know anything about the overall story for this movie, and you don't want to know, you might want to tune out at this point. What I'm about to talk about is the general synopsis that has been public since the marketing started off (and actually, before that, since this movie is a book adaptation). Cherry is the story of a character that joined the Army once his girlfriend decided to leave him, then went to Iraq, and when he came back, he started using drugs as a way to shut down his PTSD. Eventually, he ran out of money and was forced to rob banks to pay for more drugs. It takes place in the midst of the opioid pandemic in Cleveland/Ohio that took the lives of so many people and directly affected the Russos. For that reason, this is a very personal story for them.
The story described above is one dictated by character choices, not by a pre-determined narrative, and that is one of the first signs of an epic. The "epic" description is not a compliment in any way, but rather a sub-genre in and of itself. I have a feeling that if you regard this movie as an anti-drug or anti-opioid crisis story, it might feel a bit convoluted, especially in the middle, where the Iraq war setpieces take place. That's why I like to refer to it in more general terms, but more specific than a drama, because that doesn't do it any favors either. What I mean to say is that it is important to keep an open mind when watching it because the movie will take you places, that's for sure.
One of the reasons why I'm going so out of my way to say this is because I didn't expect this movie to focus so much on the Iraq War in the second act. And it does. This movie is as hard on war as it is on drugs, and you will feel it. Perhaps not at the level of Dunkirk or 1917, movies in which the directors directly put the audience member inside the battle to scream out loud: "WAR IS BAD!" This time around, the Russos do it entirely through a character study. Also, this is shown in the trailer, but I still find it fascinating. There are between 10 and fifteen minutes of this movie, during the preparation in the Army, in which the aspect ratio of the movie changes, a very interesting choice by the cinematographer, Newton Thomas Sigel. I'll leave the reasoning behind that choice to the viewer.
Speaking of the cinematography, there is more to it. This was one of the things that most surprised me about Cherry, mostly because it was hidden in the majority of the promotional material, and also because the subject matter doesn't call for it. This movie is gorgeous. During the first twenty to thirty minutes, before Holland enlisted in the Army, the colors jump out of the screen. This was a very smart choice, not only because it uses cinematography to further amplify the storytelling, but also because it is very attention-grabbing from the very beginning. After the war, the movie starts to turn darker and darker, both in tone and in the color palette. And even then, you still can't stop looking at it.
Also, about the beginning… The opening of this movie really surprised me. Even though the reason why is in the trailer, I won't say it because I was not expecting that, and it really grabbed my attention from the first few seconds. A marvelous job.
Let's talk about the rest of the second act and the third one as well, without going into much detail. Let's talk about the drug aspect of this movie. This is a hard one. The entire crew went out of their way to fully display why drugs are bad, why they destroy many lives, and why people should have this in mind even more often than they already do. Most movies that try to condemn drug abuse always have at least a few minutes in which the use of drugs is in some way glorified. There is hardly any of that in this movie.
Obviously, the Russos had to justify in some way the main character starting to use, but even when they do, they still remind the audience that this process is literally killing the main character.
I refer to Holland as "the main character" because he literally has no name in this movie. The script calls him Cherry, but no character in the movie ever calls him that or any other name. The word "cherry" is used once in dialogue, and once in a title card (the movie is split up into different sections, each with its own name). The movie is based on Nico Walker's book in which he narrated his own experiences, and in reality, it is telling Walker's story. But they decided to remove the name to reemphasize that this is not JUST his story, but rather the story of many people during those years.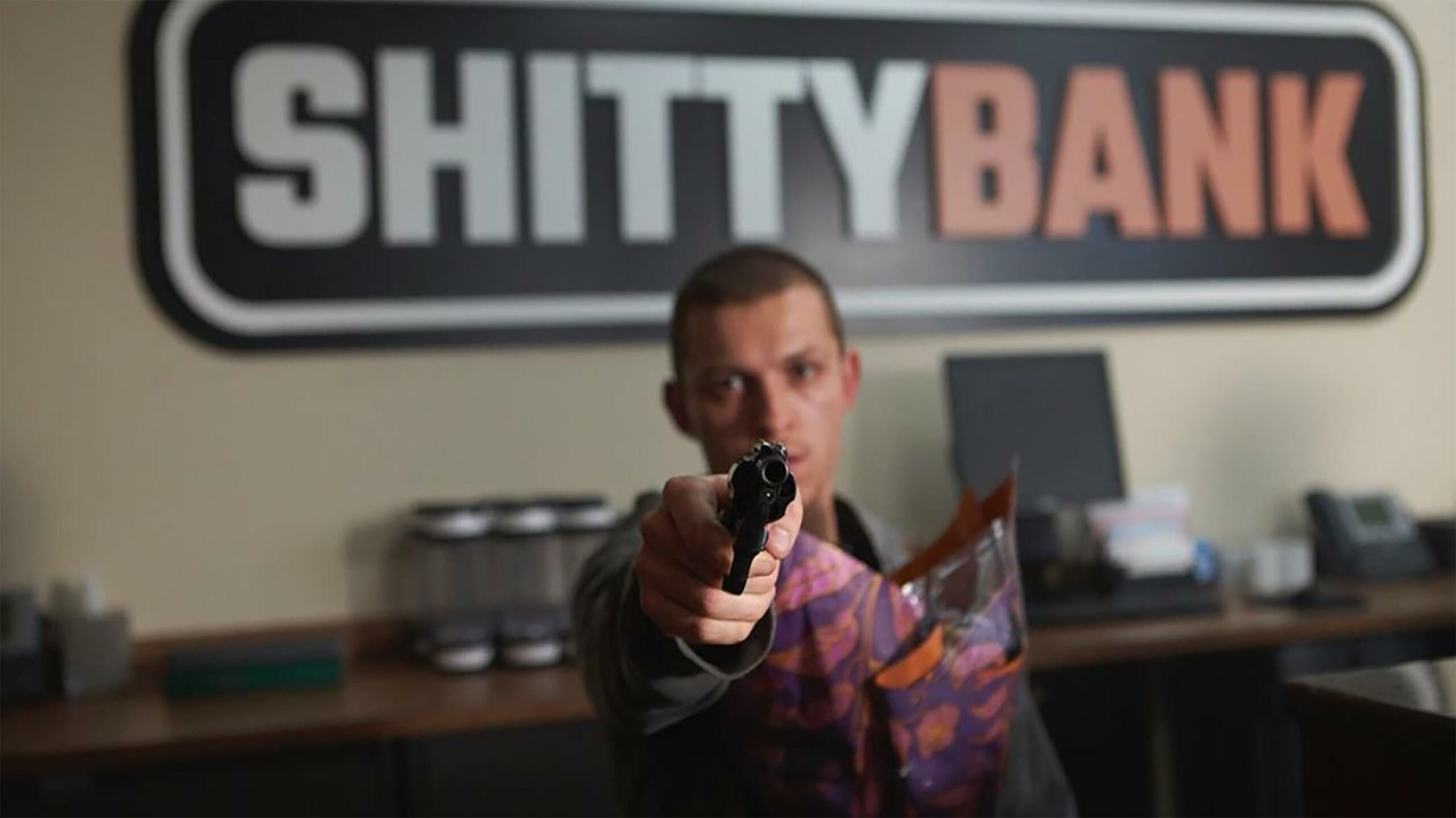 One of the things that I found a bit odd was the bank robberies. And I use the word "odd" instead of "disappointing" because it's really not the movie's fault. Here is what I mean. The image above was the first one we had from the movie, and it came out a long time ago (November of 2019 to be precise). That image was so eye-grabbing it was hard to ignore, and it already set a tone and even certain expectations for the movie. But that image never appears in the movie. The sequence in which Holland robs "Shitty Bank" does, but we never got that shot.
And it's not just that particular image. The tone conveyed both in the trailer and in all of the images released as promotional material for the movie, in which Holland was robbing banks, was very different from the tone used when those scenes are played out in the movie. They feel rather inconsequential, and the movie is much more worried about what happens before and after the robbery, rather than the robbery itself. And I have no problem with that, hence the use of the word "odd" instead of "disappointing," because they did throw me off for a moment, but I then realized it was not the movie's fault.
I will conclude this review with a few of my negative points. And quite honestly, they are not that hard. The movie does get a bit convoluted in the transition from the second to the third act, but it's hard to tell whether that was on purpose to show the effects of drugs in the long term, or if it was just an editing problem, so I'll give them a pass for that. Beyond that, my main negative point for this movie is that it's really hard to watch. This is a story of a man hitting the self-destruct button, and we barely see him try to abort that order.
I'm personally not fond of needles, and there are a lot of them on display here, so I found myself looking away from the screen several times. And more than that, there are many points in the second and the third act in which you will be screaming "Oh, why do you keep doing this?!" I get it, it's the point of the movie. But these are dark times, and sometimes watching people die in the news and then watch a movie of people slowly killing themselves is too much. Therefore, if you don't think you can handle all of that, I'd recommend watching a good old-fashioned romantic comedy.
This also leads me to one of the most positive things about the movie, which I will use to wrap this up: Cherry grabs your attention and doesn't let you off the hook easily, or at least that was my experience. And it must be said, because I watched it at home, with my phone by my side and so many distracting things around me. And, despite all of that, the Russos, Tom Holland, and Ciara Bravo totally had me for almost two and a half hours.
Cherry is not going to be one of my favorites for the upcoming Oscars, but I definitely recommend it because of its masterful direction and outstanding performances, particularly by the two leads.
Cherry was directed by Joe and Anthony Russo, from a script by Jessica Goldberg and Angela Russo-Otstot, based on the 2018 novel by Nico Walker. It was executive produced by AGBO's Todd Makurath, Jake Aust, and Hideaway's Kristy Maurer Grisham, plus Judd Payne. The cast includes Tom Holland, Ciara Bravo, Kelli Berglund, Jack Reynor, Forrest Goodluck, Jeff Wahlberg, Michael Gandolfini, Kyle Harvey, and Thomas Lennon. Henry Jackman composed the score, and Newton Thomas Siegel acted as the cinematographer. Cherry was edited by Jeff Groth.
The movie will have a theatrical run starting February 26 and then will move on to Apple TV+ on March 12.
Miguel Fernández is a Spanish student that has movies as his second passion in life. His favorite movie of all time is The Lord of the Rings, but he is also a huge Star Wars fan. However, fantasy movies are not his only cup of tea, as authors like Scorsese, Fincher, Kubrick or Hitchcock have been an obsession for him since he started to understand the language of filmmaking. He is that guy who will watch a black and white movie, just because it is in black and white.