'Raya and the Last Dragon' – Full Trailer and Poster Released for Disney's Next Animated Feature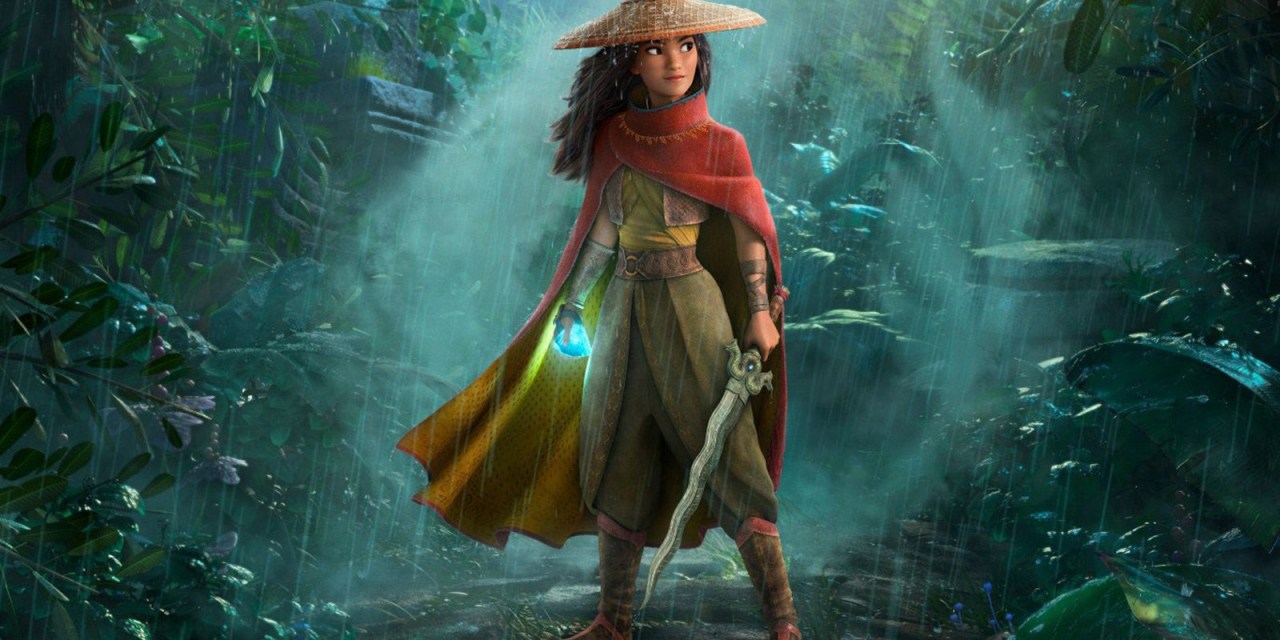 Disney's next animated feature looks set to be it's most action packed as the new trailer arrives for Raya and the Last Dragon.
Set in the mythical land of Kumandra, a young warrior named Raya (Kelly Marie Tran) is on a quest to find the legendary last dragon in the hope of restoring peace to her warring lands. Whilst the teaser trailer introduced us to Raya and her world, the last dragon remained shrouded in mystery. Now, we finally get to meet Sisu (Awkwafina), along with others who will aid Raya in her quest.
The trailer also introduces Raya nemesis, Namaari (Gemma Chan). At this point Namaari's character and goals remain a mystery. Presumably seeking Sisu for her own ends, the trailer shows her clashing with Raya in several impressive looking action sequences. The trailer hints that Raya may have to come together with Namaari to end the conflicts that have engulf their lands for centuries, with both her father and Sisu telling her that the people can come together again, someone just needs to take the first step.
In addition to the full trailer, Disney also released a new poster for Raya and the Last Dragon:
Contrasting the teaser poster, which featured a darker, more atmospheric image of Raya in the rain, the new poster is a brighter piece, featuring Raya and Sisu side by side in the sun.
The animation, as you'd expect from Disney, is gorgeous, and is all the more impressive since it was Disney's first animated feature to be completed remotely due the ongoing pandemic. The pandemic also necessitated a change in the film's release, with Disney announcing in December that it would debut theatrically and on Disney+ Premier Access on the same day.
Raya and the Last Dragon will cost $29.99 via Disney+ Premier Access (prices will vary slightly between countries) and will then be available for viewing as many times as you wish. As with Mulan, the movie will eventually be available on Disney+ for no extra cost but no date has been announced for when this will be.
Unlike Mulan, where the decision between theatrical release and Disney+ was done on a country by country basis, Raya and the Last Dragon will screen theatrically as long as cinemas are open. Disney's official Spanish Twitter today confirmed the hybrid release model internationally, which is no doubt a big relief to many European cinemas that were open during Mulan's release window but unable to screen it.
"'Raya and the Last Dragon' features an outstanding voice cast, including Kelly Marie Tran as the voice of the intrepid warrior Raya; Awkwafina as the legendary dragon, Sisu; Gemma Chan as Raya's nemesis, Namaari; Daniel Dae Kim as Raya's visionary father, Benja; Sandra Oh as Namaari's powerful mother, Virana; Benedict Wong as Tong, a formidable giant; Izaac Wang as Boun, a 10-year-old entrepreneur; Thalia Tran as the mischievous toddler Little Noi; Alan Tudyk as Tuk Tuk, Raya's best friend and trusty steed; Lucille Soong as Dang Hu, the leader of the land of Talon; Patti Harrison as the chief of the Tail land; and Ross Butler as chief of the Spine land.

'Raya and the Last Dragon' takes us on an exciting, epic journey to the fantasy world of Kumandra, where humans and dragons lived together long ago in harmony. But when an evil force threatened the land, the dragons sacrificed themselves to save humanity. Now, 500 years later, that same evil has returned and it's up to a lone warrior, Raya, to track down the legendary last dragon to restore the fractured land and its divided people. However, along her journey, she'll learn that it'll take more than a dragon to save the world—it's going to take trust and teamwork as well."
Directed by Don Hall and Carlos López Estrada from a script by Qui Nyguyen and Adele Lim, Raya and the Last Dragon opens in cinemas and begins streaming on Disney+ Premier Access on 5 March, 2021.