'WandaVision' Stars Talk About Disney Plus Series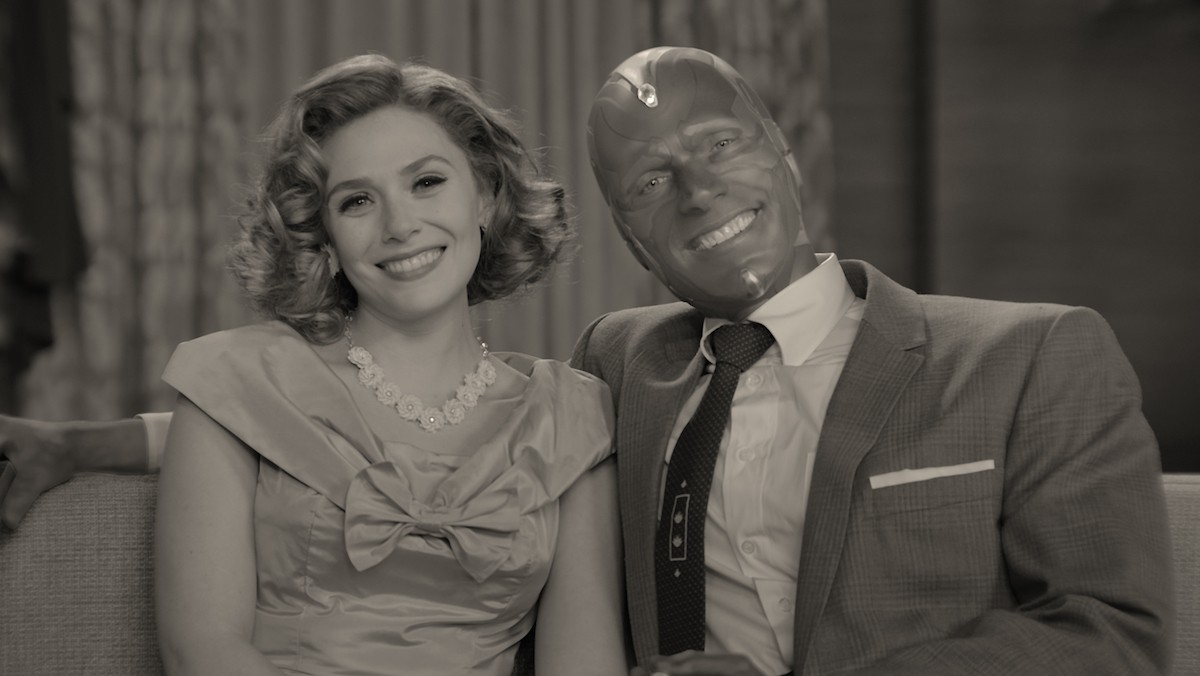 As WandaVision edges closer to its big Disney Plus debut this Friday, January 15, the cast and creators are opening up a bit more about what we can expect from the series.
In an interview with Variety, the stars, writers, and producers revealed a little more about the show. It's been previously reported that WandaVision was at least partially filmed in front of a live studio audience to emulate old-style sitcoms from every decade through the 1950s to the 1990s. Elizabeth Olsen spoke again about the challenges she faced there:
It was so nerve wracking. There was a lot of adrenaline, there were a lot of quick changes, and it totally confused my brain… The idea of not playing to an audience, but feeding off an audience and having a camera. I was really grateful when we added the fourth wall.
Director Matt Shakman elaborated on the inspiration behind WandaVision, revealing that he sat down with Dick Van Dyke to quiz him about The Dick Van Dyke Show, one of this series' biggest influences:
I remember Kevin and I had this amazing lunch with Dick Van Dyke that remains one of the great afternoons of my life. And we asked him, 'What was the governing principle behind 'The Dick Van Dyke Show'? Why did it work so well?' And he said, 'If it couldn't happen in real life, it can't happen on the show'.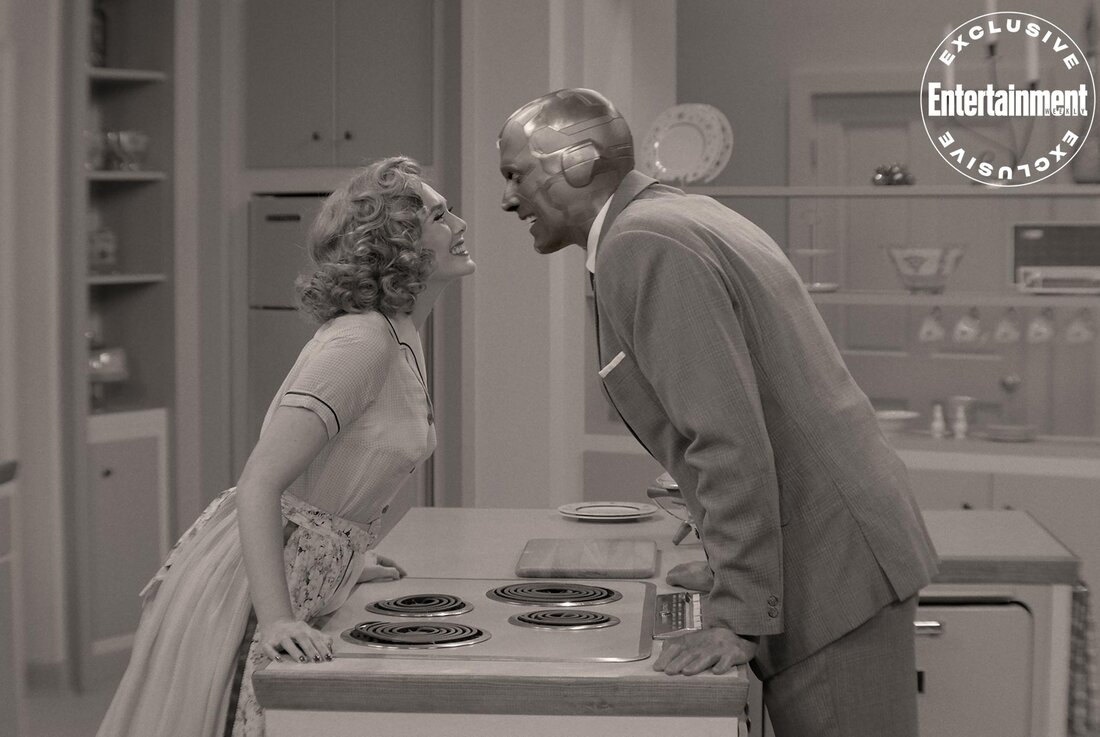 Shakman revealed that the writers and producers watched a lot of sitcoms from separate decades as part of their research when recreating the styles of each era:
We watched a ton of old television episodes and talked about how comedy changes, because it really does. The approach to comedy in the '50s, '60s, '70s is really different. And as Lizzie said, doing it in front of this live studio audience, which is this quasi-theater-TV thing, it really adds to it.

Lucille Ball, 'I Love Lucy,' Dick Van Dyke – you can feel the energy of that theatrical performance, working with the audience. And then when you get into '60s shows like "Bewitched" or "I Dream of Jeannie," it is a fourth wall and all of a sudden, it's more like doing a movie these days and the laugh track is canned and brought in, which changes the energy, the approach, the style, everything.
Kevin Feige also spoke some more about the writing and production staff's enthusiasm for family sitcoms, the sub-genre that WandaVision tries to pay homage to:
[Family sitcoms] meant a lot to us, dated and silly as they may seem, there's a comfort factor there. That was the primary factor behind the comic inspiration versus what led us to putting putting these ideas together.

There is a wonderful thing that happened with Matt's background [as a child actor] as he's talked about, which is so amazing. Lizzie's background with her sisters [Mary-Kate and Ashley Olsen], which didn't even occur to me until I think we were standing in the writers room with pictures of 'Full House' on the wall and I went 'Oh, right.'
Making WandaVision a family sitcom fits in well with Disney Plus' family-friendly brand, but it also meant the writers could draw from less problematic influences. Most sitcoms tend to become more problematic as time goes by, and the social politics of the time become more uncomfortable to watch in hindsight, which is natural as sitcoms tend to reflect the period they were made in. But family sitcoms deal with more wholesome topics instead, so a lot of the themes and material had aged surprisingly well. It's something WandaVision is keen to emulate.
When we looked back and we were doing research and looking at these older shows, there were shows that were a little disappointing and that were not acceptable for today.

We had a really incredible writer's room full of people who part of our job was to keep an eye on these things. And as Matt said, fairly quickly we zeroed in on family sitcoms. There are a lot of different workplace sitcoms and other types of sitcoms, but the family piece sort of kept us very centered.

There are key reference points that were about this idea of family, and I think oftentimes that does age pretty well. And I think also the key references that we were looking at are those miraculous shows that have managed to be timely and timeless. They resonated in their moment, and somehow, you watch 'The Dick Van Dyke Show' today and it's just as good as it was back then.
In a separate interview with Deadline, Feige spoke further on the reasons behind creating something that's undeniably different from other MCU entries, and he goes back to when Marvel, Fox, and Sony were releasing their own movies simultaneously:
There was one year when there were three [Marvel movies] in one summer. The question was 'Whoa, how is this going to last? How is this going to survive?' And my answer then, when I had no control over anything, was "As long as they're different, as long as they're unique and some of the characters might crossover and the Marvel logo is at the front." But if they're unique and interesting stories, that doesn't go out of style. Finding something interesting and unique to watch at home, and eventually being back in a movie theater is how we escape, is how we learn and is how we grow.

It's our job as storytellers to utilize that format and tell interesting, different stories that happen to be based in 80 years of amazing narrative fiction of the Marvel comics and can tap into all the different genres. A black-and-white half-hour sitcom is very different very anything we've done before. It happens to star two Avengers and has the Marvel logo on it, but is wholly unique and that is what we had been working on for Disney+ and phase 4 features until we finalized Endgame.

From the start of Marvel Studios, we always said we don't want to make one kind of movie. When Iron Man worked, the first thing we announced was a WWII movie (Captain America) and a Norse God alien movie (Thor), and then a team-up movie (Avengers). So we always look to take the success or the goodwill that comes to us, and utilize that to expand to grow into Guardians of the Galaxy, and into Black Panther and Captain Marvel. 

And WandaVision was just an extreme version of that and doing it in a way that will have answers and will take the confusion, or the oddity or avant-garde nature of it and begin to put into the piece, as each episode is unveiled week by week. But we've always been rewarded for taking big swings and not for repeating ourselves necessarily. And we had great confidence in those two actors playing those two characters and that they could absolutely pull it off.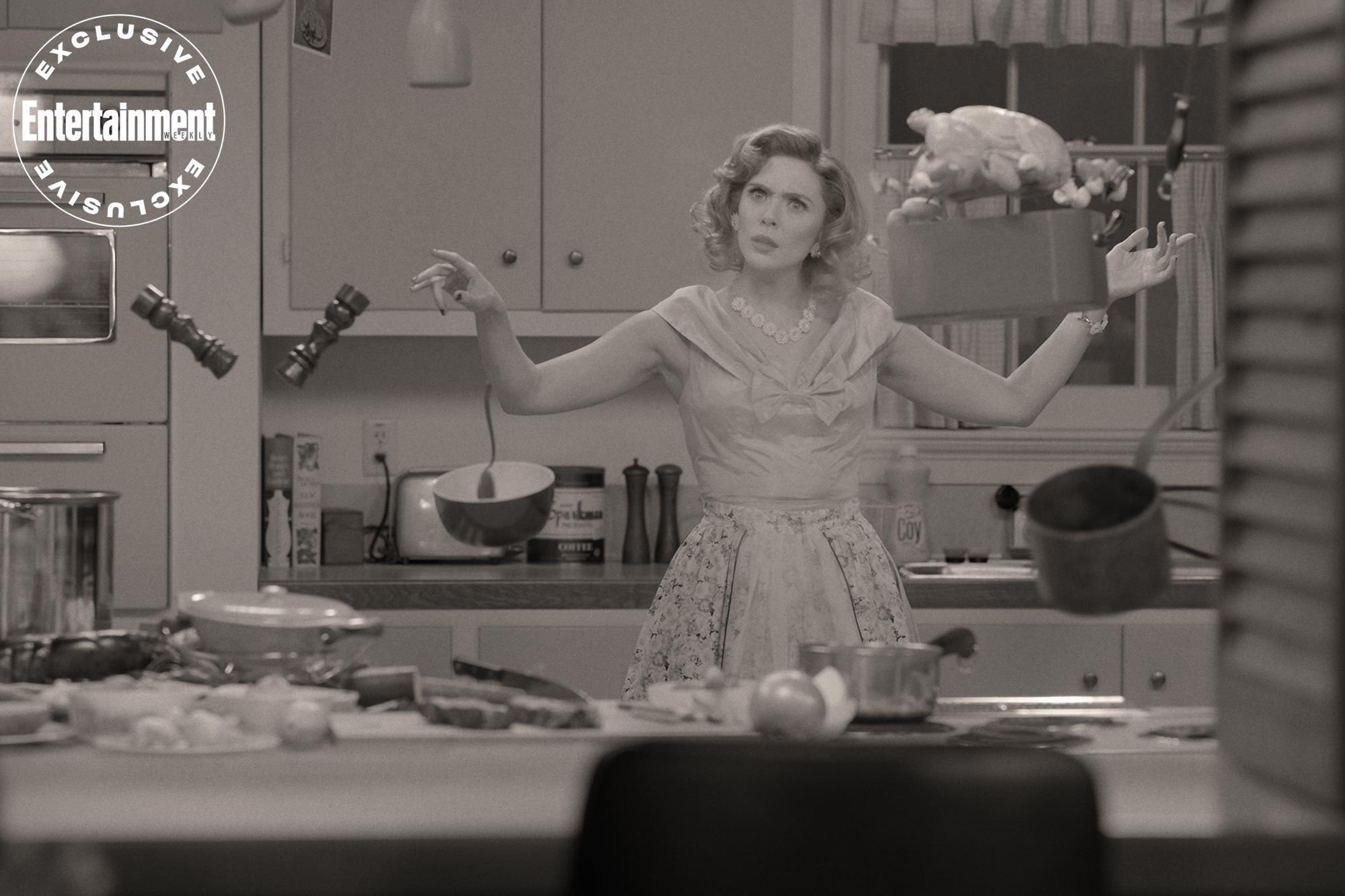 Perhaps the biggest story reveal to come from Variety's interview is that HYDRA might be back in play. Feige specifically recommends that viewers pay attention to the commercials, which have been specially made for the show, as streaming services famously have no need for commercials.
Other truths of the show begin to leak out, and commercials was an early idea for that. And if this is the very first Marvel MCU thing you're watching, it's just a strange version of a '50s commercial or a '60s commercial that you'll have to keep watching the series to understand. If you have been watching the movies, you might be able to start connecting what those things mean to the past.
Another curious piece of casting is that Teyonah Parris plays an adult version of Monica Rambeau, last seen as a little girl back in Captain Marvel, which was set in the 1990s. We've seen nothing to suggest the character has been a big player in the Marvel Cinematic Universe since those events, but Parris reveals that we will learn what she's been up to over the last two decades.
Through the course of the show, we find out what she's been up to what's happened for her between that gap in the years. And how she's grown and evolved or… or not.

We actually do get to learn, particularly what those things are that Monica has seen and goingthrough and how they have shaped her life.
We also know that Kathryn Hahn is playing a mysterious character simply named Agnes, and Hahn herself offered a small hint about the character:
In all those classic sitcoms, there's always that person that busts through the doors and sits on the couch but and you never get to know anything about them.

In that classic way, I was able to walk into as Agnes with all those beautiful tropes set up behind me to just to just build on.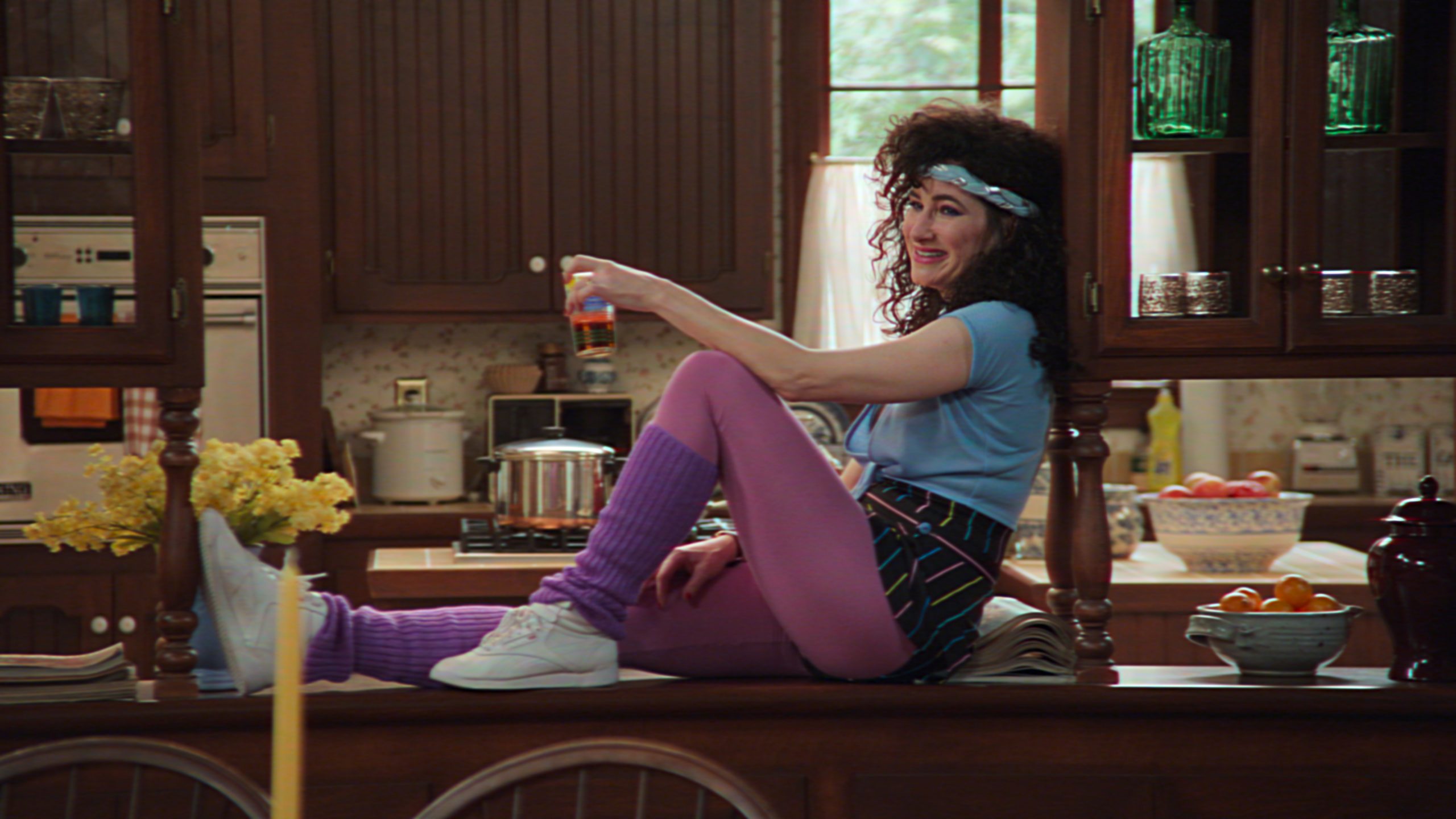 Finally, Kevin Feige also talked about how WandaVision will set up future Marvel projects, and while we know it will have ties to Doctor Strange in the Multiverse of Madness, and Monica Rambeau will be next appearing in Captain Marvel 2, Feige also hopes it sets expectations of Marvel's Disney Plus ventures going forward.
I hope it says get ready for the new and the different. I hope all of our movies have said that but certainly with the Disney Plus opportunities it has allowed us to expand creatively, what we do. The original plan was 'Falcon Winter Soldier' was going to debut last year, followed very soon behind with 'WandaVision.' So creatively it didn't reshuffle.

Part of having a long-lead plan is having the ability and the ideas of how to shuffle, should the need arrive. I'm not saying we were prepped for a global pandemic, we were not… The unexpected has often served Marvel Studios well. And it has served us well in this case, because this show being our first one I love how bold it is, I love how different it is. And I love as I said before, it is something you can only see on a Disney Plus.

We have things that you will only be able to see initially in theaters. We have things that could end and are made for that. And this is very much made to be seen week after week on television, which is very different for us.
It certainly does seem that WandaVision will be a very different prospect to past Marvel Cinematic Universe projects. It won't be long now until fans can see for themselves what that really means.