Disney+ Hits 86.8 Million Subscribers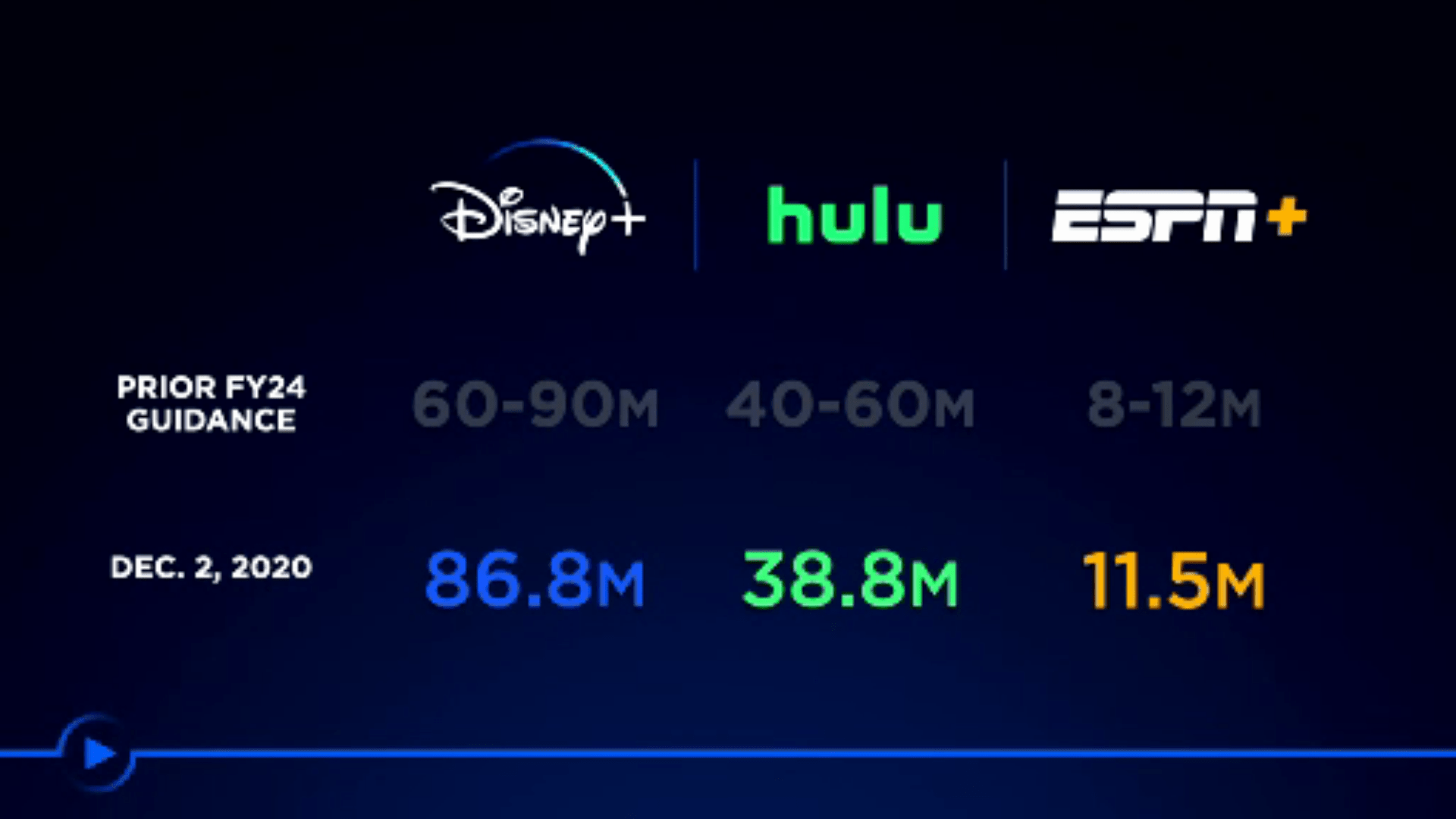 No wonder Disney Plus is a priority for the company now.
Disney announced to the world today during their Investor Day 2020 that their streaming platform, Disney Plus, which launched on November 12, 2019, has already reached 86.8 million subscribers all around the world. That means they have already beat the goal they had in mind for 2024 (60-90 million subscribers).
Deadline is offering a widget where the user is able to see how many subscribers Disney+ has had over the past year at several points in time. Back in late March, the platform hit Europe, which caused an increase of over 15 million subscribers within 48 hours. Most recently, it premiered in Latin America, which meant an increase in subscribers from 73.7 million on October 3 to 86.8 million on December 2.
Hulu is also showing very strong numbers, having almost reached 40 million subscribers as of today, and therefore almost hitting the threshold set for 2024's goal. ESPN+ is now at 11.5 million subscribers.
The company is now fully invested in their streaming platforms, and they made sure to confirm that during yesterday's presentations. They are now setting eyes on 260 million subscribers for 2024. By then, they will be spending $8-$9 billion on content for Disney Plus, and up to $14-$16 billion on all of their streaming platforms.
To account for this increase in investment, they are already increasing the prices for Disney Plus. As of March 26, 2021, Disney Plus will be available in the U.S. for $7.99 (today it costs $6.99/month) per month or $79.99 a year. In Europe, they will be premiering adult content through a new section of Disney Plus called Star that will be password-protected, and which will incorporate most of 21st Century Fox's library of content acquired by Disney last year. As a consequence, European prices are going up too, to €8.99 a month (from €6.99/month).
Disney laid out yesterday all of their slate for Disney Plus content for the following five years, which explained their budget numbers. Most of the money will be invested into Marvel and Star Wars properties, with each IP getting up to 10 shows for the streaming platform.
Marvel's slate now includes six shows premiering in 2021: WandaVision (January 15), The Falcon and the Winter Soldier (March 19), Loki (May), What If… (summer), Ms. Marvel (late 2021), and Hawkeye (late 2021). After that, they have in development She-Hulk, starring Tatiana Maslany, Moon Knight, with Oscar Isaac reportedly attached to star (although Feige did not mention his name during the presentation), Ironheart, starring Dominique Thorne, Secret Invasion, starring Samuel L. Jackson as Nick Fury and Ben Mendelsohn as Talos, and Armor Wars, starring Don Cheadle.
Miguel Fernández is a Spanish student that has movies as his second passion in life. His favorite movie of all time is The Lord of the Rings, but he is also a huge Star Wars fan. However, fantasy movies are not his only cup of tea, as authors like Scorsese, Fincher, Kubrick or Hitchcock have been an obsession for him since he started to understand the language of filmmaking. He is that guy who will watch a black and white movie, just because it is in black and white.