'Safety': New College Football Drama Arriving on Disney+ Next Month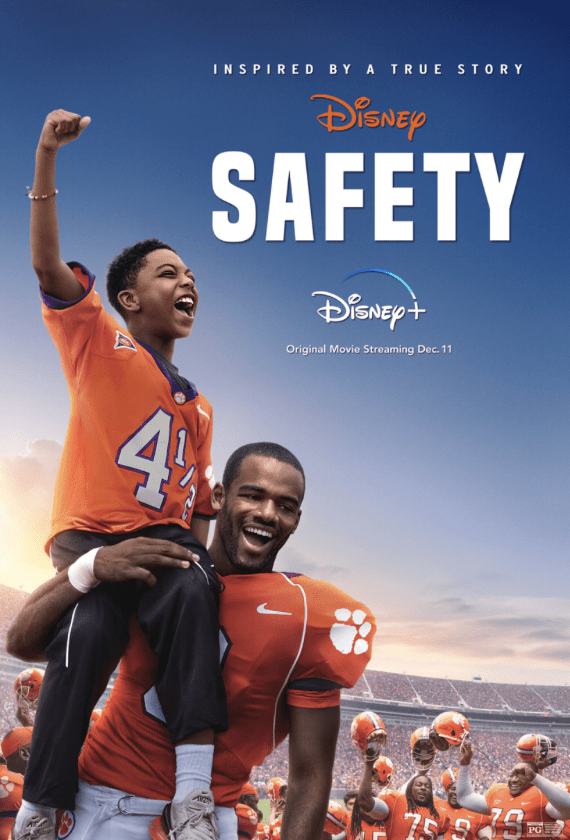 Safety, a new drama from Disney, will be arriving on Disney+ on Friday, December 11, 2020.
The film is based on the true story of Ray McElrathbey (Jay Reeves), a young man trying to get a football scholarship at Clemson University. The trailer shows Ray's coach outline the stakes and what's required of him to get said scholarship.
But it wouldn't be a Disney film without some family drama. Ray's mother passes away, and he decides to raise his 11-year-old brother Fahmarr (Thaddeus J. Mixson) by himself. It's a decision that complicates his life further, as he is required to balance caring for his brother along with his own personal ambitions.
Ray gets plenty of support from his football family though, as his teammates pitch in to help him succeed. As his coach declares at the beginning of the trailer: "Our tradition here is unlike any other; we're a family."
Safety has plenty of talent involved not just in biographical films, but sport biographies as well. The film is directed by Reginald Hudlin (Marshall), and produced by Mark Ciardi (Secretariat, Miracle) and Gordon Gray (Million Dollar Arm, Rookie). The screenplay was written by Nick Santora (The Most Dangerous Game, The Fugitive).
Hudlin summed up the theme behind Safety rather well:
"Safety" is a movie about brotherhood and coming together for the greater good, which is a message our society needs right now.  It's the story of a young man stuck in a situation where failure is not an option. Through sheer force of will, he does the impossible, which inspires the whole community around him to do the same.  It's a movie I can't wait to watch with my family on Disney+ on December 11th, and for families everywhere to do the same.
Ciardi also expressed his enthusiasm for the project:
For over a decade, I've dreamed of bringing Ray's incredible story to the screen, and now that it's ready, I'm thrilled that Disney+ is making it available for families to enjoy together during the holidays.
Football fans should appreciate this one when it debuts on Disney+ next month.