'WandaVision' Images and Details Revealed
It's not long now until Wandavision arrives on Disney+, and we've finally been given a closer look at the limited series with some interviews and new images from the production.
Entertainment Weekly has interviewed several key members of the cast and crew, and released some interesting images from the show, which Marvel reiterates has been shot as a live sitcom. Head writer Jac Schaeffer (Black Widow, Captain Marvel) has explained that the series starts with Wanda and Vision living a peaceful suburban life in the town of Westview, as the show is heavily inspired by golden age-era situational comedies.
We find Wanda and Vision living a blissful suburban existence, trying to keep their powers under wraps.

The show is a love letter to the golden age of television. We're paying tribute and honoring all of these incredible shows and people who came before us, [but] we're also trying to blaze new territory.
Mary Livanos, co-executive producer, adds that WandaVision will still mess with the traditional sitcom format to do things fans won't be expecting.
It really does feel like we're all programmed to know and love and understand these suburban family sitcoms. So, to mess with expectations has been really fun.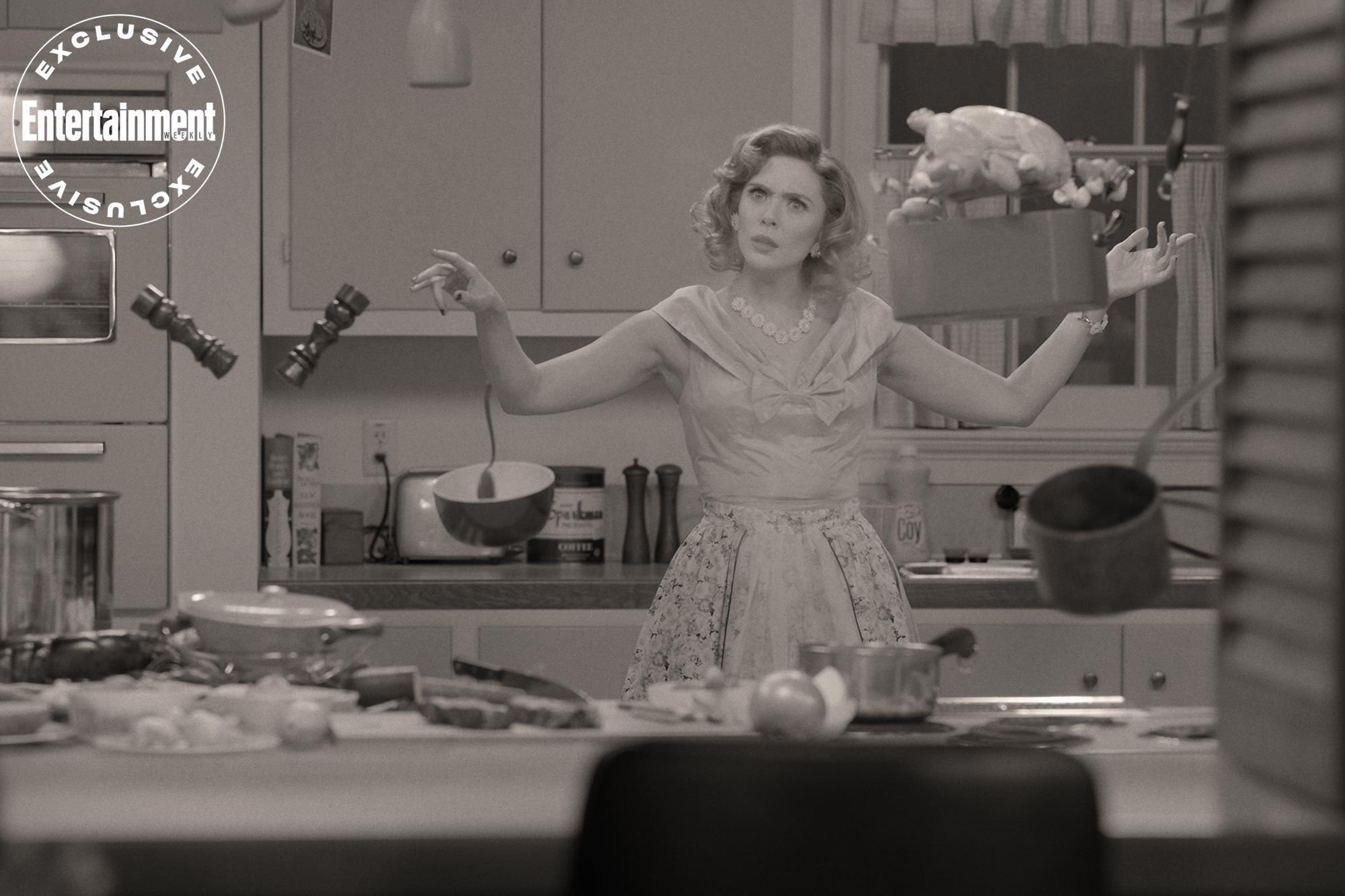 Heading into the sitcom genre is a new direction for Marvel, one that has helped the series feel fresh and innovative, according to Kevin Feige:
It really energized everyone creatively at the studio, the notion that we could play in a new medium and throw the rules out the window in terms of structure and format.

Getting ready to go to set over the last few years, I kept thinking of how influential these programs were on our society and on myself, and how certainly I was using it as an escape from reality where things could be tied up in a nice bow in 30 minutes.
Elizabeth Olsen very much enjoyed filming in front of a live audience, and particularly appreciated the opportunity to explore Wanda Maximoff's character. Indeed, the below picture shows Wanda with her hand over her stomach suggesting that she may be pregnant, so it will be intriguing to see how her character reacts to such a life-changing moment.
It's been the biggest gift that Marvel's given me, getting to do this show. You get to just focus on her and not how she felt through everyone else's story lines. I already felt like I had ownership of her because Marvel always encourages you to be part of the process. But even more so now, I feel I have a really strong sense of ownership. If anyone wanted to ask me a question about the future or just a question about what she would think, I feel like this time has provided that.
Paul Bettany was surprised to get another opportunity to play Vision, considering he died twice in Avengers: Infinity War and wasn't one of the characters brought back to life in Avengers: Endgame.
I thought I was being brought in to be let go. I thought Kevin was doing the decent thing and bringing me in, and he and [executive producer] Louis [D'Esposito] were going to tell me, 'It's been a great ride, and it's over.' So it was a really pleasant surprise for me and my bank manager, too, obviously.
Kathryn Hahn will also star as the nosy neighbor Agnes, and talks a little bit about working on the show without giving away anything about her character.
I've always loved that gasp of human magic that they have. It's not like I had never done anything like this, but especially since becoming a mom, I have always been interested in those jolts of adrenaline and humanity.
Teyonah Parris also spoke about playing a grown-up version of Monica Rambeau, the daughter of Carol Danvers's best friend Maria in Captain Marvel. In the comics, Monica Rambeau becomes a superhero herself, even taking up the mantle of Captain Marvel. Parris didn't speak about the potential future for her character, but she did speak about what it was like to work on a Marvel production, particularly as a black woman.
I feel so special and honored to be able to walk in her shoes and bring her story to life. I hope that me playing this character (a) gives a group of people who are underrepresented a chance to see themselves, and (b) seeing my face and my Black body helps them engage with Black women and our humanity.
Finally, Kevin Feige spoke about what new fans and MCU veterans can expect and enjoy about the series:
If you haven't seen any of them and just want to step into this weird thing because you love The Dick Van Dyke Show, it's going to work. But if you've been tracking the 23 movies we've made and following along the stories into Phase 4, there'll be a wealth of rewards waiting for you as it all unfolds.
We still don't have a release date for WandaVision, but Entertainment Weekly reiterates that it will be out "this winter", whether that means December 2020 or January 2021. It was recently revealed that the series won't arrive on Disney+ in Latin America until January, but that doesn't necessarily mean it won't release earlier in other regions.