Jeremy Irons Joins Netflix's 'Munich'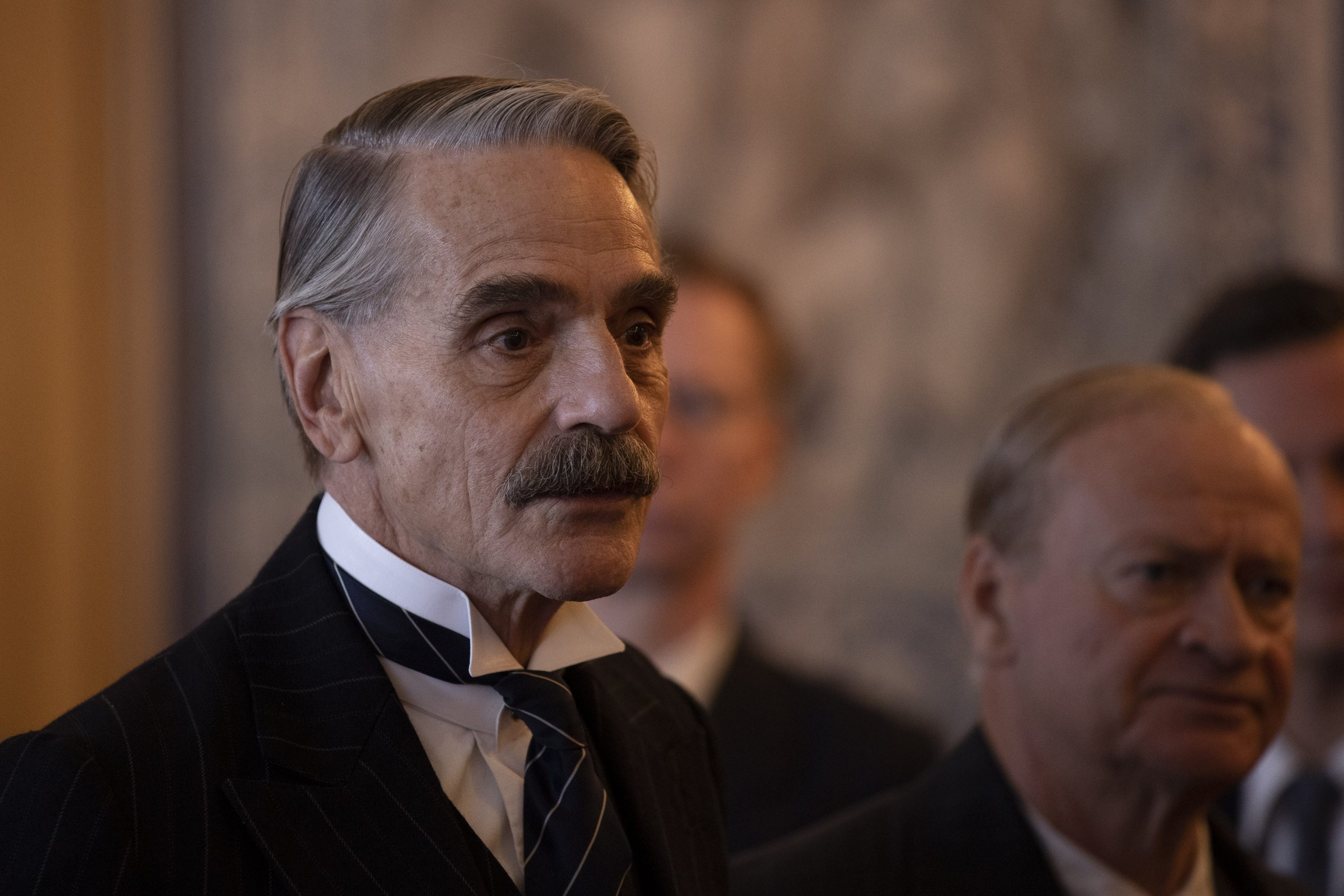 Jeremy Irons, George McKay, and others have joined Munich, a feature film adaptation of Robert Harris' acclaimed novel.
Per THR, Netflix is doubling down on their internationally-produced content, as production is currently underway on an adaptation of 2017's best-selling novel Munich, directed by Christian Schwochow from a script by Ben Power. Power's only writing credits are the screenplay for two episodes of The Hollow Crown, while Schwochow has already worked for Netflix, as he directed two episodes of the third season of The Crown. Turbine Studios' Andrew Eaton is producing – he produced most of the first two seasons of The Crown, and the first episode of the third season (which Schwochow didn't helm).
As far as the ensemble goes, the film has enlisted none other than Jeremy Irons to play UK's Prime Minister Neville Chamberlain. In addition, George McKay, who was one of the leads in last year's 1917, and Jannis Niehwöhner, from Netflix's Mute, are also part of the cast, which also includes names like Liv Lisa Fries, Erin Doherty, Sandra Hüller, August Diehl, Robert Bathurst, Marc Limpach, and Martin Wuttke. Interestingly, Wuttke will be playing Adolf Hitler, a figure he also portrayed in Quentin Tarantino's Inglorious Basterds.
The film is described as a spy thriller set in the fall of 1938 (for context, one year before World War II broke out), and follows Prime Minister Chamberlain desperately seeking an agreement with German leader Adolf Hitler, who was at the time getting ready to invade Czechoslovakia, in order to avoid another continental war. In the middle of all of that, per THR, "British civil servant Hugh Legat (McKay) and German diplomat Paul von Hartmann (Niehwöhner), travel to Munich for an emergency conference. As they see if war can be averted — and at what cost — the two old friends find themselves at the center of a political plot, with their own lives in danger."
Munich is part of a large initiative by Netflix to promote high-end European films, coming from its international film division, which has been revamped since David Kosse took over the reigns last year. About Munich, Kosse told The Hollywood Reporter the following:
"Munich is emblematic of the kind of movie the group has been looking to make since I joined. They are European-set, multilingual films that feature a strong cast, strong directors, intellectual property that has some value across territories. We are looking to create movies of a certain scale out of Europe that can travel."
The cultural diversity the movie will see is already apparent looking at its cast, which includes high-profile British names (both behind and in front of the camera), and also several German actors who are seen as up-and-comers in Hollywood (for example, Sandra Hüller was the lead in 2016's Toni Erdmann).
This Netflix initiative already has several films shooting over at Europe, which include Paolo Sorrentino's Hand of God, Jean-Pierre Jeunet's sci-fi comedy Big Bug, or Juana Macías' musical romance We Were Songs. Note that THR does not specify a genre for Sorrentino's film, probably symbolizing that, as usual, genre is a word Sorrentino is not familiar with.
Jeremy Irons won his Best Actor Oscar for 1990's Reversal of Fortune, and has won up to three Emmy Awards. He has also been nominated several times, including this year for playing Adrien Veidt in HBO's Watchmen. To see whether or not he will land another Oscar nomination for portraying Chamberlein, we'll have to wait until 2021, when the movie is set to debut on Netflix. For now, we'll keep our fingers crossed, because, so far, the premise sounds like that of an Awards contender.
Munich is currently shooting in Germany and will move to the UK soon. The picture above is an official image from the set, released by The Hollywood Reporter, and sees Irons playing Neville Chamberlein.
Miguel Fernández is a Spanish student that has movies as his second passion in life. His favorite movie of all time is The Lord of the Rings, but he is also a huge Star Wars fan. However, fantasy movies are not his only cup of tea, as authors like Scorsese, Fincher, Kubrick or Hitchcock have been an obsession for him since he started to understand the language of filmmaking. He is that guy who will watch a black and white movie, just because it is in black and white.