'Jurassic World: Camp Cretaceous' Season 2 Set for 2021, First Teaser Released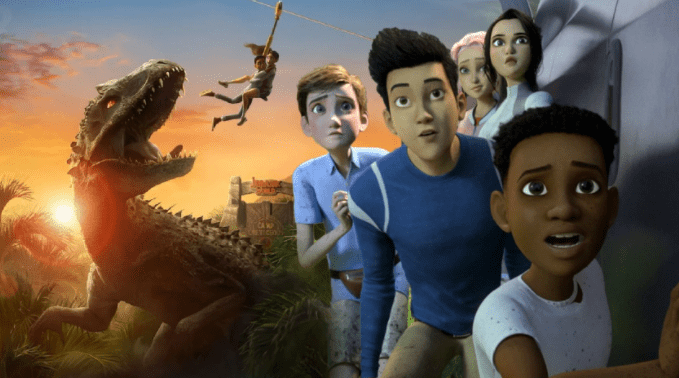 Jurassic World is closed, but that does not mean the kids are safe.
Massive spoilers ahead for the first season of Jurassic World: Camp Cretaceous
In unsurprising news, Jurassic World: Camp Cretaceous has been renewed for a second season shortly after last month's Season 1 debut. This has probably been in the works for some time, as a decently-sized teaser accompanied the announcement:
Season 1's last episode saw the group of kids being left behind (yet another negligence) on Isla Nublar, with one of them also being left for dead by his companions. Yup, this show got shockingly dark.
I was honestly astonished at the big swings Camp Cretaceous takes. Everyone was expecting a toned-down version of Jurassic World that the whole family could enjoy, and Camp Cretaceous certainly fulfills that promise, but it is also quite an intense rollercoaster ride that puts its main characters through a lot, both physically and emotionally.
I am not the biggest fan of its animation style, but the action never feels dull, and the character arcs are really solid. There were a couple of interesting (Dominion-related?) teases in there too. By the time the final credits rolled, I wanted more.
With Darius and company completely alone and surrounded by the ruins of Jurassic World (and lots of hungry dinos on the loose), the second season should feel very different, and I am eager to see how they are planning to get the kids out of the island before, you know, it blows up in Fallen Kingdom. Their parents must be worried, right?
Series creator, writer, and consulting producer Zack Stentz is presumably back for the second season, as well as executive producers Steven Spielberg, Colin Trevorrow, Frank Marshall, Scott Kreamer, and Lane Lueras. DreamWorks is handling the animation for Universal and Amblin, with Netflix still set to distribute the series. Season 2 will arrive sometime in 2021.
Francisco J. Ruiz is that guy who has watched Jurassic Park a thousand times and loves Star Wars. His hunger for movies is only matched by his love for video games. He graduated in English Studies from the University of Malaga, in Spain. As he keeps writing about what he enjoys (and doesn't) for websites all over, he's continuing his studies.